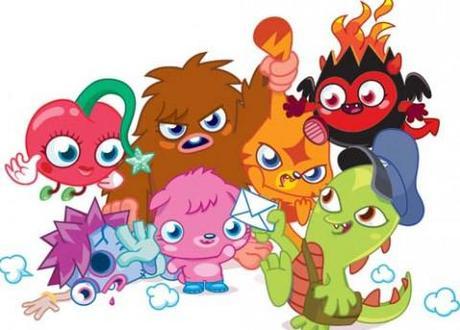 Moshi Monsters! Watch out, they're coming...
Moshi Monsters are everywhere! Have you even heard of them? This week, Moshi Monsters: Music Rox! was released – the monsters', or Moshlings as they're called, very first album. Amongst the Moshlings are characters such as singer Dustbin Beaver, who is a member of the Moptop Tweenybop species, and his friend Zack Binspin. Their album was in the top five pre-orders on Amazon since 5 March – and has even knocked Madonna into a cocked hat. 70 percent of children in Britain, reported The Guardian, are hooked.
The album features twelve tracks from characters such as The MonStars, Dr Strangeglove, Popstar Poppet and Big Bad Bill. It doesn't, however, feature Lady Goo Goo – Lady GaGa herself stepped in to prevent that happening; nor does it feature Mr Beaver, reported ToyNews.  The video for "MopTop Tweenybop (My Hair's Too Long)" has been watched over a million times on YouTube. It is, thinks Periscope, surprisingly good. Watch it below.
The franchise, which includes a social networking site on which you can "adopt" and create your own virtual pet, was founded in east London in 2007 by Michael Acton Smith of Mind Candy, reported The Independent. Now, more than 60 million children, in 150 countries, go onto the website, where they can chat, play games, solve puzzles and – crucially – buy stuff. The newspaper also said that the Moshi license is beaten only by Star Wars, and is ahead of Hello Kitty and Thomas the Tank Engine. Sales of Moshi toys in 2011 were worth £22 million.
"We're over the moon to see 'Music Rox!' creating such a stir in the charts," said Jason Perry, Head of Moshi Music at parent company Mind Candy. "To be on course to potentially achieve a top three position in the chart this coming weekend without any radio or TV play is ground-breaking news for us. We're delighted to be entertaining our Moshi fans with quality kids music and turning the traditional route to chart success on its head," quoted on PRNewsire
"Lots of web companies have learned that the teen market is not as lucrative as they'd thought. But school-age kids with access to their parents credit cards are, and Moshi has been very clever to exploit the franchise potential with toymakers, who have traditionally moved very slowly into the online world," says Mike Butcher of TechCrunch, quoted on The Independent.
What do parents think about it all? Mother of three Barb wrote on Blogfully : "The songs are silly. The characters are funny and they definitely keep my girls smiling! And for that – the Moshi's [sic] are keepers! Final Note: I took a listen to a few of the tracks on this album and the songs are pretty cute. If you have any Moshi Monster fans in your house, I think they're going to like it."
Why is it so successful? It's funny, said Milo Yiannapolis on The Kernel , how tech bloggers have largely ignored Moshi Monsters over the past year. All that they can do now is "gush, and perhaps bask in the reflected glory of a start-up tht emerged triumphant from the ashes of earlier failure and seems now to be on course to become one of the titans of digital (and perhaps traditional) media in the coming decades." Michael Acton Smith is a heavy hitter – like those in Silicon Valley. There's noone in Europe who has his insight, or who's managed to understand fun so well. "No better analogy can I find for him than Willy Wonka." And it's even better than San Francisco – it's "led the way in child safety", and seems "preoccupied with joy in a way that American social software products at heart rarely are." The company is exactly what it says it is: "a safe and enjoyable environment in which children can learn, play and connect with one another." The album looks set to dominate – "And why not. We could all use a little youthful abandon. "