Hi Huneybees,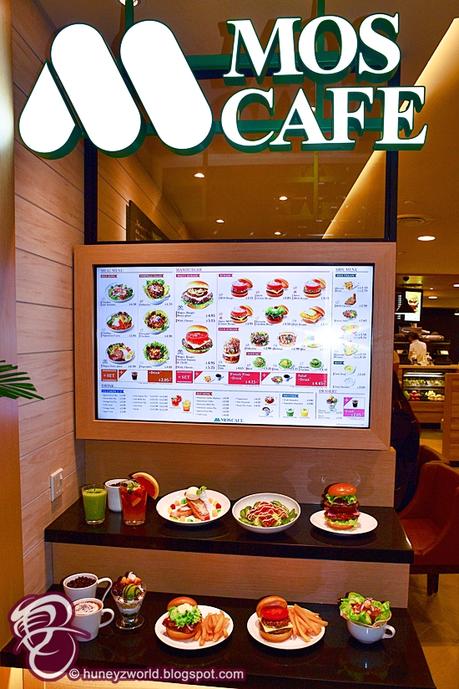 Since the first

MOS Burger

branch opened in Singapore, I've been a fan of their menu. Established in Tokyo, Japan and being a healthier choice compared to other fast food restaurants, this JPop crazy fan can never resist. I used to head over there after school to get myself a cup of corn soup, a yakiniku rice burger and a cup of ice milk tea to enjoy whilst chatting with my friends.

Even till now, I will still have my MOS Burger cravings every now and then. That's why, when I was invited to the opening of the very first Singapore's 

MOS Café

 @ Raffles City,

I agreed to it immediately.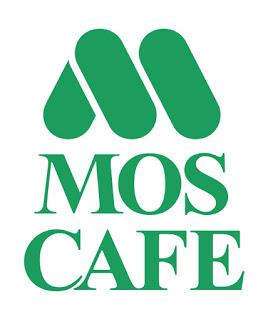 Do note, this is 
MOS Café
, not a revamped MOS Burger restaurant!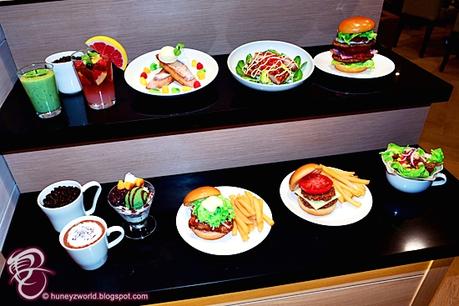 Like any typical Japanese restaurant, you will find delicately crafted models of the recommended food samples exhibited in the display window to give you a preview of what's on their menu. I was already drooling even before I got in...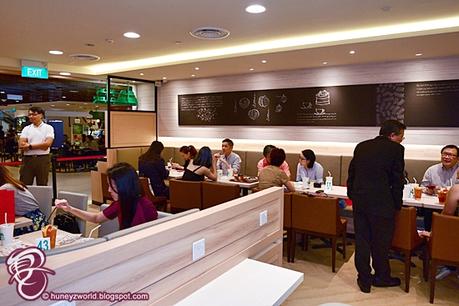 The cafe is refreshing space to step into and would make great place for some alone time, a break between shopping trips or even a day out with your BFFs. Spaciously designed and brightly lit space, the 
MOS Café
 embodies all 3 of its branding with soothing natural greens and wood:
'M' mountain - To stand tall and firm like a mountain.
'O' Ocean - To have a heart that is broad and deep as the ocean.
'S' Sun - To have passion like the sun that never burns out.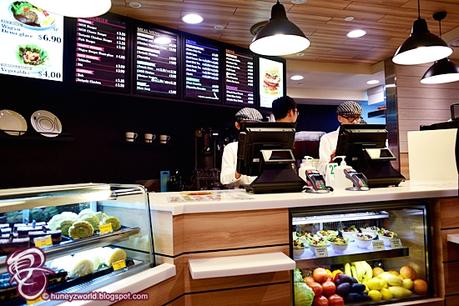 Stepping up on the "fresh" concept, the 
MOS Café
 menu utilizes lots of fresh vegetables and fruits and you will get to see them all on display at the counter together with the cakes and menu for easy reading and ordering.
I keep drumming and drumming on about the menu, so what's new?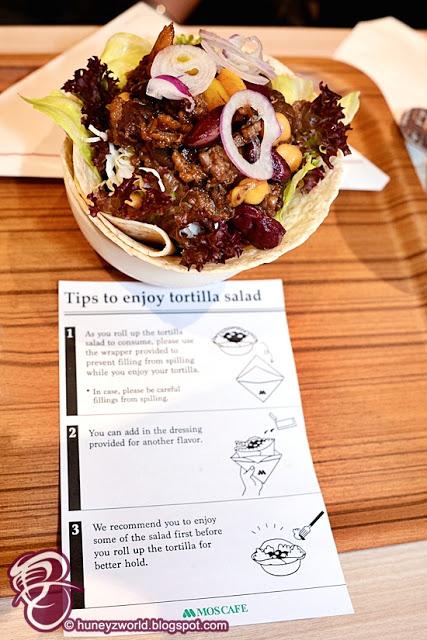 Something special would be the
Tortilla Salad
. Thoughtfully using 
whole wheat flour tortillas as well as 
seven different kinds of vegetables and beans 
(corn, lettuce, onion, chickpeas, red beans,
and okra), 
packed together with the "instructions manual", even a lady can eat it daintily without having to spoil their gentle lady image. Not only will you not have the ingredients dropping everywhere, you can even have a bigger bite, by hiding behind the specially designed paper wrap.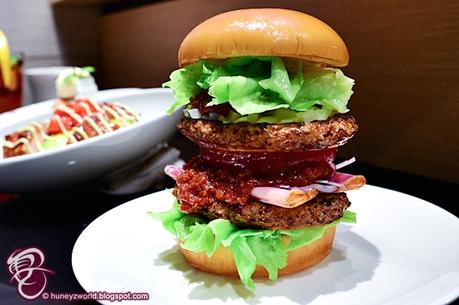 The
Wagyu Tower Burger
is 15 layers tall to resemble the Tokyo Tower. Though it might be a challenge to eat this burger, but when you bite into the juicy wagyu beef patty, you will definitely be forgetting about your image. LOL!
15 layers from the bottom:Bun, lettuce, Wagyu beef patty, ketchup, ham, chili sauce, sliced red onion, tomatoes, Wagyu beef patty, cheese, mayonnaise, chopped onion, chili sauce, lettuce, bun.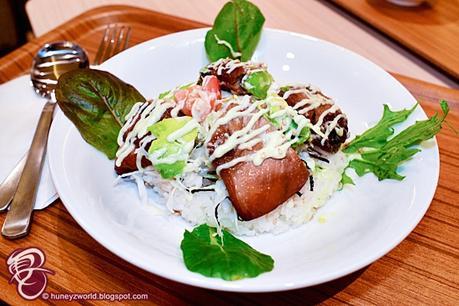 For those hoping to look for a filling meal, you can also try their
Rice Bowls
. Available in
Chicken and Avocado, Chicken Vegetables Curry and Wagyu Demi-Glace
options, you will be able to bite into their fresh vegetable and freshly cut avocado. 
Using only the No.1 rice in Japan,
Koshihikari Rice
from
Niigata Prefecture
, you will definitely be going back for seconds.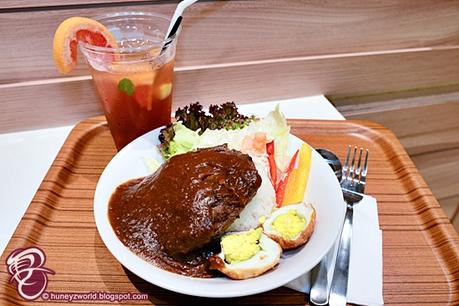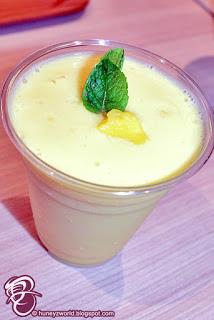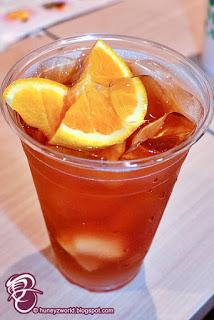 The drinks are also not to be missed. Other than the usual milk tea, you should also try their specially created fruit drinks like the S
pecial Fruit Tea, Citrus Soda Tea, Fruit Smoothie
and
Vegetable Smoothie
.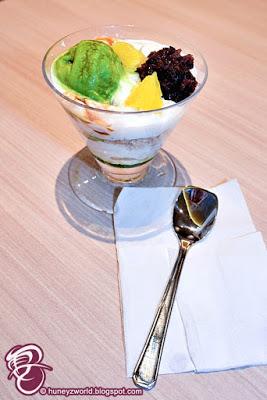 Of course, no meal is done without dessert. My favourite?
Matcha Mini Parfait
! Topped with Matcha ice cream, azuki bean paste and freshly cut fruits, this not-too-sweet dessert would be best shared with your loved ones.
The arrival of the 
MOS Café
 has definitely reignited my love for their healthier choice of food. I've already made a date with my BFFs to head back for another round, be sure to head on over soon! :)
MOS Café Singapore
Raffles City Shopping Centre (City Hall MRT)
B1-38, 252 North Bridge Road Singapore 179103
Opening Hours: 10:30am – 10:30pm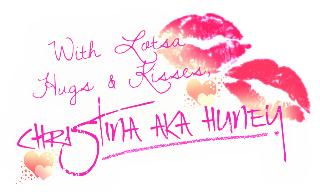 Don't forget to stay tuned to my blog / like my blog's Facebook page / follow me @huney_84 on Twitter & Instagram  for the latest updates!
http://www.huneyzworld.blogspot.com http://www.colourhuney.blogspot.com