Today I popped over to East Ham in East London to visit the chaps at Mula Printing and to see how my new prints are coming along. These guys work with some of the big names in Street Art so whenever I go round to their print studio it's always interesting to see what they've got in the pipeline.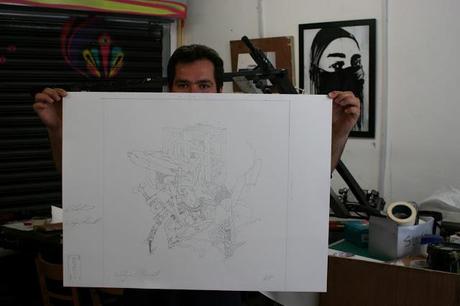 The set of screen prints that they are producing for me are based upon my Morphed Components drawing. In the screen printing process they are using a special ink that is combined with graphite powder and which, when pushed through the mesh of the printing screen, will produce an image that closely resembles the original pencil drawing.
The purpose of my visit today was to check out the shade of the ink (and I must say that being the pros that they are, they got it spot on) and to work out where we need to crop the paper – hence my scribbly lines that you can see on the test print, in the photo.
 The prints are going to be available from the end of next week and will be in a signed and numbered edition of 50, on sheets of 54 x 52 cm archival paper. If you would like to reserve one then please feel free to drop me a line at [email protected] .