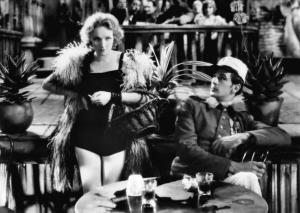 When nightclub singer Amy Jolly (Marlene Dietrich) arrives in Morocco, she's already lived and loved a lot and it's left her exhausted.  The last thing she wants is to fall in love and be hurt yet again.  But when she spots Legionnaire Tom Brown (Gary Cooper) in the audience during one of her performances, she can't resist him.  She gives him a key to her place and he comes to visit her.  As they get to know each other, Amy really takes a liking to Tom, but is still hesitant to get too involved.
Before meeting Amy, Tom had a reputation for being quite the ladies man.  He had even been carrying on an affair with his superior officer Caesare's (Ullrich Haupt) wife, but broke things off with her to be with Amy.  However, Caesare knew what had been going on and sends Tom on a mission that could very well cost him his life.
Before Tom leaves on his mission, he overhears Amy rejecting a proposal from Kennington La Bessiere (Adolphe Menjou).  Kennington is a rich man and can offer Amy so many things that Tom simply cannot.  Even though he loves Amy, he believes she would be better off with Kennington and decides to take himself out of the picture.  While he is gone, Amy agrees to marry Kennington. But when she finds out Tom is back in town, reportedly injured, she can't help but rush to be with him.  Recognizing who Amy really loves and wanting her to be happy, Kennington even gives her a ride to see him.
The critical consensus for Morocco seems to be that it's one of the best movies Josef von Sternberg made with Marlene Dietrich.  Although I do like Morocco, it's not one of my personal favorite Dietrich movies.  As far as the von Sternberg collaborations go, I prefer The Blue Angel and Blonde Venus.  Morocco just leaves me a little bit cold.  Dietrich herself is divine; she has such a commanding screen presence and she can work a tuxedo like nobody else.  The exotic locale is perfect for von Sternberg's style.  The story just doesn't pull me all the way in, though.