All the time my image of Africa was desert like, Morocco was not an exception. That image was still with me when I browsed the internet looking for a Tour Agent that could take Keith and I to Morocco. Their pictures uploaded were almost always showing touring across the desert by camel with a Tuareg man in blue leading the camel.  When I chose my trip to explore Morocco, it didn't take me to travel around all of Morocco, this holiday trip was to take me to "the Imperial Cities" which only included the Northern and Middle Part of Morocco, it didn't include the Western Sahara bit. However, included in this trip was an overland bus trip from Fez to Marrakesh, which covered about 585 km crossing the country (as shown on the map in my Morocco Holiday). Here, I experienced landscape changes, from very green vegetation, almost subtropical forest to a rocky and desert vegetation, lifestyle of the people also changed, from farming to sheep rearing only, but never desert!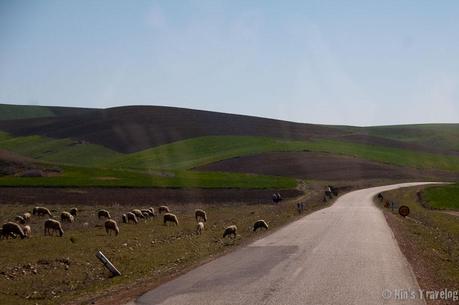 Sheep rearing along the main street that connected Meknes to Fes, as I took this picture from our bus.
The almost 600 km trip was covered in about 8 hours, which for some people was surprising, a friend on the trip was saying, that such a journey should have been done in 5 and a half hours only…..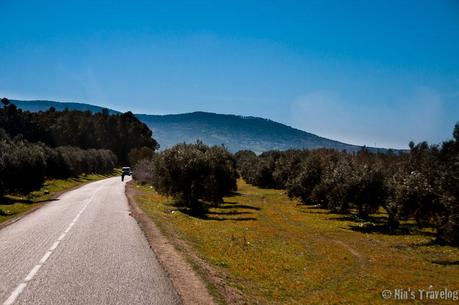 Olive plantations along the road from Fes to Marrakesh
Well, I think there are a lot of issues here, one may think we are traveling in a big intercity bus, where there are speed limits as well. As we are traveling in a group, there are some people who didn't like to drive fast. Yes, as I sat behind the driver, I can see almost everything on the road, from donkeys crossing, to turtles crossing, from a moped to an overloaded old fashioned truck carrying wheat. And one should not expect to see a three lane highway with smooth tarmac, it's only a single narrow winding road, just like the road connecting Jakarta to Surabaya (in Indonesia), passing through all the small villages along the way, the difference being, more of rice fields in Indonesia instead of olive tree plantation in Morocco.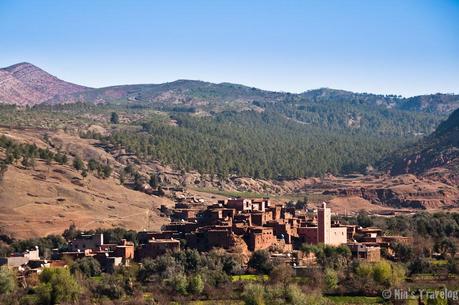 Village of Asni as seen from Ourika valley, at the foot of the Atlas mountain
Up in the mountains, the landscape is totally different, there are small villages with different architecture: the traditional 'mud architecture' and further up the mountains, there is still snow and even ski resorts.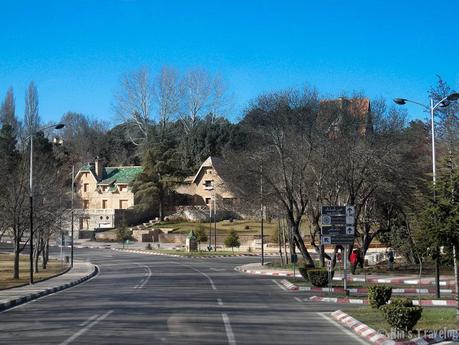 The street in the township of Al Akhawayn University, doesn't look like in Morocco at all, until you see the sign post in Arabic script.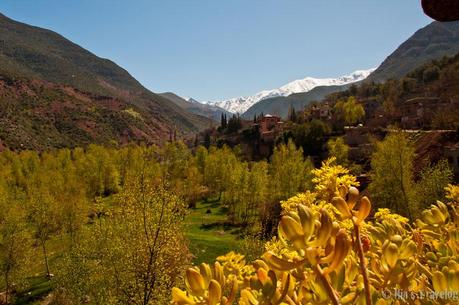 Atlas Mountains in early March, covered with snow, while down the hill, it's spring already
More picture on Morocco on my Facebook Page
31.623333
-8.013678