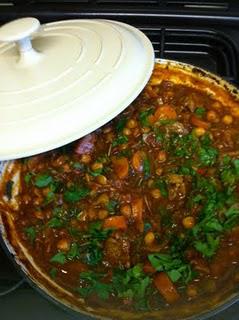 I have made this several times now and it always goes down a treat.

 

As it is slow cooked (allow yourself a good 21/2 hours to cook and prepare), the lamb always comes out really nice and tender and infused with the lovely Moroccan flavour. I mix a blend of my own spices and make into a paste using my Kenwood Miracle Chopper, but if you don't have all the spices to hand you could choose to use the Schwartz ready blended recipe pack as a quick cheat.
I always accompany the dish with cous cous, which I will also share with you how I make, but you could equally serve it with rice instead. I also like to serve with a dollop of crème fraiche and a sprinkling of freshly chopped flat leaf parsley and mint.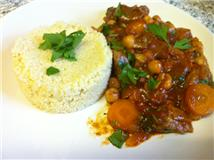 I cook this dish in a shallow cast iron casserole dish such as a Le Creuset dish like below.

 

Equally you can pick a less costly comparison in Sainsbury's, or just use whatever casserole dish you have to hand in your kitchen.
Of course if you have a tagine, this will be ideal for this recipe.
Serves: 4
Oven Temp: Gas Mark 2, 150c
Preparation time: 30 mins
Cooking time: 2 Hours
What you will need...
(For the spice mix to make into a paste)
1
1/2
tsp Coriander seeds
1
1/2
tsp Cumin seeds
1 tsp
Mild chilli powder
1
1/2
tsp Ground cinnamon
1 tsp Garlic granules
2 tbs Bran oil (or vegetable)
2 tbs Tomato puree
½ Lemon (juice and grated rind)
1 Tbs Honey
(Remaining ingredients)
2 large Garlic cloves
2 medium Fresh red and/or green bird's eye chillies
1 Onion, finely chopped
400-500gms diced shoulder/neck of lamb
2 carrots sliced
1 tin of drained Chickpeas
3 medium Tomatoes, cored and chopped
6 dried apricots chopped
Handful of flaked almonds
Fresh flat leaf parsley
Fresh mint
1 ltr Chicken stock
Chopped tomatoes with garlic and olive oil (available from Morrison's in a carton)
What you need to do...
·

  
Preheat the oven to gas mark 2 (150 C)
·

  
Measure out all the paste ingredients listed as above into your food chopper (or use pestle and mortar) and blitz into a smooth paste
·

  
On a mid to hot heat add a little oil into pan, heat and then add chopped garlic and fresh chilli, ensure not to burn
·

  
Add onions and brown for 2-3 mins, again ensuring not to burn
·

  
Add diced lamb, brown to seal meat and lightly season
·

  
Add paste or pre mixed packet of spices and keep stirring
·

  
Take off the heat whilst you add chick peas, apricots, carrots, almonds and fresh tomatoes
·

  
Pour over ½ to ¾ of chicken stock and return to heat, giving another good stir
·

  
Add half the carton of you chopped tomatoes, stir in and bring to boil over a medium heat
·

  
Then add casserole lid and transfer dish into the oven
·

  
Check regularly and continue to add remaining stock, chopped tomatoes as the liquid reduces over the cooking time
·

  
Allow to rest for 10mins or so before serving, stir in chopped flat leaf parsley/mint (saving a little to use for garnish)
To find out how to make the couscous follow this link:
http://makebakeandshare.blogspot.com/2011/08/top-tips-couscous.html#more