Be transported to another land with my Moroccan Carrot Salad Bowl. Spiked with a creamy vegan orange dressing and crunchy spiced chickpeas, the layers of flavours and textures in this salad bowl will have you planning your next holiday.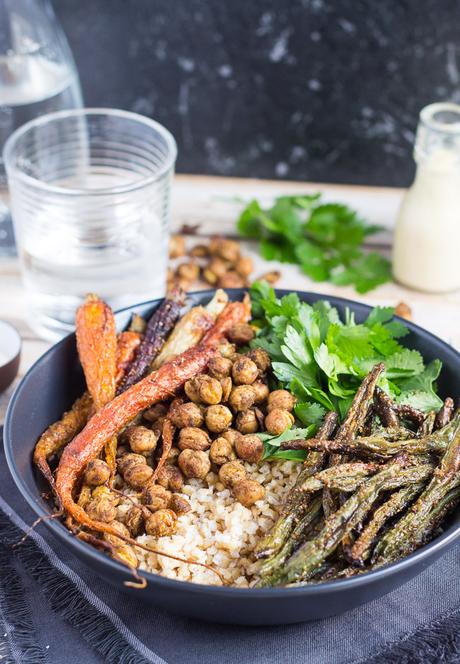 Finally, there are signs that spring has arrived. It is marginally warmer during the day, I am suffering the most horrendous bouts of hayfever and The Princess has requested salad for her school lunches again.
I cannot be the only mother who is exhausted by planning lunchboxes. I preferred it when she took charge of her own lunch and just stuffed a chicken schnitzel into a flatbread wrap. Now she wants salads that won't take her ages to eat but are packed with protein to keep her going; a request that gels perfectly with this month's Recipe Redux theme of Plant Protein Power Bowls.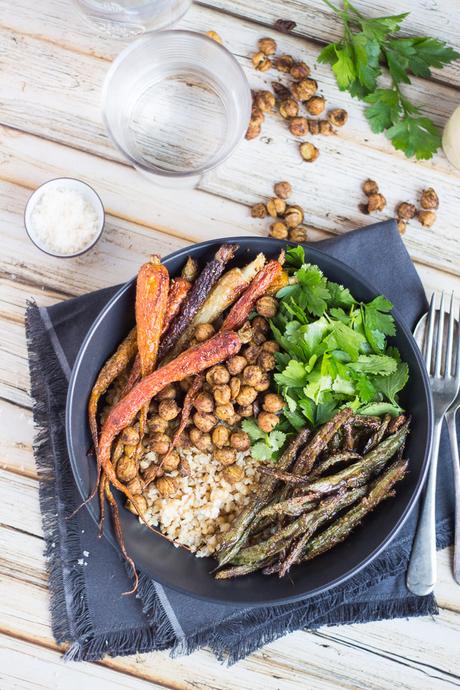 I have been admiring the beautiful vegetable bowls appearing in my Pinterest and Instagram feeds through the winter, knowing that soon The Princess would be requesting salad again, and laying plans to make her lunchboxes just that little more exciting (for her and for me).
The Princess has been in the habit of buying from the school canteen one day, and taking lunch from home for the remainder of the week. In the first week of term I created this Moroccan Carrot Salad, albeit in a lunchbox rather than a bowl. When I quizzed her the on the weekend as to what she wanted for lunch the following week, she told me she intended to take lunch from home the whole week as my creations were better than anything she could buy. Given she normally just sticks her nose in the air at my efforts, this is high praise indeed.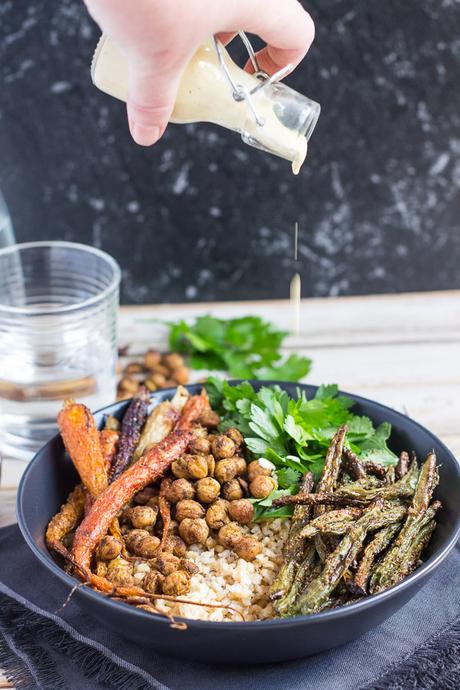 As much as I moan, the upside to making The Princess's lunches is that with minimal extra effort, I too can have lunch for the week. I just roast a few more vegetables and cook a bit more grain. I don't dirty any extra pots, and I no longer find myself standing in front of the fridge at midday hoping a meal will materialise.
At first glance, this Moroccan Carrot bowl may seem like a lot of effort, but I promise it really isn't. There is very little hands on time, as most of the work happens in the oven. Every element combines to create layers of flavours and textures in the finished salad, making lunch or dinner just that little bit more exciting. The cashews lend a creamy touch to the dressing, and the crunchy chickpeas add extra protein and texture.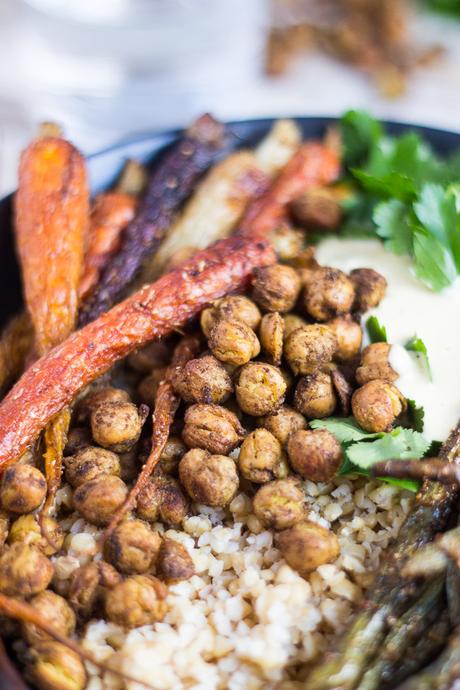 My success with the Moroccan Carrot salad bowl has spurred me on to create other interesting lunches for The Princess. For those of you who need a little inspiration I have also started to post pictures of the lucky child's lunchbox each week, so follow me on Instagram or Facebook to see what she is eating. Now all I need to do is work out how to make the empty lunchboxes come home. Any ideas?
20 minPrep Time
40 minCook Time
1 hrTotal Time

Save Recipe
Ingredients
115g (1/2 cup) Bulgar wheat
15g (1/2 cup) parsley leaves, picked
15g (1/2 cup) coriander (cilatro) leaves, picked

For the Roasted Chickpeas

1 cup cooked chickpeas (canned is fine)
1 Tablespoon Ras el Hanout
Salt & pepper

For the Roasted Vegetables

5 baby carrots, or one large carrot, cut into batons
A handful of green beans
1 teaspoon ground coriander
1 teaspoon ground cumin
1 Tablespoon olive oil
Salt & pepper

For the Creamy Orange Dressing

65g (1/2 cup)cashews, soaked in hot water for 30 minutes.
The flesh of one orange*
45ml (3 Tablespoons) olive oil
60ml (1/4 cup) water
1 clove garlic
1 teaspoon grated ginger
1/2 teaspoon ground cumin
1/2 teaspoon ground coriander
Salt & pepper
Instructions
Cook the Bulgar wheat according to package instructions. Set aside.
Preheat the oven to 210C (190C).
Place the olive oil, Ras el Hanout, salt & pepper in a medium bowl, and stir to combine.
Add the chickpeas to the bowl, and mix gently to ensure the chickpeas are well coated in oil and spices.
Spread the chickpeas in a single layer on a baking tray.
Roast for 35 - 40 minutes, stirring frequently. Watch the chickpeas carefully towards the end of the cooking time as they burn easily.
The chickpeas are ready when they are lightly browned and crispy. To test if they are ready, remove one from the oven and allow to cool. If the chickpeas are still chewy rather than crispy, they need a little more time in the oven.
Allow the chickpeas to cool on the tray before using. These can be made in advance and stored in an airtight container until required. Any leftovers make a great snack.
Pre-heat the oven to 200C (180C fan forced)
Combine the ground coriander, ground cumin, olive oil and salt & pepper in a medium sized bowl. You can use the same bowl used for the chickpeas.
Toss the carrots and green beans in the seasoned olive oil until well coated.
Spread in a single layer on a baking tray.
Bake for 25 minutes, or until the vegetables are browned and cooked through.
Remove from the oven and set aside.
Drain the cashews.
Blitz all of the ingredients together in a blender or food processor until smooth. If the dressing seems too thick add a little extra water to thin it out.
Place the Bulgar wheat in the bottom of a large bowl. Arrange the roasted vegetables, parsley and coriander leaves, and roasted chickpeas over the Bulgar wheat.
Drizzle with dressing just before serving.
Notes
http://thecookspyjamas.com/moroccan-carrot-salad-bowl-with-creamy-orange-dressing/
Looking for more Plant Protein Power Bowls? Check out the link up below for more great ideas from my fellow bloggers.