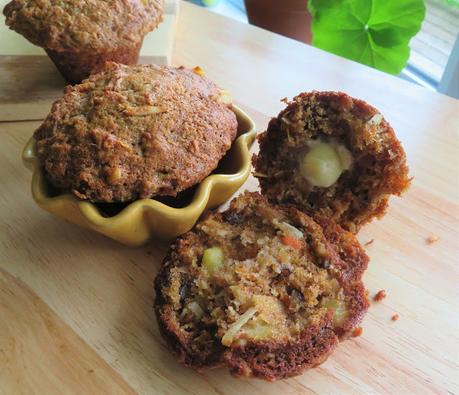 Morning Glory Muffins, or Golden Harvest Muffins as they are also called, are one of my absolute favorite kinds of muffins to bake and to eat.  
Wholesome morning glory muffins are my filled with lots of goodness, so its no wonder they are my favorites. With plenty of fiber and loads of taste, they always go down a real treat.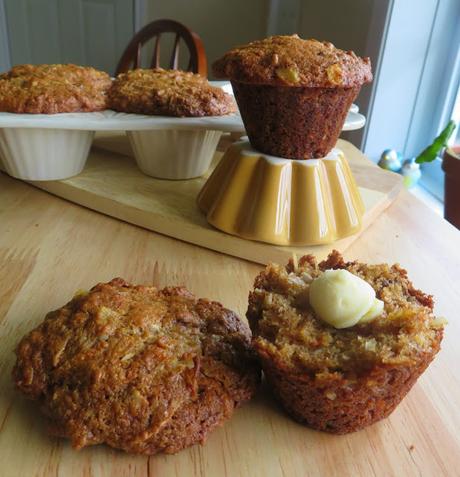 Baking a batch of these can be somewhat daunting to the smaller household.  Making 24 delicious muffins, the original recipe is just super large, no matter how tasty.  You can
find the full sized recipe here
.  
I decided to try to small batch them, because they are my favorite muffins.  Happy to say I had great success in this endeavor which I am sharing with you today.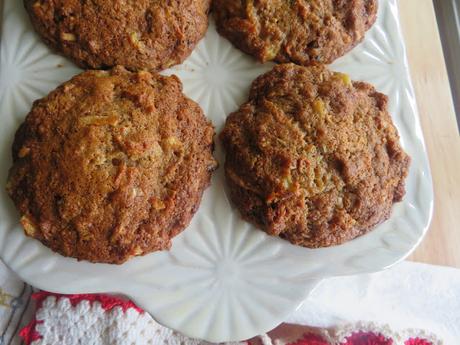 I have been making and baking these delicious muffins for years and years.  They are like a glorified carrot muffin, but so much more than just that. 
I first started to bake them when I owned my own coffee shop back in the late 1980's.  These were the most popular muffin on the menu, and no small wonder that!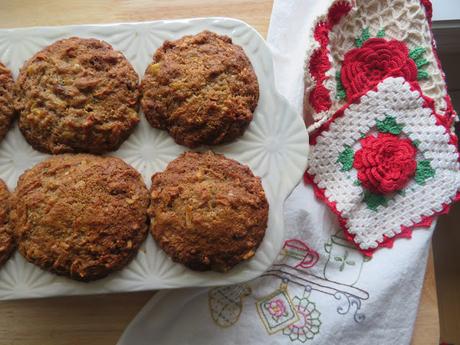 With two kinds of flour and plenty of add ins, they are wholesome and delicious.  They are also hearty and incredibly moist, quick and easy to make and (if you are tempted to make the full batch) they freeze very well.
The use of grated fresh carrot and apple insures that these muffins are always moist and delicious.  Carrots and apple are also very good for you, being filled with loads of fiber, taste, nutrients and natural sweetness.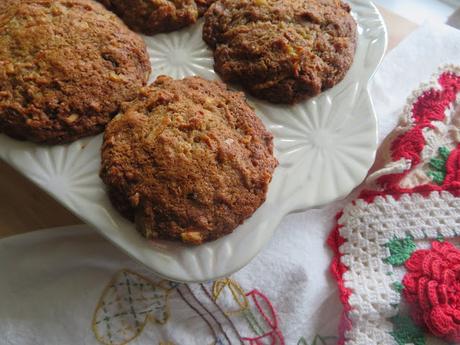 There is nothing artificial here. Just wholesome natural ingredients.  Coconut, apple, carrot . . . 
Crushed Pineapple (a recent addition), plump sweet raisins, toasted walnuts . . .  and a mix of whole wheat and white flours.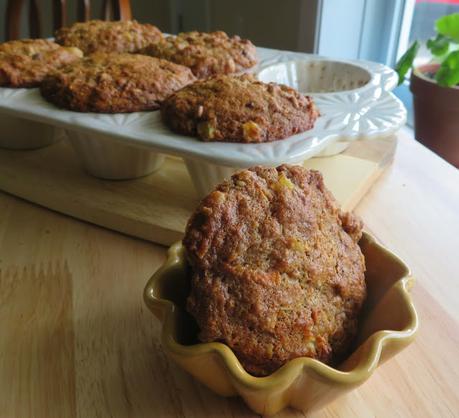 Canola oil, milk, sugar.  Nothing out of the ordinary really.  You probably have everything in your house right now to make these.  
You don't need to use the pineapple, although I will tell you right now it is an excellent addition.  My original recipe doesn't use pineapple, but I had pineapple leftover from making my coleslaw the other day and I thought why not!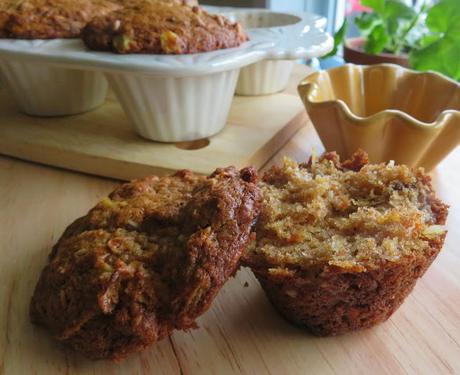 I like pineapple and it is an ingredient which I use in my carrot cake from time to time.  So, I know it goes well with carrots.  
I also hate waste and so I substituted some crushed pineapple for half the amount of the apples. If you don't have pineapple or don't like pineapple, just use an additional 1/2 cup (70g) of grated apple in its place.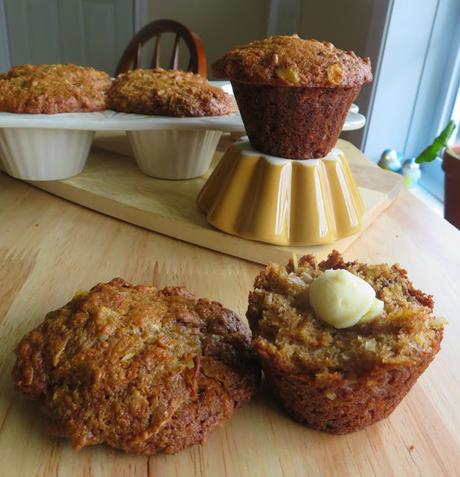 (that's a little dollop of butter on that warm muffin) If you are querying the difference in weight between the apple and the pineapple, its a simple fact that pineapple weighs a lot more than apple per volume.
I weighed out everything precisely on my kitchen scales as I was going along, so you can be sure the weights are exact if you bake by weight.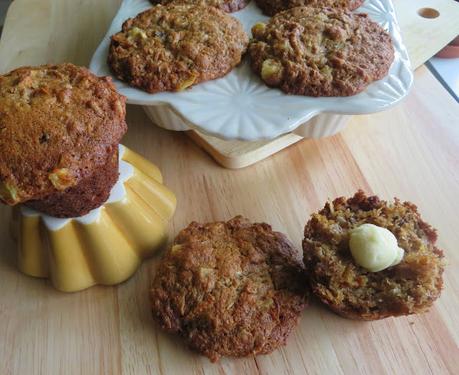 Baking by weight was not something I did prior to moving over to the UK. All of their recipes go by weight, so I started doing it while I lived there.
I always bake by weight now. It is a much more concise and accurate way of baking, I have to say.  I only ever rarely bake any other way now.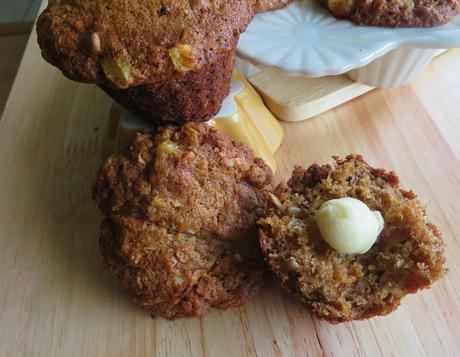 If you are not fond of raisins, leave them out, or substitute them with some dried fruit that you do like, in the same measure.  Chopped dried dates are delicious.
Dried Cranberries are also delicious, as are dried blueberries.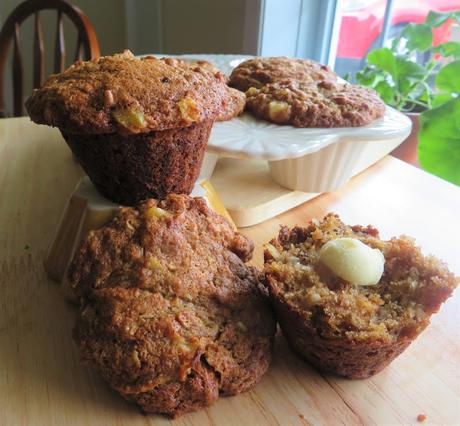 You can also leave the coconut out if you wish to,  don't like or cannot eat coconut. Leaving it out will not make much of a difference texture wise.
If you don't like walnuts, try substituting them with a nut you do like. Pecans are excellent in every way. I dare say even macadamia nuts would go wonderfully.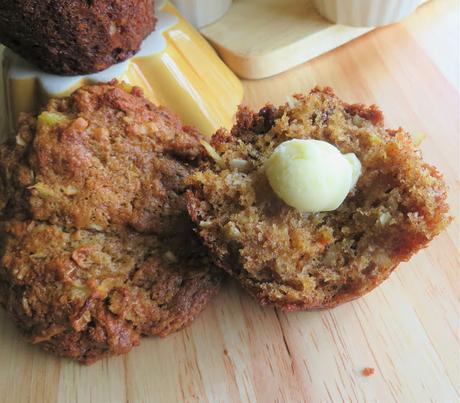 Don't like cloves?  Leave them out. There is not a lot of them in there anyways, only 1/8tsp. The flavor is very subtle, however so I suggest you leave them in.
Also do not leave out the cinnamon. It is integral to the taste of these muffins.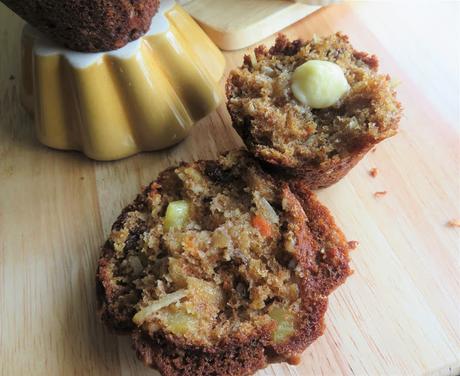 The smell of these when they are baking is amazing!  It really sets your taste buds up to tingling! 
I used my melon baller and serve this warm with a small ball of butter melting into them. Oh boy, some good. Yes, I am a bonafide glutton through and through.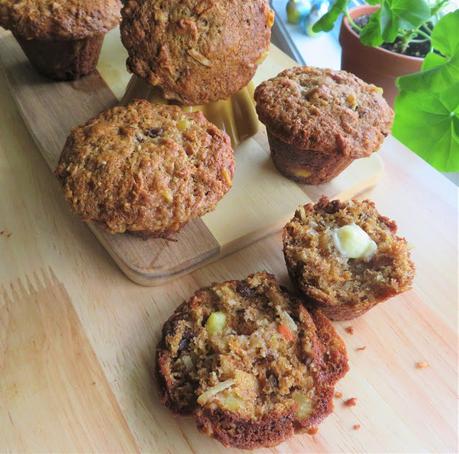 There is really not a lot of fat in these, due to the high moisture content of the apples, carrots and pineapple, so I thought a little ball of butter would do no harm.
Shhh . . .  please don't tell me otherwise. We need to have our little pleasures in life.  Pick our battles, which ones we choose to fight and which ones we don't choose to fight.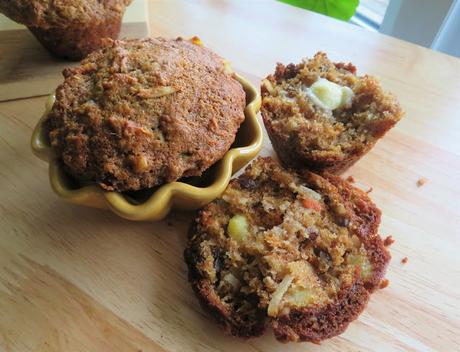 In any case these are a gloriously delicious way to begin your day.  Filled with goodness, texture and plenty of flavor.
I hope you will try them, and I hope that you will love them as much as I do!  I predict that you will!!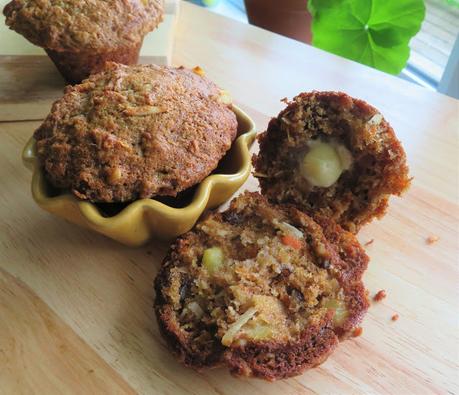 Morning Glory Muffins (small batch)
Yield:
6
Author:
Marie Rayner
Prep time: 10 Min
Cook time: 25 Min
Total time: 35 Min
I small batched one of my favorite muffin recipes. These are moist and filled with goodness with grated carrot, apple, coconut, pineapple, toasted nuts, whole wheat and plain flours, etc.
Ingredients
1/2 cup (70g) plain all purpose flour (
1/2 cup (70g) whole wheat flour
1/2 cup (95g) granulated sugar
1 tsp cinnamon
1/8 tsp ground cloves
1 tsp baking soda
1/4 tsp baking powder
1/4 tsp salt
1/4 cup (25g) grated raw carrot
1/4 cup (30g) shredded coconut
1/4 cup (30g) chopped toasted walnuts (or a mix of walnuts and sunflower seeds)
1/2 cup (70g) grated fresh apple
1/2 cup (225g) crushed pineapple, well drained
1/4 cup (35g) raisins
1/3 cup (80ml) vegetable oil
1/8 cup (30ml) milk
1 tsp vanilla
1 large free range egg yolk
Instructions
Preheat the oven to 350*F/180*C/gas mark 4.  Butter six muffin cups really well. Set aside.
Whisk together all of the dry ingredients in a bowl, including the sugar. Stir in the carrot, coconut, walnuts, apple, raisins and pineapple.
Beat together the oil, milk, vanilla and egg yolk.  Add to the dry ingredients and mix together just to moisten and so no dry streaks remain.
Spoon into the prepared muffin cups, dividing the mixture equally between them.
Bake for 20 to 25 minutes, until golden brown, risen and a toothpick inserted in the center comes out clean.
Leave to cool in the pan for five minutes before tipping out onto a wire rack.  Serve warm with or without butter.
Did you make this recipe?
Tag @marierayner5530 on instagram and hashtag it #marierayner5530Created using
The Recipes Generator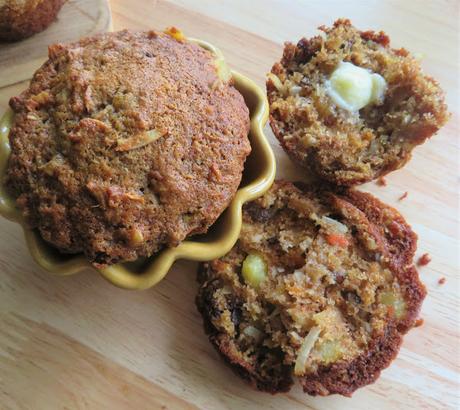 This content (written and photography) is the sole property of The English Kitchen. Any reposting or misuse is not permitted. If you are reading this elsewhere, please know that it is stolen content and you may report it to me at:
[email protected]
Follow my blog with Bloglovin