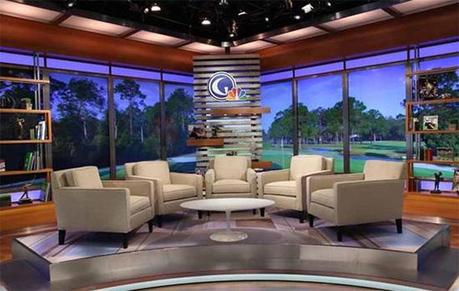 I had the privilege yesterday of being a part of a media call done by the Golf Channel/Morning Drive with Brandel Chamblee, John Cook and Gary Williams.  It proved to be an amazing opportunity to get the inside scoop on some of golfs hottest topics which included:
The new Morning Drive set, format and expanded cast.
The evolution of the golf swing.
Vijay Singh and the deer antler spray story.
No.16 at TPC Scottsdale and James Hahn's celebration during the Waste Management Phoenix Open 
It's my pleasure to share some of this news and information with our fellow Eat Sleep Golfer's...
The New Morning Drive
Something that everyone was really excited about was the revamped Morning Drive.  In our article last week '
Golf Channel's Morning Drive Expands
' we explored some the changes that we'll see this year, including their 7 days a week schedule.  The expanded studio is obviously something that's exciting for all who are involved,  "The things that excites me the most is, one, the versatility of it" said Gary Williams "That's the whole key to the design is more opinions for more places that allow the viewer to feel like, whether it's the comfort of chairs or standing up or using an area that you can actually demonstrate full swings, I think versatility is the key word for the studio".
Brandel Chamblee also weighed in on his perspective "People tune into the Waste Management Open and they watch the 16th hole because they get to see a different side of golfers, and I think that's what the Morning Drive is to golf is you get to see a different side of Ian Poulter and Graeme McDowell and even John Cook and countless other guys, Keegan Bradley, Bubba Watson that come in there." 
If you've yet to tune into the Morning Drive this season, here's a short clip from Monday's episode introducing the new studio, new format and some new (but familiar) voices...
The Vijay Singh Story
This has been one of the most talked about topics over the past few days involving, as you've undoubtedly heard, Vijay Singh admittingly using a banned substance.  I for one have avoided commenting on this topic as I feel bad for Vijay.  I don't believe he knew he was violating the rules, nor to I believe it gave him any unfair advantage.  The Morning Drive panel seemed to agree with this position.
"This isn't a typical steroid story" said Brandel Chamblee "This is a story about a guy who thought he was using something along the lines of negatively charged water or wrist magnet and was freely talking about it and being open with it with a sports writer."  Brandel continues as he states "This was not cheating, this was an accident.  It was ignorance and it was -- in my opinion, anybody who tries to make it anything other than that is going the wrong way."  I couldn't have said it better myself.  John Cook echoed those statements "it's not the typical shoot some stuff in your rear end type of story."  All that being said, everyone seemed to agree, that ignorance is no excuse, and that a suspension could likely be in Vijay's future.
James Hahn's 'Gangnam Style' Celebration
If you missed it at the last weeks Waste Management, James Hahn, after sinking a birdie putt on the 16th hole, celebrated in a very unique fashion (in front of the 20,000+ gallery).  Have a look...
Although I loved it, I've heard controversial opinions on whether or not this type of celebration should be encouraged on the PGA Tour; I asked the panel to weigh in with their thoughts.    "I for one loved it" said John Cook "I mean, we don't get to see that very often, and I applaud the kid for just having the guts to do that in front of all those people."
Brandel Chamblee shared similar sentiments "I loved it because we don't get to see a whole lot of personality from the golfers, so I absolutely love the 16th hole." "That's also what I love about shows like the Morning Drive, because you get to see the other side of guys like James Hahn" who will be on the Morning Drive in the not so distant future.
Gary Williams made it unanimous by stating "One, because he did it and it was great and he understood the environment and he understood the moment, and it's wholly appropriate for that hole."  "He nailed the dance.  I don't know what the benchmark is for nailing that dance; but this is a 31 year old rookie who in four starts has a tie for fourth at the Humana Challenge and shot 62 on Sunday to tie for 16th and has made just under $350,000 in four starts."
I for one can't wait to see more from this raising golf, who along with great golf, clearly brings a great sense of humor to the game.