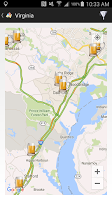 Building off our previous #VABreweryChallenge post, #VABreweryChallenge - Four Breweries Along Northern I-95, here are two more breweries located off I-95 in Stafford.
Adventure Brewing Company, Stafford (#31)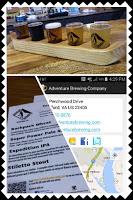 Although Adventure Brewing is a relatively young brewery, owners Tim Bornholtz, John Viarella, and Stan Johnson having been brewing beer since the 1990s. In 2010 they began brewing together and formed the Stafford Brewers Club. Adventure is just the next step forward. The tasting area is a lively and comfortable environment to enjoy their four year round beers and plethora of seasonal\specialty beers. One of these is the Hop Hash IPA which is hopped using "two experimental hops from Oregon Valley and a special "hop hash" that is a gooey, resinous and super concentrated lupulin punch". Still not sure what I think of this one, but it is worth trying. I stuck with the year round lineup in my canoe sampler consisting of the Backpack Wheat, Super Power Pale Ale, Expedition IPA, and Stiletto Stout. These were all solid beers, particularly the stout. Looking forward to the next couple weeks when the Backpack Sour is released.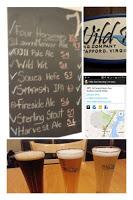 Wild Run Brewing Company, Stafford (#32)
This may be the most peculiar tasting room as it is located in the campsite office of Aquia Pines Camp Resort. Talking about having a captive audience; the tasting area is the entire campground. But the campers (and neighboring Suburban Extended Stay Hotel) are better off with fresh craft beer than stale Bud and Miller.  The beers are brewed by Michigan beer alum Matt King who provides a well rounded lineup. I didn't delve deeply into this selection but chose three: Harvest Ale, Souza Hefe, and Cherry Cream Ale. The last is outstanding, a slight velvety body, clean and crisp. The other two were spot on the styles; very pleasant beers. Make sure you visit one of the only campground breweries.