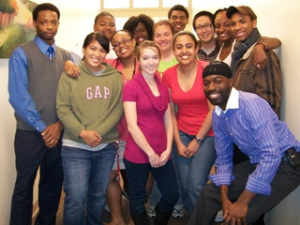 The number of black university students has increased, according to UCAS figures published yesterday.
Applications rates from black candidates aged 18 jumped a significant 14 per cent in under seven years – from 20 per cent in 2006 to 34 per cent this year. This welcome news is as a result of a number of different factors. 
The hugely disproportionate levels of black youth unemployment – running at 56 percent, almost double the average – means fear of not getting a job after GCSE's will be a major reason why more black youth stay on in higher education.
Another factor is that as black communities become ever more established in Britain, with some of today's students representing the fourth generation of Caribbean immigrants, the 'middle class values' that have always existed within many black households is finally manifesting itself in university intake in our increasingly multicultural society. In previous generations black families were trapped in the same cycle of disadvantage as poorer white families despite often having different values and ambitions.
The third significant factor is that the need for the education system to address institutional barriers facing black students has survived on the education agenda longer than the subject of 'race' has for other areas of public policy and this focus has led to improvements.
However the need to keep race equality under the spotlight does not lessen with these new figures. If anything, it strengthens the arguments as to why it is so important. Quite simply action delivers results.
The recent Lib Dem Race Equality Taskforce on education and employment made several evidence-based recommendations about the way forward. We are still a very, very long way from race equality in British society and if we are serious about making progress to make the country genuinely more equal we must plow forward and not interpret the UCAS figures as a reason to take our foot off the accelerator and slam on the brakes."
The latest statistics showed that black students are now more likely to go to university than white counterparts educated at state schools, however there remains an issue with access to Britain's prestigious Russell Group universities including Oxford and Cambridge.
By Lester Holloway @brolezholloway