London has looked spectacular on television during The Games – and the Paralympics are still to come so stay tuned!
Come and see us next year – we'll show you around. Our full schedule is at www.walks.com
In the meantime…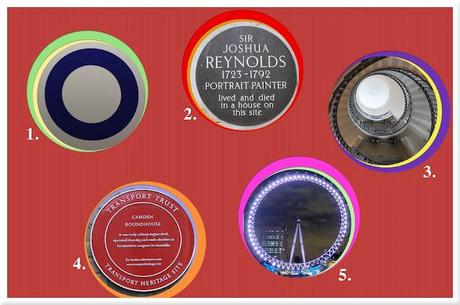 1. If you see a station called "MORGATE" on the Northern Line, it's because we've borrowed this "O" from the station that should be called "MOORGATE".
2. Sir Joshua Reynolds, portrait painter, in Leicester Square.
3. The spiral staircase at Heal's, Tottenham Court Road. The shop was built on once rural land and the lease of the site allowed for "the proper accommodation of 40 cows at least."
4. A round plaque on a Roundhouse – the famous Camden venue was built as a railway engine shed with turntable.
5. The London Eye by night.
DURING THE OLYMPICS AND PARALYMPICS THE LONDON WALKS SCHEDULE WILL RUN WITH A NUMBER OF CHANGES TO THE REGULAR PROGRAMME. CLICK HERE FOR OUR SPECIAL OLYMPICS LONDON WALKS CALENDAR.
OUR REGULAR BLOG FEATURES HERE AT THE D.C WILL RETURN AFTER THE OLYMPICS.