London has looked spectacular on television during The Games – and the Paralympics are still to come so stay tuned!
Come and see us next year – we'll show you around. Our full schedule is at www.walks.com
In the meantime…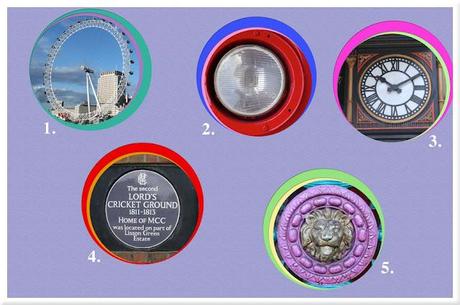 1. The London Eye by day.
2. The headlamp from a Routemaster bus. The last Routemaster was built in 1968, yet they went on to give 40 years service after that date.
3. The clock at Charing Cross station.
4. Lord's Cricket Ground is currently in its third home having moved from what is now Dorset Square to Lisson Grove (in 1811, site of plaque pictured) and thence to St John's Wood where, since 1814, we have held on to The Ashes trophy regardless of whether we defeat Australia or not. Howzat!
5. Grrrr. A meat eater on the gates of Smithfield Market.
DURING THE OLYMPICS AND PARALYMPICS THE LONDON WALKS SCHEDULE WILL RUN WITH A NUMBER OF CHANGES TO THE REGULAR PROGRAMME. CLICK HERE FOR OUR SPECIAL OLYMPICS LONDON WALKS CALENDAR.
OUR REGULAR BLOG FEATURES HERE AT THE D.C WILL RETURN AFTER THE OLYMPICS.