London has looked spectacular on television during The Games – and the Paralympics are still to come so stay tuned!
Come and see us next year – we'll show you around. Our full schedule is at www.walks.com
In the meantime…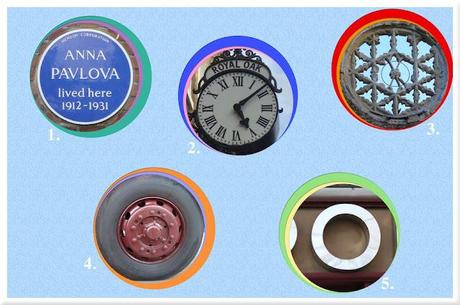 1. Anna Pavlova resided in Golders Green. Her former home is now the London Jewish Cultural Centre.
2. Time for a swift one? Or a swift exit? Royal Oak pubs are named for the oak tree in which the man who would be King Charles II concealed himself from The Roundheads after the Battle of Worcester in 1651. This particular Royal Oak is at John Street and marks not a pub but a benefit society (now defunct) from the 19th Century.
3. Brooking no nonsense from the double glazing salesman here, this rose window is preserved from the twelfth century Winchester Palace on Bankside.
4. The wheels on the bus go round and round… only the No.9 and No.15 routes these days. This is the wheel of the legendary Routemaster.
5. O! to be at The Apollo Theatre, Victoria (from whence we have borrowed this vowel). Currently showing the wicked Wicked.
DURING THE OLYMPICS AND PARALYMPICS THE LONDON WALKS SCHEDULE WILL RUN WITH A NUMBER OF CHANGES TO THE REGULAR PROGRAMME. CLICK HERE FOR OUR SPECIAL OLYMPICS LONDON WALKS CALENDAR.
OUR REGULAR BLOG FEATURES HERE AT THE D.C WILL RETURN AFTER THE OLYMPICS.