"Enthusiasts bang on about the marvellous Aussie 'lifestyle', which basically comes down to eating shellfish outdoors in your pants. Or going to the beach at 9am on a Wednesday covered in zinc cream", writes Victoria Cohen in her column in The Observer.
It's a humourous piece, entirely tongue-in-cheek, pointing a cheeky finger at some of the real reasons you might leave Britain for Australia, following the revelation that Professor Sprout from Hogwarts (Miriam Margolyes) recently took on Australian citizenship, citing 'class distinction' as one reason for her UK departure.
It got me thinking about the lifestyle here in Australia and about shrimps, barbies, and the great Aussie outdoors. And I wondered...
...
is there really no more to life here than a love of the raw prawn?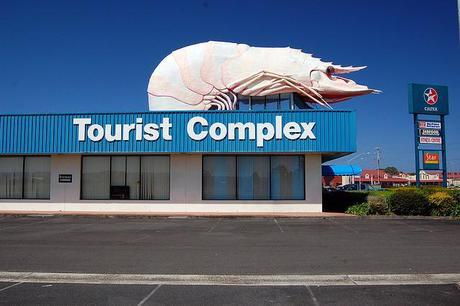 Photo credit: Flickr Creative Commons (paintnothing)
Of course there is.
For a start, we don't eat shellfish outdoors in our pants.
We eat everything outdoors in our pants. We eat breakfast outdoors in our pants, we eat in winter outdoors in our pants. When the air temp reaches a balmy 43 degrees, would you ever want to wear anything other than your birthday suit accompanied by a small pair of undies?
We don't head down to the beach at 9am on a Wednesday.
We head down to the beach every day and even earlier if possible because, by 9am, the sun is already flambaying my flesh thanks to the oil lathered across my shoulders. What else can you do and where else can you do it in a country where the temperature averages 99 degrees Celsius during the hotter months and the words 'furnace' and 'summer' often appear in the same sentence?
So we float in beach pools on our backs, suck on skinny lattes outside Italian-sounding cafes, and grill the best bits of farmyard animals on our public BBQs. And all of this usually before 9am.
The lifestyle here does not include an obsession with our thongs.
It includes an obsession with our thongs 
and
our sunnies, our boardies, our rashies, even our Uggs. If Bear Grylls went man versus wild in Sydney, these are the essentials he'd carry in his survival kit. Highly fashionable, socially acceptable, and an absolute necessity when venturing to the beach. And to the supermarket. And when in the car. And during a work-out. Except for the Uggs of course. In most cases.
We're certainly not just fans of seafood but we are all fans of eating everything, everywhere.
At an average suburb in my neck of the woods, you can dine on Chinese food, Thai food, Indian food, Italian food, American food, Brazilian food, Portuguese food, Lebanese food, Turkish food and, of course, seafood. We love our food to be cooked by someone else, be it takeaway or eating out with a BYO bottle of plonk.
We also like to eat cheap and the Returned and Services Leagues (RSL) clubs crowding the streets of Sydney seem fairly popular. Dinner is purchased at rock-bottom prices, as long as you don't mind listening to the meat raffle, weekend bingo, and vast array of poker machines next door.
With all this food, is it any wonder that we're all getting fatter as rates of obesity and diabetes soar across the country?
But we're not all unhealthy.
Some of us love to exercise at ungodly hours of the day, in all climates, and on all terrains. You'll find us running in the sand, up the stairs, around the headland, and over the dunes. We're in the water and on the water. We're boxing, planking and pushing up. We're far too active in a climate that should force you to slow down and enjoy forty winks in the shade.
I considered myself fit before I moved here. Then I trained with triathletes, marathoners, ironmen, champion windsurfers, beach sand runners, football league legends, and more. I stopped considering myself fit and now consider myself lucky to have survived - and keep on surviving. They do things a little differently here.
So there you have it. Multicultural dining on every corner, a beachside sense of fashion far removed from that of my former home, and an unhealthy love of self-inflicted pain to stay, well, healthy. I rest my case. There is much more to life here than a mere love of the raw prawn. Isn't there?
ISN'T THERE?
What are the stereotypes where you live? What cultural habits, good and bad, have you developed over time?
This post was sponsored by Accommodation.com, which lets you find, book and save on hotels and varying accommodation from all around the world. Book your Sydney accommodation through Accommodation.com and enjoy the city's variety of attractions, including the Sydney Harbour Bridge, Taronga Zoo, Hyde Park, and the Domain. With a low price guarantee and no booking fees, you can be certain of the best prices when booking with them.
Sign up for regular email updates. It's easy and free.