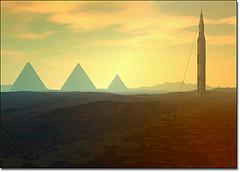 Photo by Nestor_PS
Every society has a shape for how the various generations relate to each other.
Because of fertility rates, war, famine, disease, and immigration, the shape of these charts might change from decade to decade.
  Demographers often call these multigenerational charts "population pyramids."  
The shape of our nation's pyramid is moving to look more like a rocket because of a number of factors. For example, the US has decreased infant mortality, decreased the average number of children born to each woman, avoided widespread fatalities (such as war, famine and disease), and increased the average life expectancy.  
The charts below demonstrate how the Boomers, who are middle aged in the 2000 pyramid, will experience greater life expectancy (in the 2025 projection) at the same time that fewer children are born in the upcoming generations. In other words, we'll see a graying of America.  (Click on the charts to make them a bit larger.)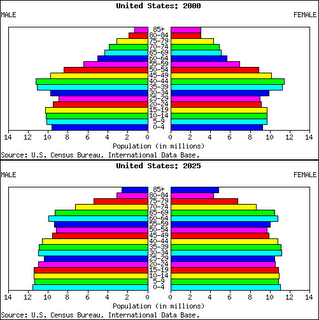 These changes mean that there will be fewer working people supporting retired people unless the average age of retirement also increases
:
"The U.S. Census Bureau reported [in May 2010] that the dependency ratio, or the number of people 65 and older to every 100 people of traditional working ages, is projected to climb rapidly from 22 in 2010 to 35 in 2030. This time period coincides with the time when baby boomers are moving into the 65 and older age category. After 2030, however, the ratio of the aging population to the working-age population (ages 20 to 64) will rise more slowly, to 37 in 2050. The higher this old-age dependency ratio, the greater the potential burden."
It might help to look at raw numbers instead of percentages. The Pew Research Center reports that the US had 37 million people 65+ and that this category will grow to 81 million by 2020.