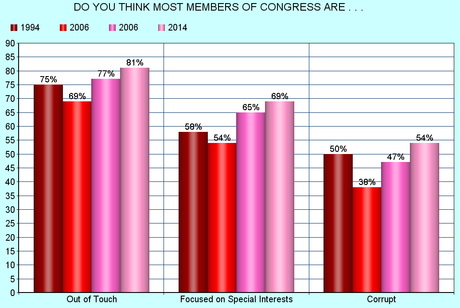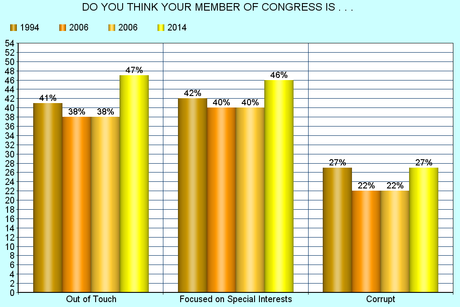 As you probably know, the job approval of Congress by the American public is at an all-time low -- and has been that way for many months now (with the approval rating varying from 6% to 14%, depending on the poll and how the question was asked). Even taking the most generous figure (14%) shows the congressional rating is abysmal, and voters are very angry with Congress. They are angry because Congress has put ideological bickering ahead of finding compromises to fix the economy and create new jobs.
That kind of overwhelming voter anger tells me that the most important issue in this election is Congress, and the voter anger directed at it -- and I have posted about that many times. But the mainstream media seems to be stuck on a different idea -- that somehow this election will be some kind of referendum on President Obama (even though his approval numbers are much higher than those of Congress -- ranging from the mid to high 40's).
I think the media is being ludicrous, and I now point to the results of a new Gallup Poll to bolster my argument. That survey was done between September 25th and 30th of a random national sample of 1,252 adults, and has a margin of error of 4 points. Instead of asking respondents if they approved of Congress, they asked a different question this time -- do you think members of Congress are out of touch, focused on special interests, and corrupt (and then repeated the same question about each respondent's member of Congress).
I think the results (shown in these charts) was very revealing. They asked these question in 1994, twice in 2006, and again in 2014. Back in 1994, the last time the numbers were significantly higher than normal, about 75% said members of Congress were out of touch, 58% said they were more focused on what special interests wanted, and 50% said they were corrupt. And what happened in 1994? The voters flipped control of Congress in that election.
Those numbers have reached new highs in 2014, with 81% saying members are out of touch, 69% saying they were more focused on special interests, and 54% saying they are corrupt.
But even more important is what the voters think about their own member of Congress -- because that is the person who will be on their ballot. And those numbers are also above 1994 numbers -- with 47% saying their member was out of touch (compared to 41% in 1994), 46% saying their member was more interest in special interests (compared to 42% in 1994), and equaled the 1994 numbers saying their member was corrupt (27%). That's nearly half disapproving of their member of Congress, and over a quarter saying they think their member is corrupt.
I could always be wrong, but I honestly think there is a very good chance the voters will once again flip control of Congress. I think the media is underestimating the anti-incumbent mood of the voters -- an anti-incumbent mood that will display itself in the many competitive districts around the country. If Congress is flipped, we'll probably hear the media blathering about the surprise the voters pulled on election day. But it shouldn't be any surprise. The evidence of that voter anger has been very apparent to anyone who looks. The media is just ignoring it, because it doesn't fit the story they want to tell.