Something else which struck me, but I didn't have the nerve to mention, was admirably expressed by Richard Godwin in yesterday's Evening Standard (scroll down to end of article):
After many weeks of distressing reports from Kiev comes a little relief. The images of the looted bling on show at the palaces of deposed Ukrainian president Viktor Yanukovych not only show that the revolution has been successful — they are proof of the moral corruption of his leadership...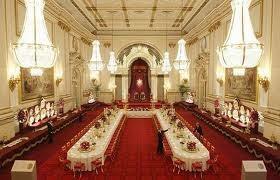 Now it's not as if the world's media really owe a corrupt, murderous autocrat a fair ride. But I can't help thinking that if you pointed a camera at the combination of lucre and tat on show in the homes of most heads of state — including our own — you would come to a similar conclusion.
Yup, it seems perfectly fair to me to judge how corrupt a society's rulers are by how well they live and how much wealth they extract merely for co-ordinating and running public services. It's not like they do the real donkey work, that's the teachers, bin men, coppers etc. who do that. Setting a few targets and bossing them around, attending meetings of Heads of State and so on is the easy and fun part.