It's time to introduce another of the pieces in my new club series, Crazy Patch Boo-nanza, coming to a retailer near you this April!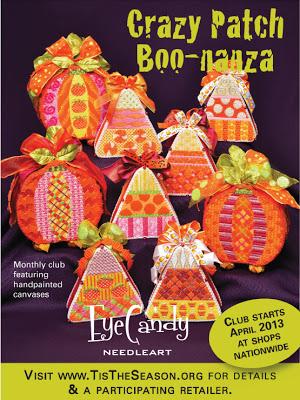 But first, lets go way back in time to when this series was just a set of unstitched canvases and a big pile of threads and embellishments.  This is a picture of the initial batch of threads I assembled when I started out.  A few were removed, but many more were added to take their place!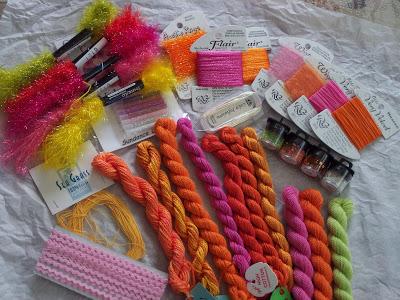 Here's the cutie we're taking a closer look at today: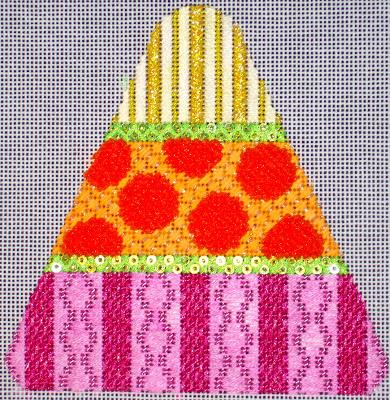 Starting from the top, it's bling and sparkle big time!  Most all of the threads I chose were either solid or else very subtly variegated, all the better to showcase the more dazzling threads, like the Holographic Fyre Werks I used here.  The green stripes are really blinged-out with Holographic chartreuse color sequins.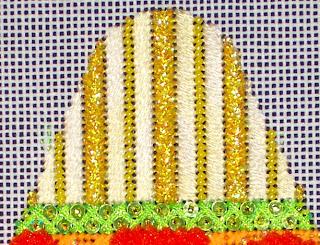 It doesn't show well here, but the dots in the center are highly textured.  They are stitched in Loopy Basketweave, giving them a look almost like turkey work.  Surprisingly, these dots used almost an entire card of thread, but the look is very rich!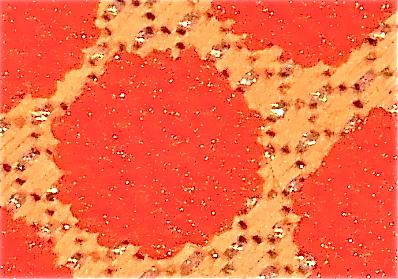 The bottom row is another area where I picked a big stitch for a small space, but don't worry about making it fit as I have charted the whole area for you in the stitch guide, meaning no struggle to compensate for you!  Lots of texture in this area too, with shiny, matte and sparkly threads all mixed together.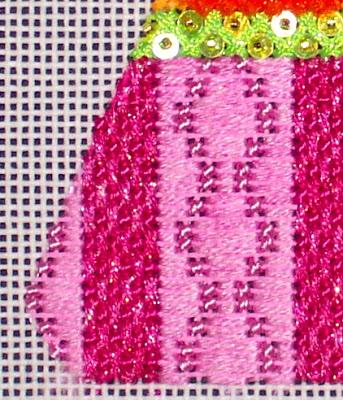 So there you have number two of the two Stripes & Dots candy corns, next time we'll look at one of the pumpkins!  See you soon!