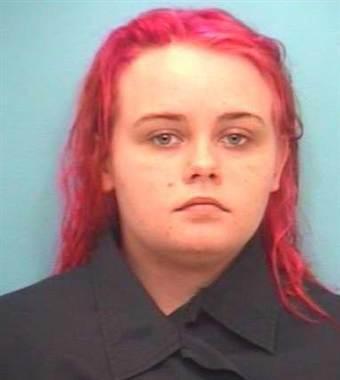 Orange County, Texas, Sheriff's Office. 

Melissa Ann Ringhardt, 19, of Vidor, Texas, was charged with abandoning or endangering a child after 5-year-old John Read shot and killed himself with her gun Monday, authorities said.

NBC News

A teenage babysitter was arrested Tuesday and charged in the death of a 5-year-old Texas boy who accidentally shot himself with the babysitter's gun while she was napping, authorities said.

Melissa Ann Ringhardt, 19, of Vidor was being held in the Orange County Jail on a felony charge of abandoning or endangering a child, the county sheriff's office said in a statement. She could face a sentence of six months to two years if convicted

The sheriff's office said Ringhardt, who lives with the boy's family, left her semiautomatic .40-caliber handgun on a coffee table when she went into a bedroom to take a nap Monday afternoon. When she woke up, she couldn't immediately find the boy, identified as John Read, according to the sheriff's office. She eventually discovered him dead in the living room, it said.

Because the home has no telephone, Ringhardt carried John and a 6-month-old child, whom she was also watching and who wasn't identified, about a block to his grandparents' home to call 911, the sheriff's office said. John was declared dead there when emergency crews arrived.

Ringhardt told investigators she had the gun because she was frightened of being home alone, the sheriff's office said. 

No phone and no cell phone either? How is that? This girl is another victim of the gun rights movement. She believed the lie that having a gun is a good way to provide for your safety.  Too often, it's not.