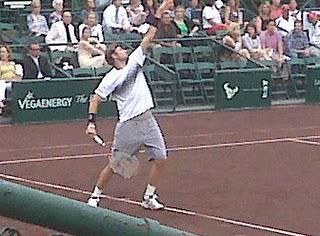 My last day at the U.S. Men's Clay Court Championships was my most fun day. Highlights included:
I got to drive Ivo Karlovic one last time. He plays his semi-final match against American John Isner tonight. I'm sorry America. I'm rooting for Ivo because he is so nice. I'm sure John Isner is nice too but he has his own car.
I got to see just a few minutes of Kei Nishikori's victory over Russian Igor Andreev.
I got to hear the Bryan Brothers band!
I got to drive a really cute kid around. His name is Andrea Collarini. He is 19, grew up in Argentina, plays for the U.S., trains with the USTA and - bonus - he was a finalist in the French Open Boys' Singles (he lost 4-6, 5-7 so it was a good match). Apparently, the last American boy to win the French Open Juniors was John McEnroe so I was impressed with Andrea's status as a finalist. He is now one of my new players-to-follow.
I got to watch Mardy Fish win his match against Spain's Albert Ramos. I'm told that if Fish wins this tournament, he will break into the ATP Top 10!
I got to watch John Isner and Sam Querry defeat fellow Americans Donald Young and Denis Kudla in doubles. 
And the No. 1 fun thing I did yesterday - I got to sneak into the Lexus Pavilion with two of my friends, who apparently have no pride, morals or scruples, and enjoy free drinks and food while watching the doubles match. I hope no one at the tournament finds out although I kept waiting for someone to ask me to leave since I was in my "volunteer" get-up (not attractive, about one step above janitor duds) and everyone else in the Lexus Pavilion was way over-dressed.
Sadly, after all of this hard work, I am leaving town for the weekend and won't get to see the completion of the tournament. Oh well.
The good news is I took a bunch of photos with my camera and my Blackberry yesterday - all pretty terrible but the one above is a decent one I got of Mardy Fish (obviously I'm very loose on the definition of "decent"). I took some video with my Team 4all Flip camera and, based on those results, I will not be pursuing a career in videography any time soon. But I'm going to post my video clips to my
Tennis Fixation YouTube channel
just for fun. (Yes, that's right. I have a YouTube channel - don't ask me why. You can visit it by clicking here:
The TennisFixation Channel
.)
Just for fun - here is a photo of cutie-pie and up-and-comer Andrea Collarini from his finals match at Roland Garros. I just wanted him to get some
Tennis Fixation
recognition for his efforts. And for being very sweet when they didn't have his post-workout-recovery drink when we went to get it at GNC!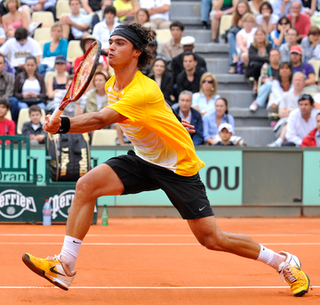 Photo via www.2010.rolandgarros.com


© Kim Selzman 2011 All Rights Reserved