We previously posted some photos from this event that include True Blood's Tara Buck, Kristin Bauer and her husband, Abri van Straten.
Hosted by Kevin Nealon, the fete, Patterns for Paws featured fashion-forward Fidos decked out like doggie duplicates of famous faces, including Jennifer LoPawz, Mutt Damon, Collie Furth and Natalie Poochman. The adoptable dogs lapped up the limelight as they struck a pose with some real life paparazzi magnets, such as Kristin and Tara, as well as, Kristen Vangsness from the CBS series Criminal Minds and NCIS star Pauley Perrette, who also was honored with the "Worthy of Love" Award for her long-time commitment to The Amanda Foundation.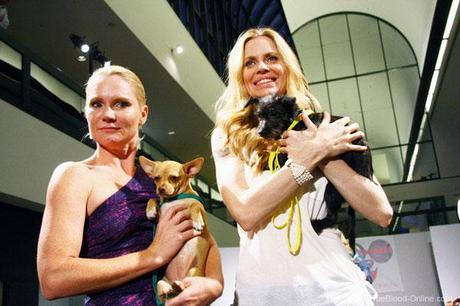 See all of the photos from this event in our photo gallery.
Below is a video of the event:
While at the event, Tara Buck was asked about her co-star in the new film, K-11. Tara said, "He's amazing," True Blood actress Tara Buck, who plays a transsexual in the movie. "He's the sweetest guy. Really open and incredibly professional. It was his first [major] movie and he does a spectacular job. He's gorgeous, so I think you'll probably see a lot more of him."
K-11 is a prison drama that follows the story of a music mogul (Goran Visnjic) who wakes up in a Los Angeles jail after a three-day binge of partying. Cameron plays an inmate named Sledgehammer.
As for how mama Stewart is doing with her directorial debut? Tara said: "Honestly, she is one of my favorite directors I've ever worked with," Buck gushed. "She wrote the movie herself and just knows every detail of what she wanted. So truly I felt like I was completely protected and in great hands."
source: dogtipper.com
source: eonline.com