Now we have both the east and the west back yard fences painted with flowers, just in case the seedlings do not prove viable and flowers won't grow according to plan.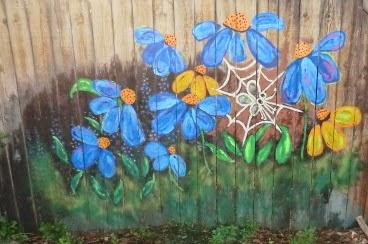 Above is the east side yard fencing, under a much pruned lilac.  We have had that lilac many years, and it really needed branches culled, especially around its base.  Out came the clippers, then the saw, and finally the chain saw.  The lilac was denuded, making the fence bare.  A bit of decoration was in order, so this time I added a spider and a cobweb to some echinacea flower leaves and petals.


This is the east side of the fence.  The bee was cautioned about the spider web across the way.
Knitting
The Vogue Shawl was completely taken apart and the linen yarn rewound.  It just did not seem to be working, plus I found a huge mistake I had knitted into the pattern way back when. Thoroughly unsatisfactory, so it was dismantled in short order.
The organic linen was re-purposed into the start of another Shetland Lace Shawl, and the linen fiber is behaving much better with this pattern.  So far, I am about 10 percent through it, with mistakes at a minimum.  The first Shetland shawl turned out well, so fingers are crossed that this one will come up to muster.
Gardening

Blue iris were added to the back, thanks to a friend's pruning hers back.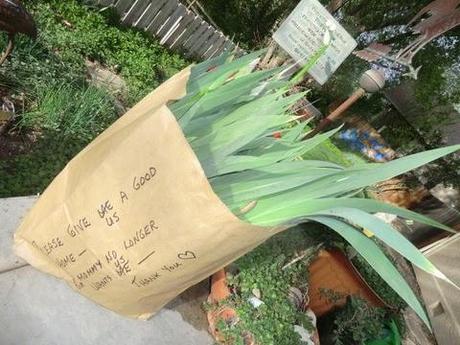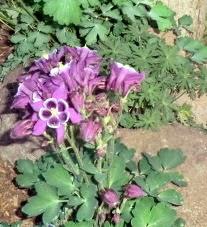 Columbines are blooming.  This week has been very cool and the night temperatures are still going down into the 40's, so I have not yet put out the seedlings.  But I purchased one dozen geraniums and planted them this week. Several years ago I was getting three dozen geraniums for patio pots, but am cutting down this year. Those yellow iris are doing their duty and continuing with profuse blooms.  The amaryllis have been put out, a new black-eyed susan root and day lily roots have been planted, and the husband planted a lettuce variety, cilantro, corn, tomatoes and cucumbers, along with zucchini.  The basil that was planted last week, along with a rosemary plant, are perking up, and the cilantro is 1/2 inch in height.  We added a garden bench to sit under a Japanese maple tree for ornamental purposes.  We planted this tree about eight trees ago and placed the ashes of our sweet black dog, Grace, under this tree, beneath a statue of St. Frances.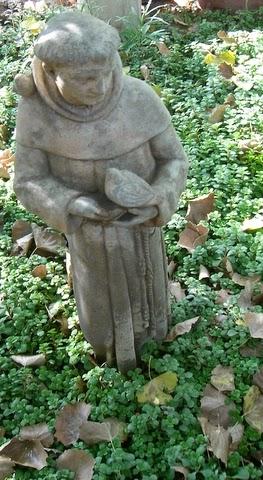 This area is now called a "bethel," thanks to learning a new word from Zana this week on Words With Friends.
Cooking & Domestic Duties
New recipes this week include a flour less chocolate cake, similar to this one. This is for Mother's Day brunch, so will get busy on it in  a few hours.  Except the recipe I am using (again, thanks to Natalie) calls for baking it in a 7" spring form pan in a crock pot sans water in the bottom. Also, Natalie insists that the cacao percentage be over 60%, as good old Hershey's just will not do for this decadent dessert.  A raspberry sauce goes atop.  It keeps in the fridge for two weeks, so the left overs will be good on ice cream.
We have clean windows as of yesterday, as our friendly young men who run "First Impressions" did a great job of getting the dust and dirt off the insides and outsides.  The cleaning of windows necessitated the taking down of the accordian pleated cellular blinds, two that were broken and needed replacement.  After 16 years in this house, one of those blinds has been repaired twice, but enough is enough.  This time Home Depot will be my default seller, and I'll get vertical wooden blinds instead of the cellular type.
TV

Powering through Vera, almost through Season II.  Love this British detective series!  Ann Cleeves wrote this series, and since I have read all her books save the most recent one on my Kindle, it is no wonder this is a favorite.
Transportation and Travel
We got a new car this week.  !  It is a 2013 Honda Civic, four doors, complete with back up camera and bluetooth.  It is silver in color and I love it.  My husband purchased a 2013 Honda Sport Fit and really likes his, so now two little Hondas share garage space.  I don't drive out of town very much, but the Civic handles the highway well and has plenty of zoom.
My next travel will be to Barcelona, Spain in October for a Scrabble transatlantic cruise directed by friends Barbara and Larry.  Remember when Barbara celebrated her 30th year of directing play a few months ago?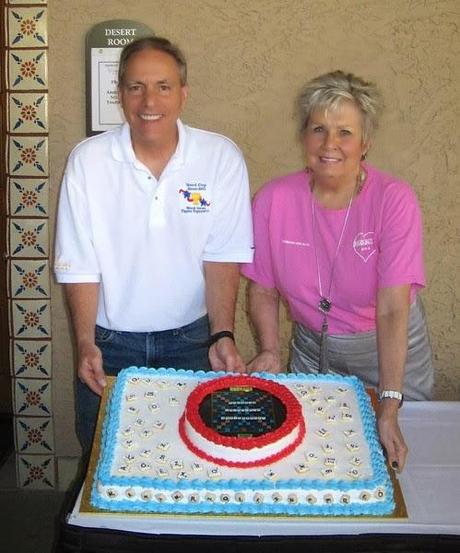 That's my update.  Tell me yours!