From
MSNBC.com and Bloomberg News
:
Koch Industries made secret sale to Iran, report says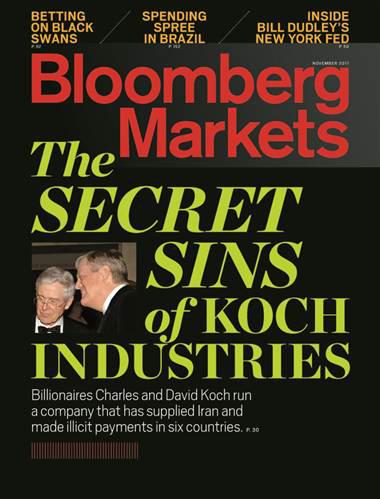 By Al OlsonKoch Industries, the company controlled by GOP mega-donors Charles and David Koch, sold millions of dollars of petrochemical equipment to Iran in an end-run around a trade ban and cheated the government out of nearly 2 million barrels of oil from federal lands, according to a
blockbuster report
in the November issue of Bloomberg Markets magazine.
The company has also been involved in improper payments to win business in Africa, India and the Middle East, the Bloomberg report says.
It says internal company documents show the company made petrochemical equipment sales to Iran through foreign subsidiaries, thwarting a U.S. trade ban. The company also repeatedly ran afoul of environmental regulations, resulting in five criminal convictions since 1999 in the U.S. and Canada.
Koch Industries units have also rigged prices with competitors and lied to regulators, according to Bloomberg Markets magazine's investigative report. It took 14 reporters from around the globe six months to put the story together.
The company, the report suggests, is obsessed with secrecy, to the point that it discloses only an approximation of its annual revenue -- $100 billion a year -- and says nothing about its profits.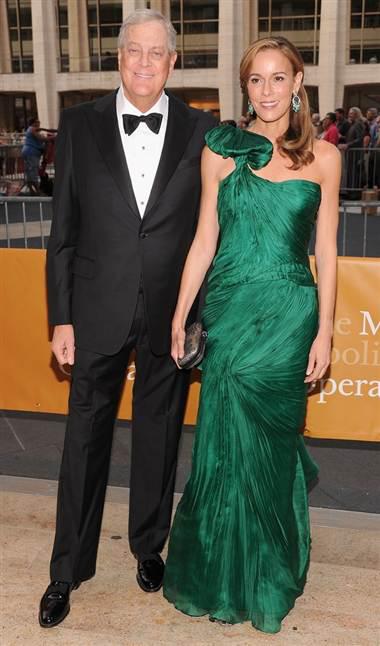 Jamie Mccarthy / Getty ImagesDavid Koch and Julia Koch attend the 2011 Metropolitan Opera Season opening night performance of "Anna Bolena" at The Metropolitan Opera House on September 26. Charles, 75, and David, 71, each worth about $20 billion, are prominent financial backers of several conservative think tanks and nonprofit organizations, such as FreedomWorks and the Cato Institute, that believe excessive regulation is sapping the competitiveness of American business.
Here are some of the investigation's key allegations:
Koch Industries made improper payments (described by the former compliance director who discovered them as "bribes") to win business in six countries over eight years, a possible violation of the Foreign Corrupt Practices Act. One criminal law professor called the findings a "smoking gun." The company described the payments as "activities constitut[ing] violations of criminal law."
Koch Industries sold millions dollars worth of refinery equipment to Iran after President George W. Bush declared the nation was part of the "Axis of Evil." The company claims these sales were legal at the time, and says it has since cut ties with Iran.
Koch Industries allegedly pilfered 1.95 million barrels of crude oil pumped from federal lands by falsifying purchasing records, a Senate investigation found. One former worker said the company routinely incorrectly measured the oil, calling this practice the "Koch Method."
Koch Industries ignored federal regulations for pipeline safety — resulting in the deaths of at least two people in a pipeline explosion in Lively, Texas in 1996.
A spokesperson for the company acknowledged the past mistakes, but said the company has altered its practices and policies to avoid running afoul of the law.
Read the full investigative piece here
.