And the craze continues… Casper&Gambini's started, followed by The Four Seasons and now La Cigale… who is next?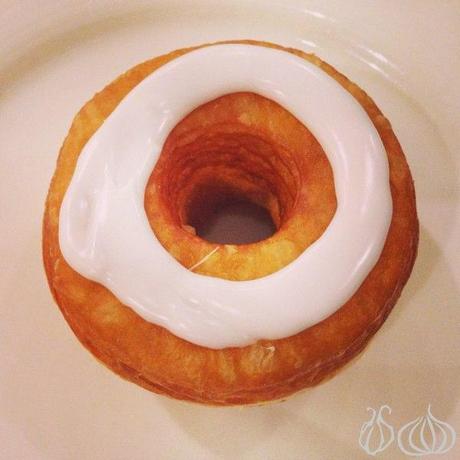 As I had expected, the cronut at La Cigale's has nothing to do with the two others. It seems everyone is imagining what a cronut actually is and each one is producing it differently.Dry, non oily and served as is with no sauce, the cronut at La Cigale looks nice before even tasting it.It's now 6pm and I am sitting at their Zalka branch looking at this beautiful creation in front of me. This 6cm thick preparation is perfectly round like a donut and covered with vanilla icing. It's like two pieces have been stuck together since you can see a white line in the middle, where the pastry cream has been filled.
CRONUT= Croissant + Doughnuts. The cronut is the brainchild of pastry chef Dominique Ansel, named one of the "Top 10 Pastry Chefs in the United States" by Dessert Professional Magazine. The must-have pastry, which sells for $5, is reported to be very tasty and desirable. I can't wait to get my hands on them…
La Cigale's cronut smells like a donut and tastes like one too. Many layers of pastry choux dough fried and covered with sugar, exactly like a donut. The inner filling is very good, adequately sweet as you would expect it to be and the dough is not oily.
A donut prepared with croissant dough, using just the right amount of sweetness that makes it tasty with a touch of finesse.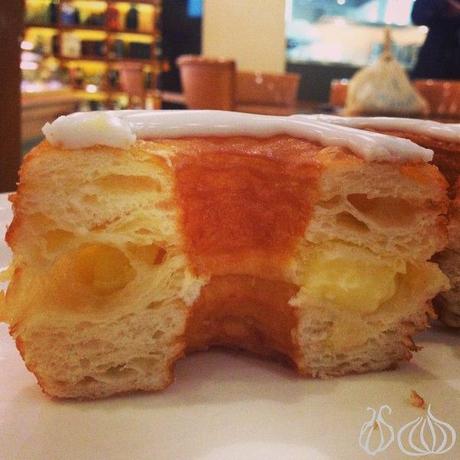 The positive:
This cronut is only 3,500L.L. The cheapest around-by far
It looks clean and non sophisticated…
A simple creation you can eat on the move without having to use a fork or dirtying your hands
Its simplicity amazed me
The negative :
It is slightly too dry
The outer layers are a bit chewy and that might be because the cronut was prepared more than 10 hours ago. I will make sure to try them again in the morning
The dough lacks a tiny bit of sweetness. Eaten alone it is dry but mixed with the inner cream it becomes good
More tests:
To be sure of the difference between a CRONUT and a donut, I ordered a simple donut. They look similar on the outside but the dough and taste are way different. It's like eating a burger or a pizza. Yes, the CRONUT has a fine pleasant taste different from the donut. PS: La Cigale's donut is inedible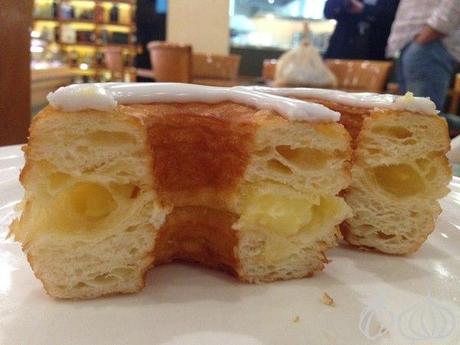 Since the Zalka branch had only the vanilla flavor, I decided to visit their Achrafieh branch and order the chocolate one. We arrived and were welcomed by personnel who know next to nothing what a cronut is.
"Cronut? What is that?" A woman behind the fridge asked. Calling her supervisor, he looked at me and said; "It seems you are mistaken, we only have donuts, this thing you eat in the morning". I laughed out loud and decided to show them the picture taken earlier at their Zalka branch. Then this woman looked at me again and said "They do things in Zalka that they don't send here."
I've had enough of ignorance for one day and decided to leave.
Dear La Cigale management,

The next time you introduce a new item into your shop, please make sure to train your staff about it…
Even though the staff at Zalka and Achrafieh had no idea what they are selling, today I tasted my favorite cronut in Lebanon so far that simply tastes different and unique: Not Kellage Ramadan and not a piece of plain fried bread. For only 3,500L.L as take-away or 5,000L.L in-house, La Cigale has managed to create something simple and tasty at the same time. I encourage you to go and try it…