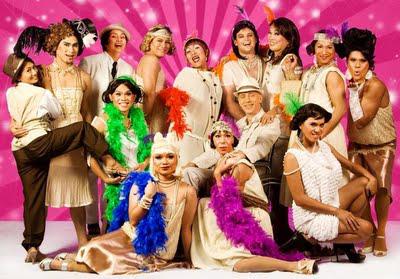 After a smash 42 shows the Philippine Educational Theater Association's musical dramedy "Care Divas" is back for more performances at the PETA Theater Center on May 6, June 10 and 17, July 8, 15, 22 (8 p.m.); and May 7-8, June 11-12, 18-19, July 9-10, 16-17, 23-24 (3 p.m./8 p.m.)
"Care Divas," with script by Liza Magtoto, music and lyrics by Vince de Jesus and choreography by Carlon Matobato, is directed by PETA Artistic Director Maribel Legarda. The show was inspired by general life-stories of OFWs who work as care givers of elderly Jews in the morning and pursue their own personal dreams as drag performers at night.
The cast includes theater veterans Melvin Lee, Vincent De Jesus, Phil Noble, Buddy Caramat, Dudz Teraña, Jason Barcial, Eric dela Cruz and PETA president Cecilia Garrucho. It also features guest artists such as Paul Holme, Ricci Chan, Jerald Napoles, Myke Salomon, Angeli Bayani together with emerging actors Miguel Hidalgo and Dominic Miclat-Janssen.
For inquiries and ticket reservations, contact PETA Marketing and Public Relations Office 7256244, 4100821 or 0917-5642433, or e-mail [email protected]
PLUS: Walter Ang's comprehensive, nuanced appraisal of Care Divas here. My own capsule take here.