via TYWKIWIDBI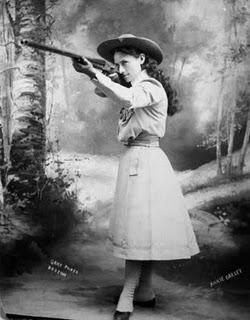 FAMILY BACKGROUND: Quaker parents Jacob and Susan were originally from Pennsylvania. After a tavern fire ended their livelihood as innkeepers, they moved to a rented farm in Ohio. Father, who had fought in the War of 1812, died in 1866 from pneumonia and overexposure in freezing weather.
Well, I guess that settles it about the Quakers being gun control advocates in the 18th century, eh
Mike G.
? Annie's daddy owned a tavery, fought in a war and I suppose taught her how to shoot.
What's your opinion? Please leave a comment.