On Sunday a moose in Fort Collins, Colorado was tranquilized and removed from the city by authorities. The animals swam across Horsetooth reservoir and hiked over the hogback into the city to escape the High Park wildfire. The fire has been raging for more than a week, displacing wildlife as well as domesticated animals.
According to Colorado Parks and Wildlife, an increase in wild animals in the city as the fire continues to burn west of the city is likely. Two other moose have also found temporary refuge in natural areas of the city.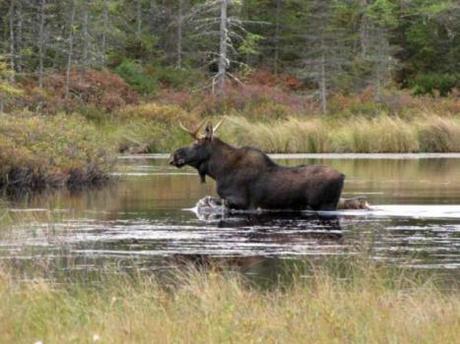 The 2-year-old, 700 pound moose had been seen crossing the lake and heading for the city. Witnesses called police. By the time police caught up with the moose, he was camped out under a tree at a ditch. The animal was moved to an area of Larimer County that is safe from the fire. The moose was up and walking and in good health before being released.
Unseasonably high temperatures have put wild animals that have moved into the city at risk since they are used to cooler temperatures at well-forested higher elevations. Due to drought conditions the animals are also at risk for dehydration. The dry winter and spring has also led to a shortage of food sources for the animals and they have been ranging farther afield to find what they need. This may include pet food and bird feeders.
Firefighters have been seeing an increasing number of hungry bears on the move as well. Residents are advised to keep their distance from any wildlife that wanders into their path. 
Sources: 9News Denver, The Denver Channel