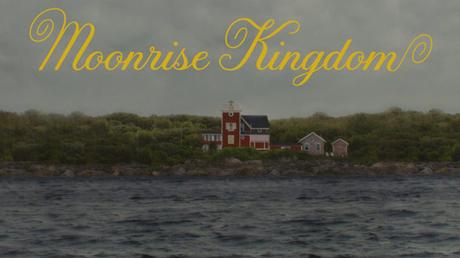 'Moonrise Kingdom' by writer-director Wes Anderson (2012)
"Kids! What's the matter with kids today?" complained comedian Paul Lynde in the 1963 musical-comedy Bye, Bye Birdie. "Who can understand anything they say? They are disobedient, disrespectful oafs! Noisy, crazy, sloppy, lazy, loafers! While we're on the subject: Kids! You can talk and talk till your face is blue! But they still just do what they want to do! Why can't they be like we were?" (Lyrics courtesy of Lee Adams).
Why, indeed. Could it be that they know better? Yeah, those crazy mixed-up kids! What a nuisance, what a pain! And "Kids" is the perfect theme song for a musical about crazy mixed-up teenagers from the late 1950s, obsessed with a fictional rock-'n'-roll idol - a hip-swaying, about-to-be-drafted rockabilly patterned after Elvis Presley.
In Wes Anderson's Moonrise Kingdom (2012), set in late summer 1965, we have a similar set of participants: a slaphappy group of crazy mixed-up preteens and their adult counterparts. In this case, a troubled pubescent pair, Sam Shakusky (Jared Gilman) and Suzy Bishop (Kara Hayward), finds itself in the throes of puppy love. Having carried on a year-long correspondence - in one of Anderson's rapid-fire flashbacks - the two decide to run away together. On the opposite end, the girl's middle-aged parents, Walt and Laura Bishop (Bill Murray and Frances McDormand), lawyers by profession, face their own midlife crisis.
Next, sad-eyed but none-too-bright Police Captain Sharp (Bruce Willis) goes on the trail of the fugitive "miscreants," between furtive visits to Mrs. Bishop whom Suzy has continuously spied on because, the daughter suspects, mom has been carrying on an affair for some time. Meanwhile, an insensitive Social Services worker, who remains a nameless bureaucrat throughout (but we know her as Tilda Swinton), tries to put a semblance of order to a disorderly situation.
We also have the garrulous narrator (Bob Balaban) doubling as a garden gnome and modeled on the Stage Manager from Our Town, who pops up at regular intervals to offer details about the quaint New England locale. Those details become markers for what is to come. This is followed by self-important Scout Master Ward (Edward Norton) and his Keystone Kops-like band of Khaki Scouts who parade about Camp Ivanhoe as if they were underaged army troopers (more like makeshift "Lords of the Flies," in one instance). As with Sharp and Laura Bishop, Ward appears to be courting Becky (Marianna Bassham), the island's sole telephone operator, on the sly.
In addition, a frustrated foster parent, Mr. Billingsley (Larry Pine), succeeds in relieving himself of the burden for caring for his troubled charge. That troubled charge, 12-year-old Sam Shakusky, just happens to be the object of Social Services' clashes with Police Captain Sharp. He's also the same boy in love with dark-haired, doe-eyed Suzy. Oh, and one more thing: Sam has a tendency to set stuff on fire when he sleepwalks - quite accidentally, of course (but of course!). Because of this, he is banished from the Billingsley household.
All this, and the symphonic and vocal harmonics of English composer Benjamin Britten to top things off - preferably, with red ribbons and a violin bow (there's also an original score by Alexandre Desplat). Is this any way to start a movie? It is, if the movie happens to be one by Wes Anderson.
Anderson wastes no time in introducing audiences to the dysfunctional Bishop Bunch. We get a bird's eye sense of his basic approach, and how it all ties together into a much larger canvas (or needlepoint) of human behavior, as the situation demands.
Just as in the Britten piece, the film opens with all the players at the ready - well, most of them, anyway. Each is in his or her respective sphere of influence (the summer home, the porch, the dining room, bedroom, outdoors, indoors, wherever). And, as it was with Britten's work, each section is spotlighted in snippets of background filler, just enough to tap into the audience's interest.
The instruments employed show off their capabilities in short spurts. Likewise, our human equivalents also figure into the scheme, providing hints of their quirky behavior. Everything comes together in the end, with a rousing fugue that unites the disparate elements into a flurry of activity, while closing on a major key.
Why, it's a veritable music fest, an echo of those long-ago, Leonard Bernstein-led Young People's Concerts in miniature. Anderson even used Bernstein's recording with the New York Philharmonic, a prime example of the director's coincidental- slash-quite-on-purpose musical montages much favored by fans and admirers. Tidbits of crucial information are thrown at viewers in quick succession.
Music and Comedy For Everyone
A comedic banquet for the eyes and ears, Moonrise Kingdom is another of the Houston-born writer-director's chaotic showcases of life among skewed adults who act... well, like children; and the damaged children they've left behind (see The Royal Tenenbaums) who try desperately to act like adults. A contradiction in terms? Your guess is as good as mine!
Toss in a wire-haired fox terrier called Snoopy (no, not THAT Snoopy), who unlike his namesake meets an untimely end, and you have a farcical yet affectionate tribute to mid-1960s pop culture, replete with knowing pokes at nostalgic symbols from days gone by. Indeed, nostalgia and the loss of innocence are the persistent themes.
Really, what's there to say about a New England coastal paradise, i.e., the make-believe island of New Penzance (no pirates, please), where a monster hurricane is about to bear down upon its inhabitants at a most inopportune moment? A metaphor for the turbulent lives of Anderson's characters? Portents of radical and/or cultural changes to come? You betcha!
Beneath it all, we are privy to Britten's 1945 A Young Person's Guide to the Orchestra, subtitled Variations and Fugue on a Theme of Purcell, comprised of woodwinds, brass, percussion, and strings. Like Britten, Sir Henry Purcell was an English-born musician but of the Baroque period, renowned for a series of stage works, principally the operas Dido and Aeneas, King Arthur, and The Fairy Queen. Britten himself was no slouch in that department ( Peter Grimes, Billy Budd, The Turn of the Screw, A Midsummer Night's Dream, Death in Venice), having made up for lost time between the interval of Purcell's early demise (in 1695) and his own birth two centuries later, in securing England's place in the operatic firmament.
Interestingly, Anderson presents viewers with Noye's Fludde, a one-act children's recreation of the Old Testament story of Noah and the Ark, where God commands Noah to build a vessel and populate it with two of every known animal. Because mankind has sinned, God was going to start fresh with Noah and his brood. The text, derived from an old English mystery play, directs that it be performed by amateur singers, with the exceptions of Noah, his wife, and the voice of God. At the start, the piece serves as the meeting place where Sam first spots Suzy. She plays a sexy raven with heavy eye-liner (no wonder he's attracted to her).
Not satisfied with that, Anderson bathes his audiences in sixties-era pop sounds from France (via Parisian chanteuse Françoise Hardy) and a sampling of Country-Western ballads (sung by Hank Williams). The British group the Kinks, one of Anderson's favorites, and their tunes are nowhere to be heard. But the director makes up for their absence with the Britten pieces. There are passing references as well to filmmaker François Truffaut and the French New Wave, which was coming into its own in this same period. Too, New Hollywood and its type of outré film forays were right around the corner.
But then, we have the paradoxical presence of a lookalike Lord Baden-Powell, founder of the Boy Scouts, played by Harvey Keitel in short pants and walrus mustache. What? Don't tell me you didn't notice the resemblance? Either you weren't paying attention or, more likely, you may not have been attuned to Anderson's mania for cultural references, of which this film (and others like it) abound in.
Possessing a healthy curiosity about the world as it once was, a subject he delved into at length with 2014's The Grand Budapest Hotel and, more recently, The French Dispatch, Anderson fills the screen and soundtrack with such trivia as these - sort of like sprinkling sugar on an already sweetened parfait.
But isn't he asking too much of his viewers? That is, for them to be overly indulgent in kowtowing to Anderson's directorial whims? His penchant for the obscure? His love of over-the-top storytelling? We don't think so. These so-called "devices" add substance to his enticing entrees. He'll leave many viewers in the dark, that's for certain. But it behooves one to put in the extra effort in dissecting his truffles at our leisure. Specifically, for what they reveal about individual motives.
As the film that came before The Grand Budapest Hotel (see my earlier review of this masterpiece of comic hilarity: https://josmarlopes.wordpress.com/2020/07/12/the-grand-budapest-hotel-2014-last-bastion-of-civility/) and after The Darjeeling Limited and Fantastic Mr. Fox, Moonrise Kingdom shares similarities in style as well as content. The difference, however, may be that in this feature, Anderson and co-writer Roman Coppola's cinematic trip down a fast-fading memory lane boasts an unrequited air of naiveté. While periodically permeating the gauzy color scheme and 16mm camera work with silent movie-era antics, we soon discover that our young protagonists may not be as virtuous as they first appear.
Although the "love couple" in question is no doubt comprised of two audacious twelve-year-olds, the range of maturity they exhibit (and their inherent eccentricities), combined with variable degrees of childish smirks and wise-beyond-the-years awareness into adult behavior, tap them as persons with a future: Sam, a talented watercolor artist and budding outdoorsman; and Suzy, a voracious reader and (hopefully) aspiring author of science fiction-fantasy books who hides her true feelings behind stolen goods (those unreturned library books).
There's a hazy outlook to the picture as a whole, with a saturated film palette not of the Technicolor variety. The whole thing plays as a foggy remembrance of incidents past, where memory can be vague and recollections fleeting.
At their worst, Anderson's films are the equivalent of a seven course meal - there's almost too much to savor over and take in. They're at their best, really, when digested in slow, satisfying morsels, as long-term sustenance for the hungry movie fan.
Call his pictures a manna for simpler times, for a lost innocence long since expired; for resourcefulness and cunning in the face of overwhelming odds. All of them tied to winnowing plot lines, one of which is about a star-crossed pair of adolescents who, through chance, fate or sheer dumb luck, happen to stumble onto one another when their needs were at their greatest.
Adventures Into the Absurd
Each of Anderson's cinematic delights comes back to us in like manner: some in new wrappings, others unchanged. The point being that, at Moonrise Kingdom 's end, each of the participant's concerns becomes unified within a commonly held purpose.
For instance, when the Khaki Scouts make a collective decision to rescue Sam and Suzy (hopefully, from themselves), the couple asks to be joined in, er, unholy matrimony by Cousin Ben (Jason Schwartzman), an older scout who takes his strictly ceremonial task far too seriously. Still, the scene of the young people pledging their vows places added emphasis on the seriousness of Sam and Suzy's purpose. They want to be "married," and so they are (in a manner of speaking). The Khaki Scouts have joined forces with their fellow 12-year-olds in a show of solidarity not previously expressed. The bonds that tie these little brigands together are stronger than we think.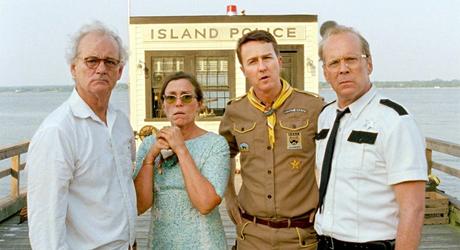 Mr. and Mrs. Bishop (Bill Murray, Frances McDormand), Scout Master Ward (Edward Norton) and Police Captain Sharp (Bruce Willis) in 'Moonrise Kingdom'
The climax of Britten's piece, then, solidifies this aspect of the characters' relationships: at first, togetherness, followed by separation and estrangement, and finally a coming back together again. Hopefully, to a functioning whole. The final fugue and repeat of Purcell's theme (in the trombones and brass section) returns the musical portion of our program to its start.
Similarly, the same occurs within the story and among its protagonists. After the hurricane has done its damage, a semblance of normality, if not normality itself, comes to windswept New Penzance. For the most part, attitudes have been changed or at best modified. We can take comfort in the outcome. For now, Sam, our pint-sized "Roger Ebert" in coonskin cap, is appeased. And a rapidly maturing Suzy, the "kidnapped girl," has emerged from her cocoon: stronger and more resolute, determined to steer her own course in life, unburdened by excess baggage or uninspired, unfeeling parenting.
Taken individually, Sam is terrible at being a Khaki Scout, but he's terrific at pitching a tent. His efforts, for example, at determining which way the wind blows come to naught. Forget about scouting, go with your feelings. He's less a junior ranger and more an artist at heart (we're given glimpses of his artwork, including a rather "revealing" nude!). Suzy's a bookworm but also a kleptomaniac. Boy, does she have anger management issues. With her family and other girls her age, she's belligerent and argumentative. With Sam, she's tolerant but to a point. She can stand up for herself. So can Sam, in his deliberate lowkey way.
Despite evidence to the contrary, we can't forget that they're still kids. In two separate incidents, Sam and Suzy hurt each other. Not physically, mind you, and not deliberately either, but with words. Words hurt. The wounds they leave behind cannot physically be seen, but they stay with you and longer. At those times, the young couple may have inadvertently mimicked their parents behavior. Eventually, all is forgiven. They (and we) move on.
What's so admirable about Suzy and Sam is that they're both fearless risk-takers, the opposite of their burned-out parents. So much so that Police Captain Sharp does not want Sam to be placed with another foster parent or taken to an orphanage. Taking a firm stand at last, Sharp refuses to give him up to Social Services, a bureaucratic nonentity with nary a sentimental bone in her body. It's business as usual for this meddler, another case to be stamped "complete" and filed away. Her only concern is with getting the matter resolved and be done with it.
However, Police Captain Sharp has other ideas. His absurdly ludicrous rescue attempt atop the church steeple - metaphorically speaking, the scene of the couple's first meeting - a physical impossibility if you must know, remains plausible within the range and context of Anderson's overblown and patently preposterous possibilities.
The plot has finally taken these young people full circle: the former "losers" Sam Shakusky and Suzy Bishop, on their own "hard road" to discovery, have figured things out for themselves. Life has pulled them apart and placed them back together again (in the manner of pint-sized Humpty-Dumpties). They may have had their great falls, but it's all in the name of progress: of growing up, of learning and moving on; of living and loving, and also (hopefully) of understanding.
It's about analyzing one's thoughts and actions, while trying to cope with newfound feelings, new sensations, new emotions, new urges, some of them (ahem) quite carnal in nature. At "Moonrise Kingdom," their coastline strip of refuge from encroaching civilization, Suzy and Sam dance cheek to cheek, close enough to engage in a bit of intimate behavior. You can't blame them for trying to make sense of a senseless world: the pains, the sorrows, the missed opportunities, and the consequences of one's actions. These are what growing up is about. Little rebels with their own causes. And it ain't easy, our young people learn. Life never is.
Will Suzy and Sam remain together after summer's end? Hmm. I think it's better that we don't know. (Note: Spoilers ahead!) Sam finds a role model and true parent in Police Captain Sharp. Suzy is back home with her family. If their lives turn out to be no better than the one their parents led, it would be a tragedy indeed, one too hurtful to withstand.
Instead, we've participated in a comedy of sorts. A human comedy, one hopes. Hope is a good thing to have when you're on your own, with nothing but your wits to guide you. You live by your wits. It sure helps to have someone by your side, though. Together, you can make a little life for yourself. On your own. No cares. No interference. And no adults around, please. Little mini-hippies, left to their devices.
"Kids! What's the matter with kids today?" Ah, yes! Those crazy mixed-up kids! What a nuisance, what a pain! Don't you love 'em anyway?
Copyright © 2021 by Josmar F. Lopes