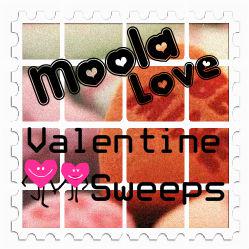 This Lil Piglet and Tales of a Ranting Ginger, together with a group of  fabulous Canadian bloggers from the Canadian Blogger Network are proud to present the Moola Love Valentine Sweeps cash giveaway (running from February 7th 12:00 am EST – 14th at midnight).
That's cause we know that it's useful to have a little extra moola around to treat the love of your life to something just a little extra special.
Oh, are you single?  Well – $100 extra at this time will help you throw a little non-Valentine's party …or go shopping…or sponsor a complete pig out ice cream night…..hey, whatever floats your boat – but w hat I'm saying is that you can win an extra $100 to use whatever which way you want!
Enter to win $100 cash via PayPal. Anyone with a PayPal account can enter to win this "lovely" cash prize; open worldwide!