Because everything's prettier in Paris
Seeing some of my favorite bloggers share their Parisian excursions (Grace, Alex, Mae, Liz), I guess you could say I've got a case of Parisian paralysis…that is, I can't do much else but wish I was there too. A touch of sparkle, bows, and petite tailored details is what's getting me through: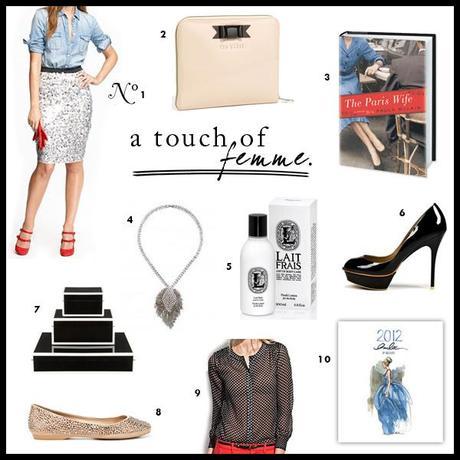 No. 1. J.Crew chambray blouse, paillette skirt 2. Ted Baker 'Paddie Bow' iPad case 3. The Paris Wife, by Paula McLain (currently reading/loving) 4. Bauble Bar Savoy Pendant (great to dress up a plain tee or sweater) 5. Diptyque 'Lait Frais' lotion (bought this over the weekend…orange blossom water and almond oil!) 6. Zara black patent peep toes 7. Gramercy & Co. black/white lacquer boxes 8. Zara sequined ballerina flats 9. Madewell polka dot blouse (just bought the tie front version and it's the cutest!) 10. Inslee Haynes 2012 calendar
What's your current inspiration destination?