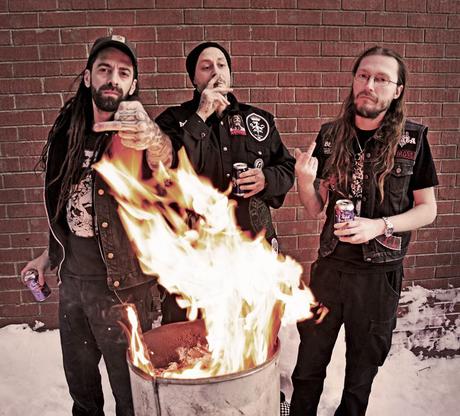 In anticipation of the release of their

face-melting fourth album this April,

 Canada's most evil sludge merchants
DOPETHRONE
 have decided to unleashed a brand new song via Terrorizer. It's called

"Dry Hitter", it's mercilessly-sounding, a

nd definitely not THC-free...
Check out Dopethrone's new sonic bomb "Dry Hitter" on 
Terrorizer
« The album is, in a word, massive. Beware the listener that clicks play on this with cheap speakers. You'll soon need to replace them simply because of the sludgy, waxy build-up their riffs will leave on the speaker material. » - The Sludgelord
« Buy this record, drink all your beer, go get some more, get high, watch horror movies and blast this at 11. Dopethrone delivers again. » - Doomed & Stoned
« 
It's as evil as fuck sounding as taking a shot of the cheapest whiskey in a menthol butt-filled ashtray chased with the nastiest, piss-warmed chongo tasting beer in your local dive bar that you know is bad for you but you keep on coming back.
 » - Zero Signal Magazine
« 
What's more brutal than hard gore, heavy drug abuse and excessive biker carnage? Dopethrone's new album Hochelaga.
 » - The Whore Church
After three records that have knocked out all sludge & doom fans across the globe, Canada's most insane and weed-laden trio
DOPETHRONE are back with their new beast of an album "Hochelaga" - named after the trio's dodgy neighbourhood in Montréal. "Hochelaga" is simply their most infectious effort to date, it's filled with devilish smoked-out atmospheres and riffage so monstrous that you'll get instantly pinned down. Watching 
their dangerously heavy video for "Scum Fuck Blues" (produced by The Whore Church) should give you a perfect idea of the kind of misdemeanour the trio is up to...
"Hochelaga" - Out April 13th on Totem Cat Records
LP & CD preorders at 
totemcatrecords.bigcartel.com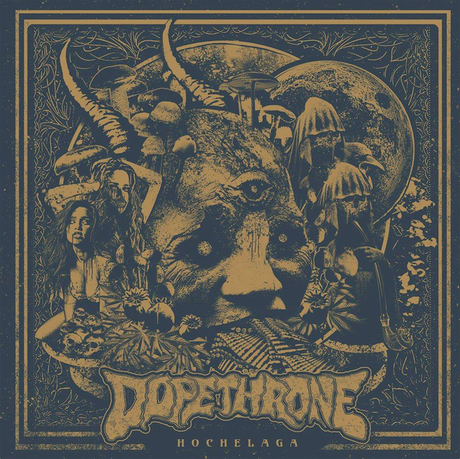 The riff comes in many forms. Sometimes it's clean, catchy and elegant. Sometimes it's filthy, grimy and about as elegant as a sledgehammer to the sternum. DOPETHRONE is the latter. This D.I.Y trio from Hochelaga, Montreal's trashiest ghetto, wallows in smoke, demons, death, the occult and enough psychotropic drugs to send both Hunter S. Thomspson and William Burroughs on one hell of a trip. Delivering some of the filthiest, most skull-crushing riffs drenched in distortion and fuzz, they encompass the bleakness of black metal, the steadfastness of New Orleans-style sludge with a heavier-than-thou doom mentality. Riffage is thick, punishing, suffocating and destructive and demonic vocals are harsh, visceral and animal-like for tunes dripping with pervasive THC. DOPETHRONE take over doom and view it through a crusty lens, and that perspective rise the genre to new heights of sonic filth.
UPCOMING SHOWS

: 
22.04 - LYON (FR) MJC Ô Totem w/ EyeHateGod
23.04 - STRASBOURG (FR) Molodoï w/ EyeHateGod
24.04 - LONDON (UK) Desertfest London
25.04 - BERLIN (DE) Deserfest Berlin
26.04 - MÜNSTER (DE) TBA
27.04 - LILLE (FR) El Diablo
28.04 - PARIS (FR) Glazart w/ Acid King & Black Cobra
29.04 - AMSTELVEEN (NL) P60
30.04 - ATHENS (GR) An Club w/ Belzebong
01.05 - COPENHAGEN (DK) Heavy Days In Doomtown
02.05 - TBA
03.05 - HAMBURG (DE) Hafenklang
04.05 - ANTWERPEN (BE) Music City
www.dopethrone.bandcamp.com
www.facebook.com/dopethrone.mthell
http://dopethrone.wix.com/dopethrone