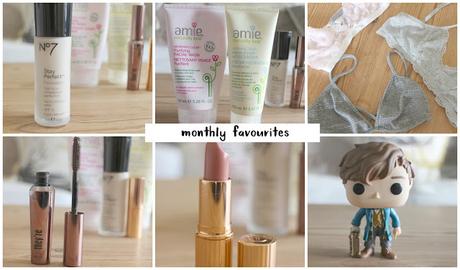 Getting back into the swing of things – and because it's practically been a century since I've done one – I thought I'd do a monthly favourites post… In the middle of the month because that makes perfect sense. There's been so many new things I've fallen in love with (become obsessed with) recently. So to hopefully make things make sense, I'll split it into categories.
Face & Beauty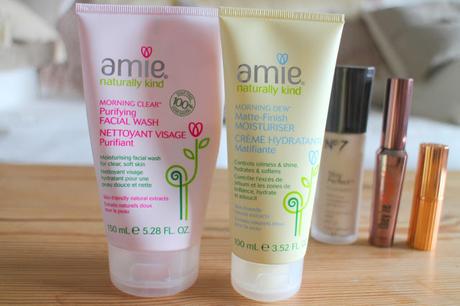 Amie morning clear purifying facial wash & Morning dew matte-finish moisturiser –
My skin has been terribly oily since my early teens and it seemed that no matter how many different brands I've used or products I've tried, nothing wants to long-term banish the grease and zap the blackheads away. I was finding that even the cleansers that claimed to be the gentlest out there were bringing me out in a painful red rash. So just I ended up resigning myself to face wipes. I first heard about Amie Skincare through one of Lucy Moon's videos, and from the sounds of it, she was having similar skin troubles, so off I popped to pick up a few products to try myself. I've been using both of these for just over a month now; twice a day for the face wash and once in the morning for the moisturiser; and the results are pretty amazing. The face wash is extremely kind and gentle with no added chemicals to irritate the skin. It removes all of my make-up as well as all the build-up of dirt and oils. The Morning Dew moisturiser also does its job by stopping my skin from becoming greasy again throughout the day and it isn't sticky when applied. I'll defiantly be repurchasing both. Also, the entire brand is cruelty free, so huge brownie points there too.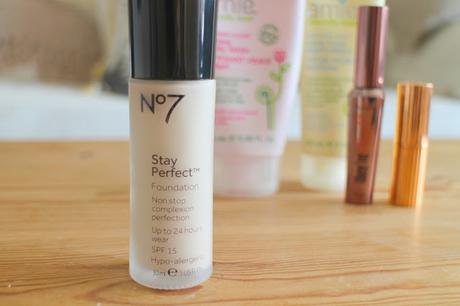 No7 Stay Perfect foundation – I'll hold my hand up. I'm the world's worst at getting my foundation to match my skin tone. What seems to suit me in store always looks bright orange at home. It's not a good look to say the least. After running out of my last bottle of Rimmel Wake Me Up I just thought "sod it" and decided to get myself color matched properly at my local Boots. The lady there was lovely and after doing the little test with the fancy machine, it turns out I'm not as orange as I thought. In fact, I'm apparently the lightest shade they have. Must be all my teenage years avoiding the sun coming back to haunt me. I picked up both the foundation and corresponding concealer in the shade 'Calico' and have been beyond obsessed ever since. One of the things I love most about this is that it's not at all 'cakey', but still manages to cover old spot scars and thing perfectly as well as staying in place. I'm just happy I look more natural these days.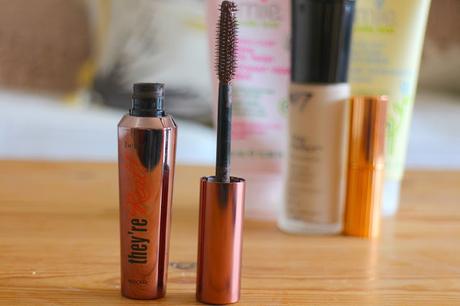 Benefit They're Real mascara – For a while now I've noticed my eyes were stinging like mad and becoming incredibly irritated whenever I used black mascara. I tried switching to a new tube but it kept happening, and it wasn't until I mentioned it to my optician that she suggested using a brown one instead. So far this has worked a treat and my eyes have been perfectly fine. I find it just as uplifting as the traditional black, as well as giving a 'no make-up' make-up look which is just my cuppa tea.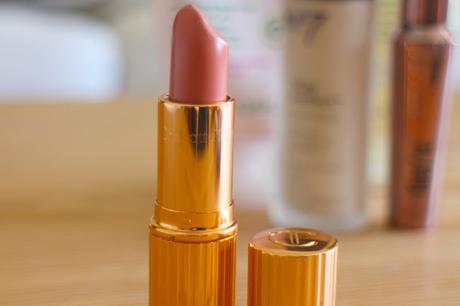 Charlotte Tilbury Bitch Perfect lipstick – After hearing the world rave about this brand as a whole (and spending countless hours poring through hundreds of fabulous blog posts) I managed to battle my way through the jam packed Covent Garden flagship store during my recent trip to London to get my mitts on this baby. In the end I went for the shade 'Bitch Perfect' as I was just so drawn to the color and loved how it looked on. It's a bit on the pricier side of things but I'd say that It's defiantly worth every penny, just simply based on its staying power alone. I swear to you, it point blank refuses to budge from my lips – which is always a winning point for me. It also helps that I'm a complete sucker for rose gold packaging. 
Fashion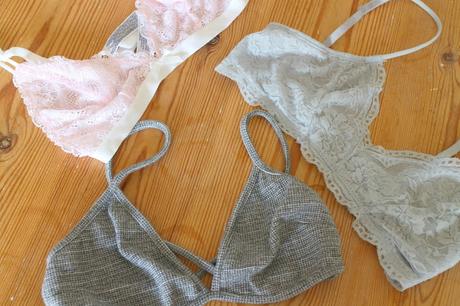 Braletts – I've really gotten into the whole bralett trend recently. I can't speak for anyone else, but for me at least, they're a hell of a lot more comfortable than your run-of-the-mill bra. With no pesky wires or structure to keep jabbing me in the armpit/sideboob, I'm finding myself reaching for these more and more. Plus, there's also the fact that they look so darn cute too. The most recent additions to my wardrobe is the lacy blue bralett and cotton gray triangle ones, both from Brandy Melville, and the delicate pink one which is from Primark and actually came as part of a set.
TV Shows
Stranger Things –If you haven't already watched Stranger Things, what have you been doing all summer? Seriously all the hype that surrounds this show is so well deserved. I won't say too much here as I don't want to spoil it for anyone, but trust me. You'll love this. Everything from the performances (shout out to Millie Bobby Brown) and the storylines and the set design is just perfectly flawless. Also, my inner fangirl is thrilled to have Winona Ryder back in the spotlight and just being her amazing self. I've missed her; welcome back Winona.
The Great British Bake Off – I won't linger too much on the recent drama that's surrounding our beloved Bake Off. I just hope and pray to Mary Berry herself (because she's just that fabulous) that they go down the same route as Top Gear (the good old one, not the new one!) and remake it as their own on somewhere like Amazon or Netflix. Please, can this just happen already? It's breaking my heart. Anyway, as I'm sure you can already tell, I'm addicted to the Great British Bake Off. It's just so cozy and brilliant to curl up on the sofa to after a day of work with a cup of tea and a whole pack of chocolate Hobnobs. Because the Bake Off always makes me hungry. My favourites so far are Val, Andrew, Selasi (because who couldn't like him?) and Tom, just because of that 'T' for Thor bread and all the innuendos and puns that came up with it.
Misc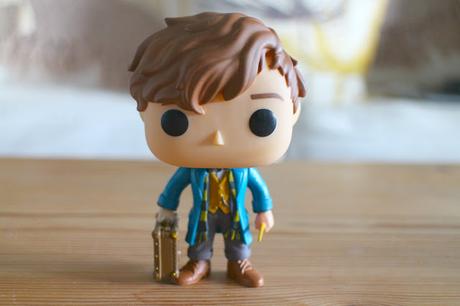 Newt Scamanader funko pop - From practically the very first second Fantastic Beasts was announced I was desperate to get my own miniature little Newt. I've managed to build up a small collection of these cute little guys and girls from the Harry Potter line, so I knew straight away that I wanted to add Newt to the bunch. Just look at how stinking cute he is.
Thanks for reading,Jade x