Back in the 1930's almost every decent high street in the UK had a branch of Burton selling menswear. So popular were they that it's said that pre-1950 25% of British men were wearing their clothes.
The company's large statement stores featured lots of lovely Art Deco motifs as well as the company's distinctive logo. A few buildings are still occupied by Burton, as at Tottenham Court Road Station, but most have long gone. Some details still remain on the old stores – iron grilles at foot level, doorway mosaics, faux temple columns and, as in Streatham (and Belfast), elephants' heads, a popular motif in that era.
Date stamps can be found on some of the buildings in the granite footings; it was only a few months ago that I noticed that McDonald's near the Nag's Head junction of Holloway was originally a Burton branch, s opened in 1929 by members of Montague's family. Odd that I hadn't spotted the marks when I was writing about the shop next door. More date stamps here.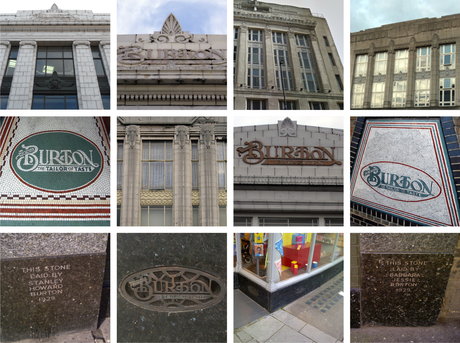 Back in the 80's I bought in a Burton's three-piece wool de-mob suit in dark brown with a gray chalk stripe from Black Out II, an excellent vintage shop that I am glad to report is still trading today.
I made a few alterations to the suit because the original owner must've been short and er, squat. I took down and steamed out the turn-ups, took in the trousers' waist, moved the buttons on the jacket etc. I wore the suit Kim Wilde style with white shirt and sparkly jewelry. Though I did hear that wearing it caused some blokes to assume I was a lesbian (idiots, but phew!).
The suit had Burton's labels inside the jacket and waistcoat, which I loved, plus the original owner's name written in ink, which I have now forgotten. Back then I assumed suits like mine must have been commonplace, so I didn't consider it to be anything special. I don't recall when I got rid of it – I expect I gave it to a charity shop in the 90's.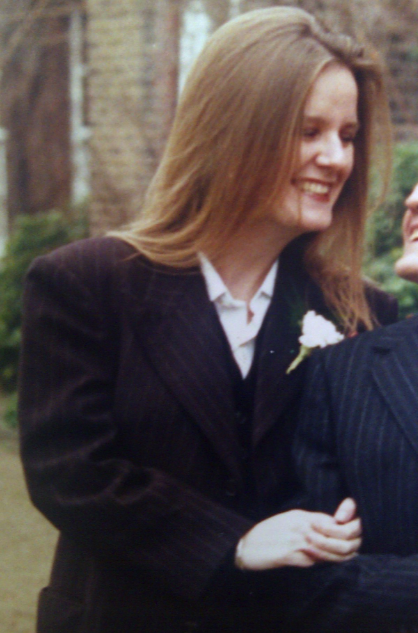 But now I am a little annoyed with myself because having searched the web for reference of the same I can't find a pic of a similar suit, or even the label.
You'll just have to make do with this snap of me at a wedding, as it appears it's the only photo I have of it.
Ah well.