Lately I've been receiving a rash of press releases from appliance companies, like GE and Miele, as well as stores that deal in appliances, such as Home Depot and Tesco. Although I'm a fan of a great appliance (I love my Bosch dishwashers, for example),  I haven't ever really covered that segment of the home market here. I probably won't be doing thorough cross-comparisons of stainless steel refrigerators or ultra-quiet dishwashers any time soon, I can certainly showcase well-designed kitchens that display such appliances to perfection.
So let's start with microwaves. The design of these 24 kitchens thoughtfully incorporate its microwave ovens. The microwaves are built-in beautifully, whether tucked into an island or stacked with a traditional oven, flush with the cabinetry. Other microwaves are hidden behind doors in dedicated appliance pantries, perhaps combined with a coffee station. I'm not sure I'd want to have to open a cabinet door every time I used my microwave.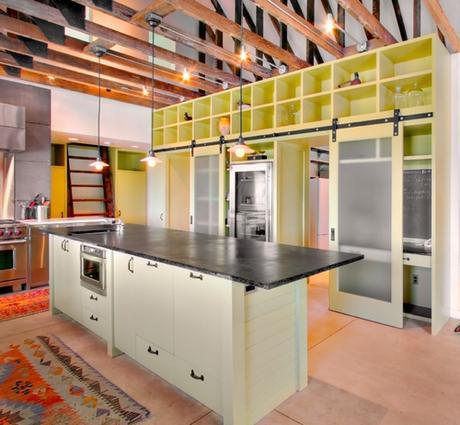 I expected to spot the microwave behind the frosted glass barn door, but the microwave in this kitchen is in the island, just under the black countertop. That desk behind the barn door is nifty though.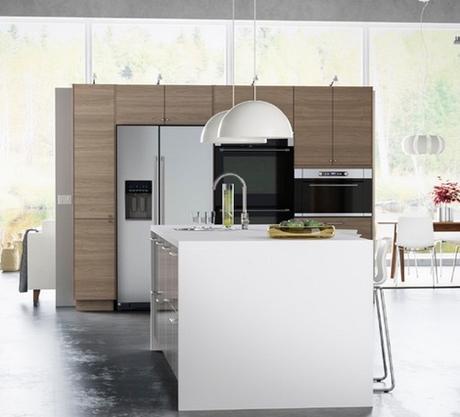 IKEA
This sleek IKEA kitchen lines the appliances on a  wall of walnut cabinetry that is oddly perpendicular to the island. Maybe it's just for show.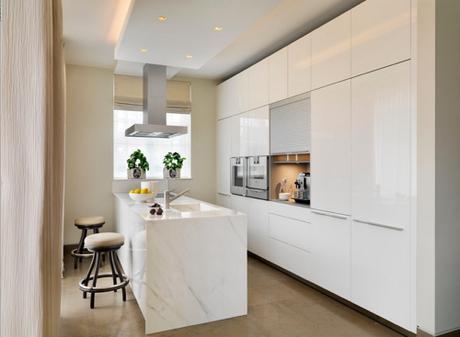 This glossy white Bulthaup kitchen features an appliance garage and two wall ovens; I think one's a microwave.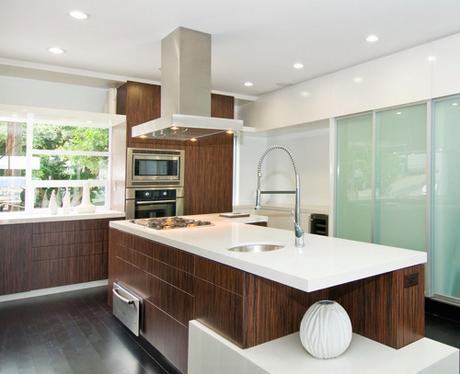 Another kitchen in which the appliance wall is perpendicular to the  island. Check out the fridge? drawer at the bottom of the island too.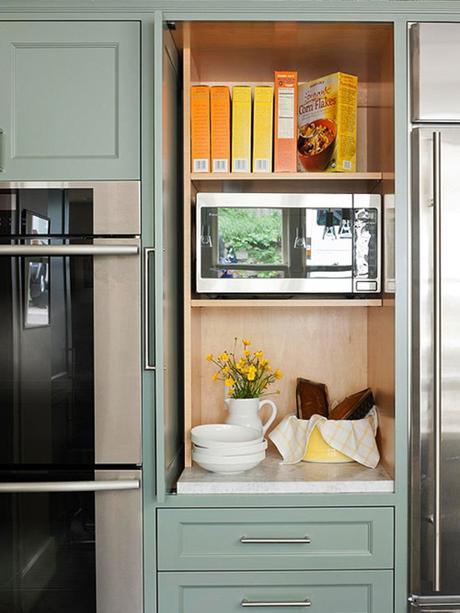 Jade green kitchen cabinets with a microwave in a cabinet with a slide in door, as though it's an armoire hiding a television. It's the exact size of the microwave. What happens if it needs to be replaced and that model's been discontinued?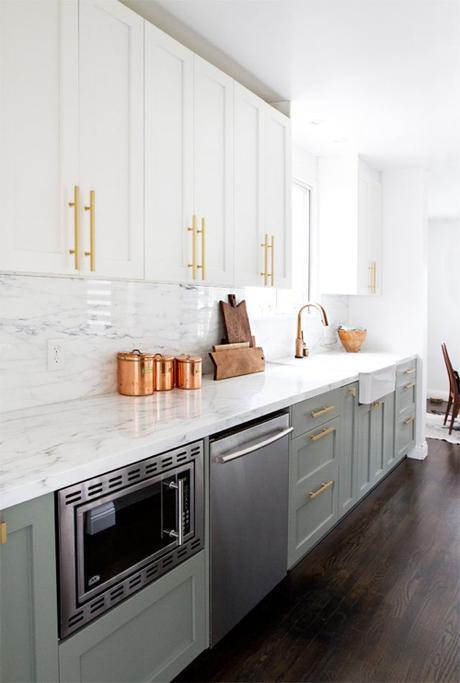 Photo by Sarah Sherman Samuel for Smitten Studio
I love the brass pulls and expanse of marble, and the larger size of this built-in microwave oven.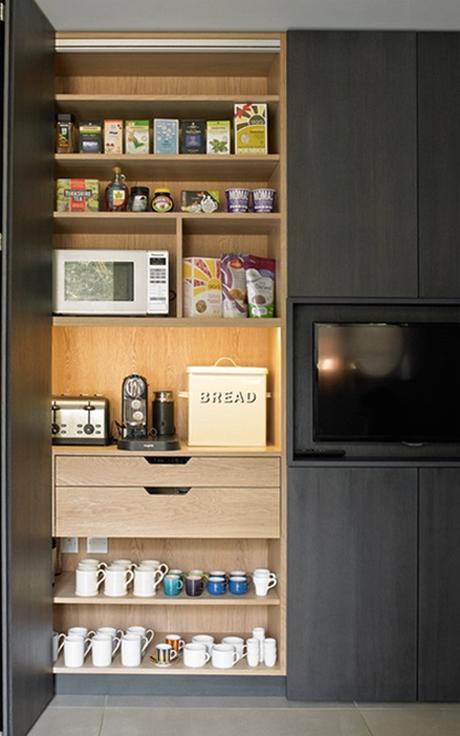 Brayer Design•Photo by Nick Smith
Mini microwave in a tall black wood pantry cabinet, along with a toaster, and coffee maker.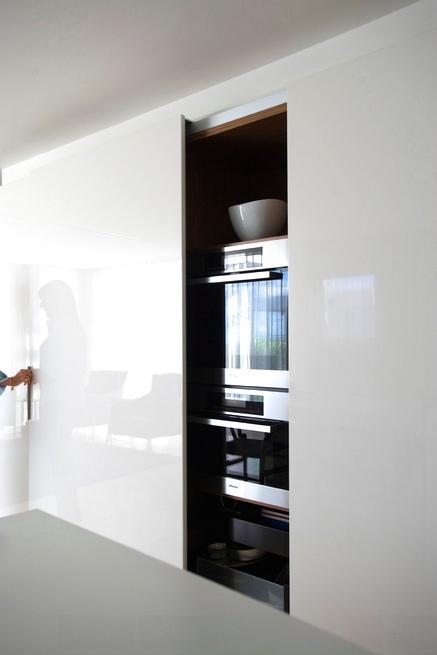 Minosa Design•Photo by Simon Kenny
A thoroughly contemporary kitchen that hides everything, microwave included.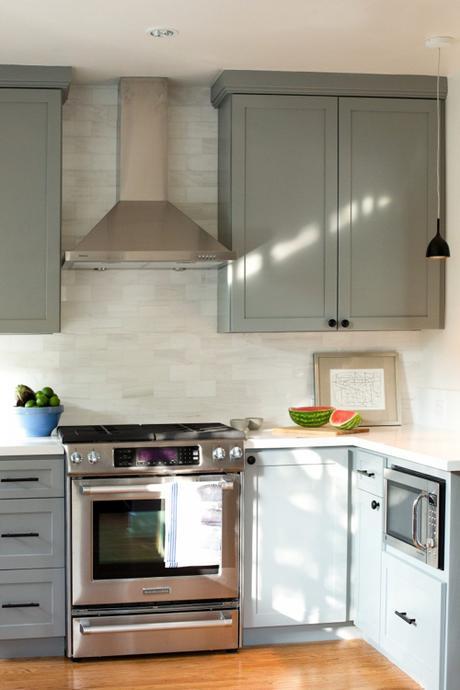 Project M+  •  Photo by Mimi Giboin
A compact plan, but the handle on the door of the microwave seems like it would impede usability at the counter.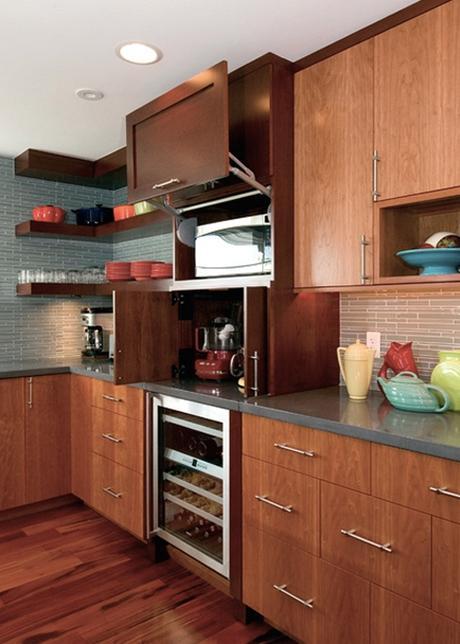 I like the look of all the compartments in this contemporary wood kitchen, but hide-and-seek comes with a price. Doesn't it take that much more time to remember where the appliances are, and open and shut the cabinets?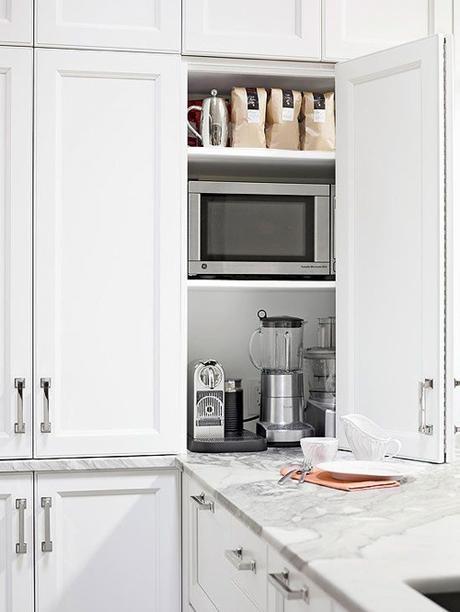 unidentified
The microwave in this kitchen, which is at once classic and a touch glam, is in a tall cabinet off to the side. I like how the appliances all sport a monochromatic brushed chrome finish.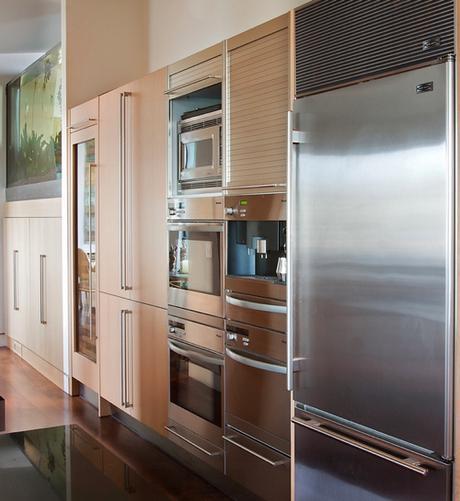 Modern House Architects
A hard-working appliance wall. Seems efficient to me.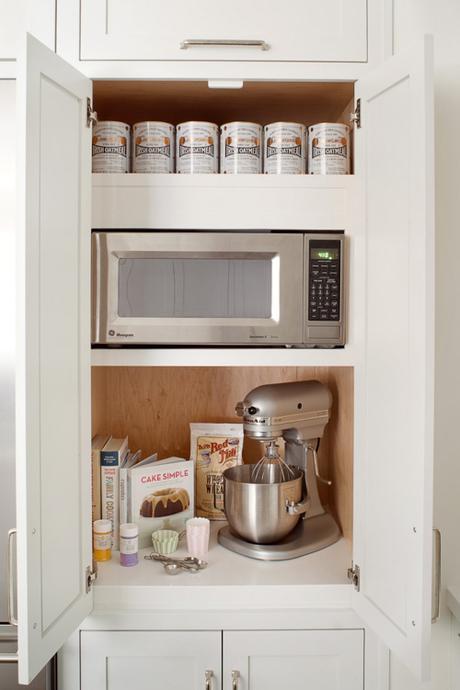 Alison Davin of Jute  •  Photo by Drew Kelly
Another microwave in a cabinet. The mixer display is lovely, but one can't possibly create a batch of muffins in there.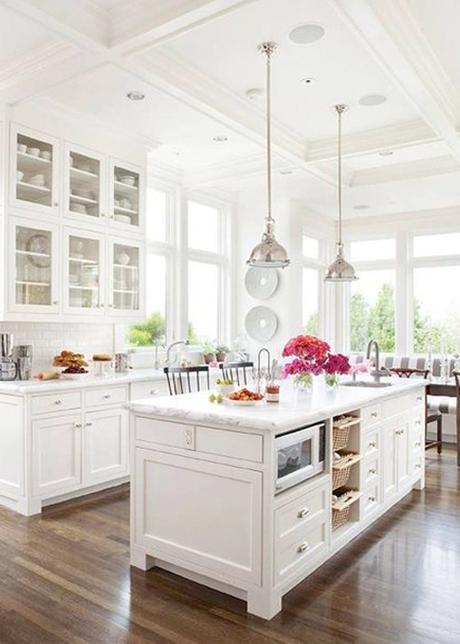 unidentified
The microwave in this classic white kitchen is on the front side of the island. Seems inconvenient.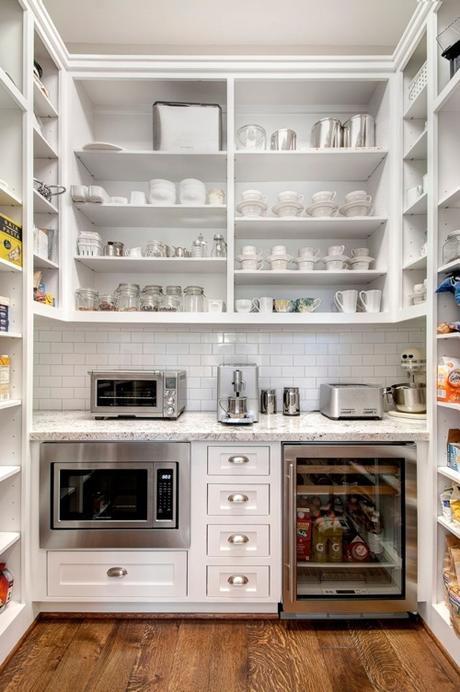 via Zillow Digs
I love this pantry. But I think you'd have to get down on your knees to access that built-in microwave.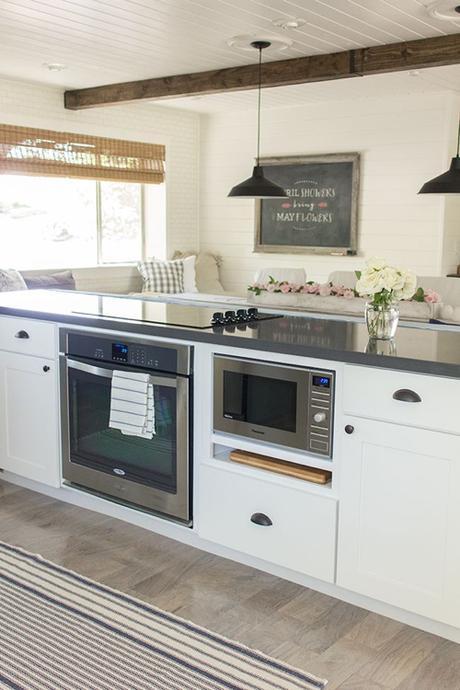 Jenna Sue Design
I like how this built-in microwave is completely flush with the island.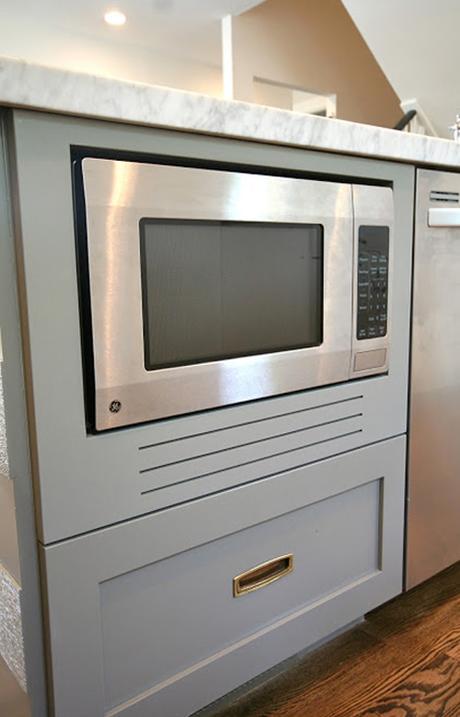 Apparently this built-in microwave is not a custom feature, but a DIY solution.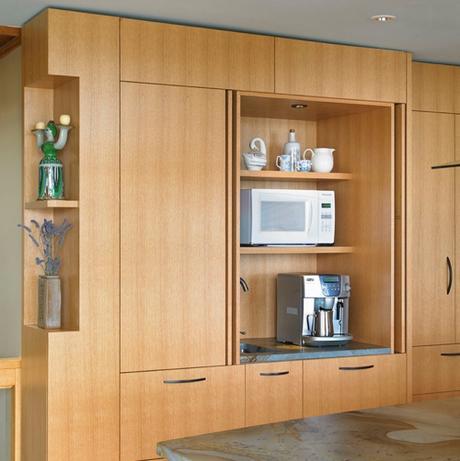 I love how large this cabinet is, and that the microwave has room to breathe.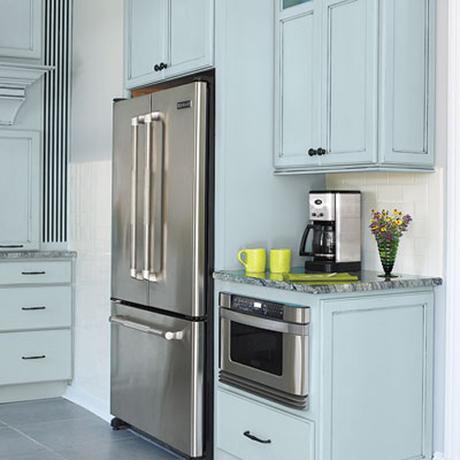 Photo by Julian Wass for This Old House
Pretty blue cabinets and a convenient service area off to the side of the fridge.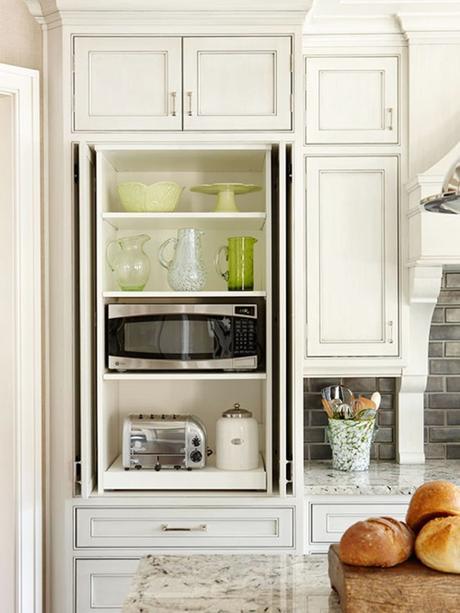 Microwave slotted into a tall cabinet. Doesn't it get hot in there?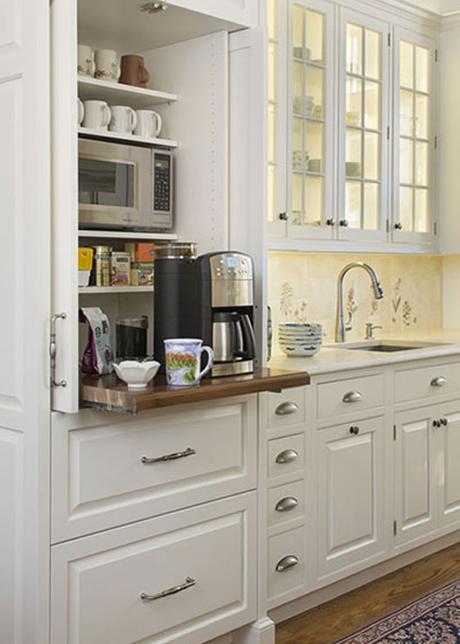 Wendy Johnson of Designs for Living•New England Home
Ah, this coffee station pulls out for ease of use.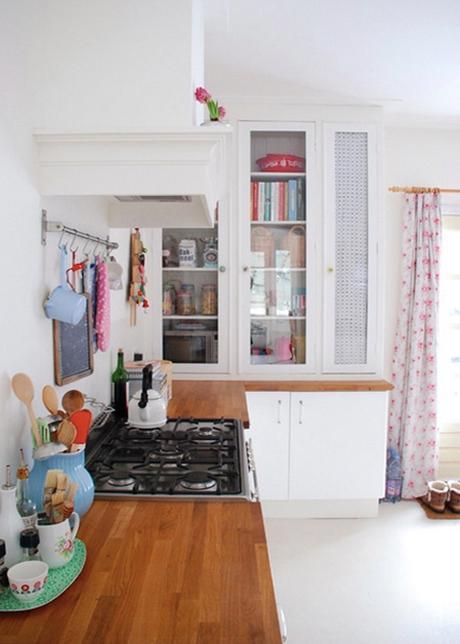 The microwave in this charming Nordic style kitchen is behind a clear glass door.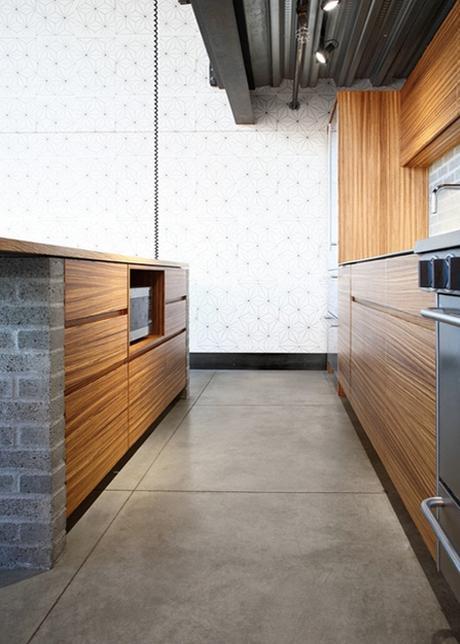 The microwave is hidden, but it looks hard to use. That gray brick is cool though.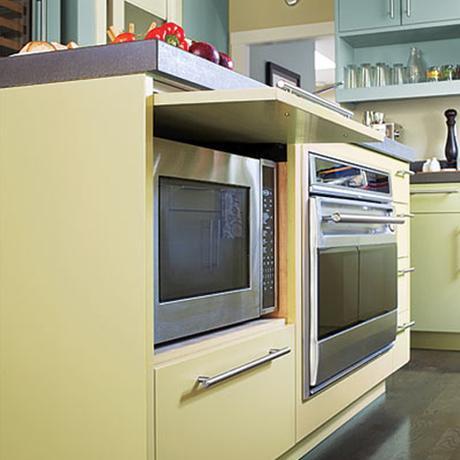 Photo by David Fenton for This Old House
Doesn't the microwave get more use than the oven. Nobody pulls a door over that.
•            •           •
S H O P  the  P O S T
Shop pendant lights for the kitchen from StyleCarrot partners >

Turn on your JavaScript to view content