It used to be that everybody wanted an indoor porch. Now it's a fire pit. Preferably, for me, a modern patio with fire pit. Gathering outdoors around fire has a kumbaya feeling that's a little earthier and less suburban than grilling in one's obscenely outfitted outdoor kitchen. Plus, fire pits are great for making s'mores.
We bought a very inexpensive portable fire pit last year for the Cape. And yes indeed made s'mores. The wood burning fire was smokier than we would have preferred, but the kids loved it, and it was the first time we used our patio at night. So that's something.
These modern patios with fire pits are a bit more upscale than my quaint setup. Many of these are actually large, sleek fire tables. They remind me of a place we go for cocktails in Florida, the Seagate Hotel. Nothing like a fire in Florida.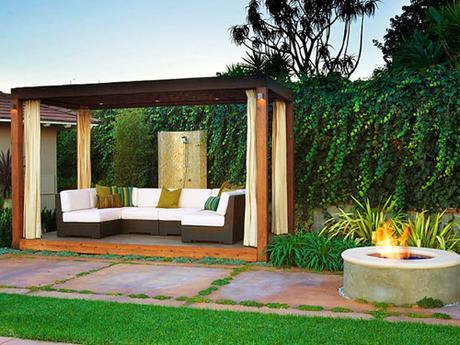 Christopher Grubb   •  Arch-Interiors Design Group
Basic woven outdoor furniture sits on a structure with a roof and curtains. Off to the side on a terracotta walkway is a circular concrete fire pit. I love leafy vines cascade down the back wall.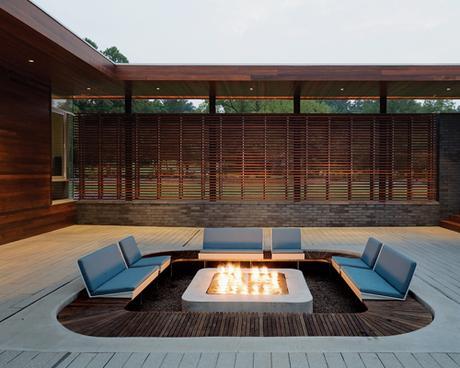 Hufft Projects
Japanese influences are apparent in this modern patio project, with its sunken fire pit and seating and wood slat screens. I think it may actually be on the beach. Looks like sand beneath the deck.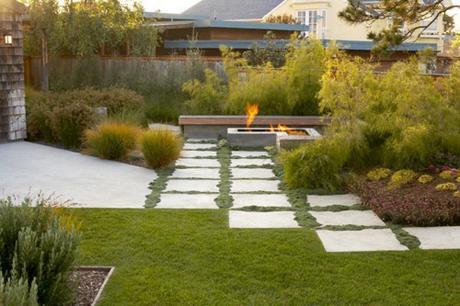 Jeffrey Gordon Smith Landscape Architecture
Oversize square pavers create a chessboard effect, leading to a modern fire pit and built-in seating, surrounded by wispy plantings.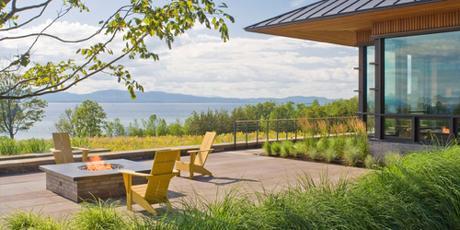 Wagner Hodgson Landscape Architecture
A sleek modern patio on a lake in New England. The square fire pit looks to be built of stone and the Adirondack chairs are a nod to the region.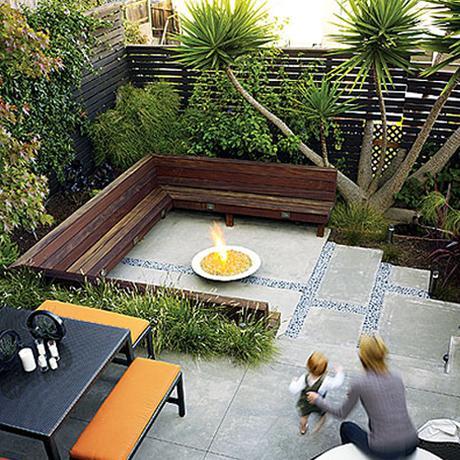 Outer Space Landscape Architecture  •  Sunset Magazine
A multi-level terrace in a small enclosed back yard has a modern outdoor dining table and small circular fire pit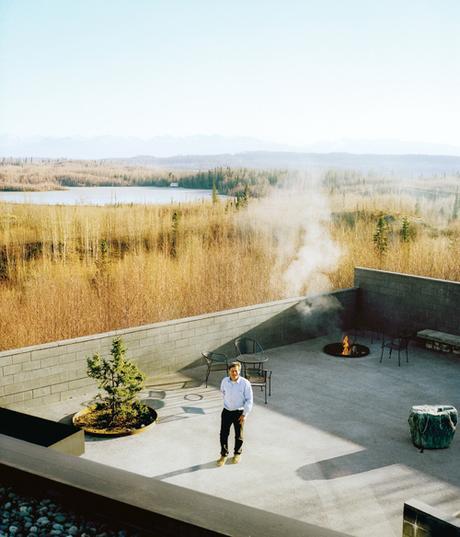 Mayer Sattler-Smith  •  Photo by Kamil Bialous  •  Dwell
This modern courtyard patio belongs to a charred cedar cabin in Alaska with quite the view. The sunken fire pit is set off in a corner, next to cinder block walls.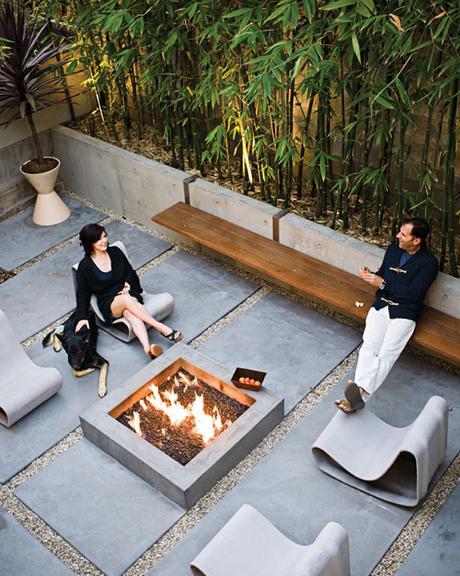 Michael Lee Architects  •Photo by Dave Lauridsen•Dwell
The low square fire pit seems to be an extension of the oversize concrete pavers of this modern patio. A steel + ipe bench is suspended from the low concrete retaining wall behind which there's stalks of bamboo.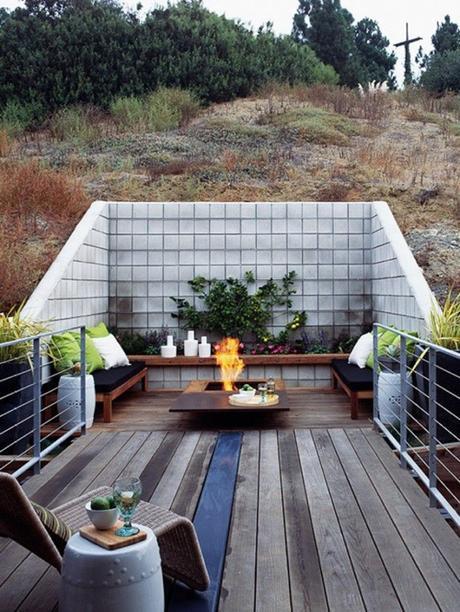 Studio G
A concrete block retaining wall is a good solution for building a modern deck into a hillside. I love the Corten steel fire pit, and how they painted just one slat of the deck blue.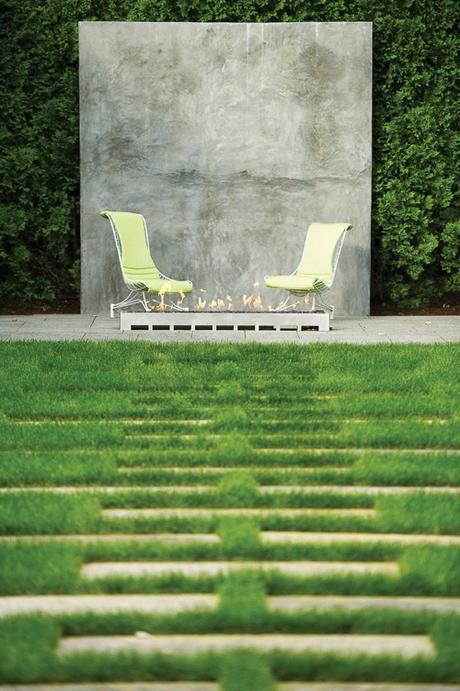 Doyle Herman Design Associates
This simple set up features a long and narrow fire pit set against a concrete wall. It's just the right sparseness to complement the lush grass punctuated with horizontal pavers.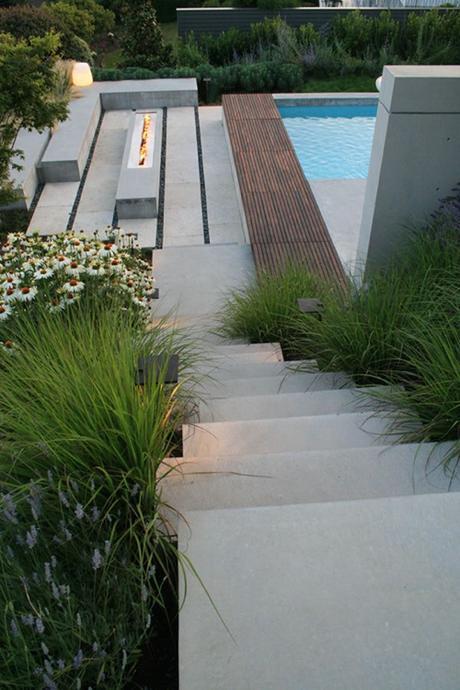 Botanica Design
A multi-level modern patio setup with a pool and long, narrow fire table. The wood, concrete, grasses, and water create a spa-like feel.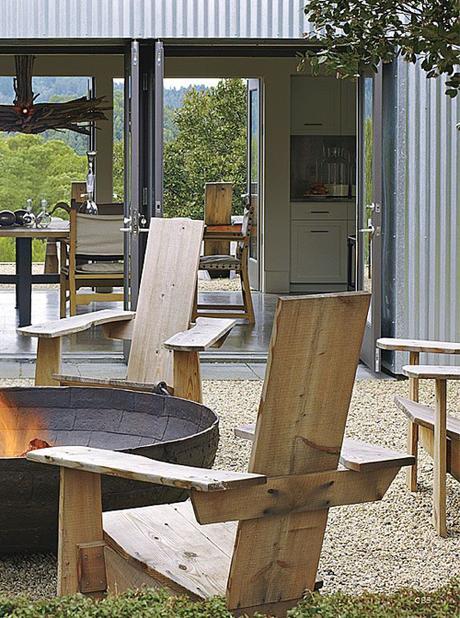 Erin Martin Design•C Magazine
Portable fire pit and DIY Adirondack chairs in the gravel courtyard of a corrugated metal-clad home.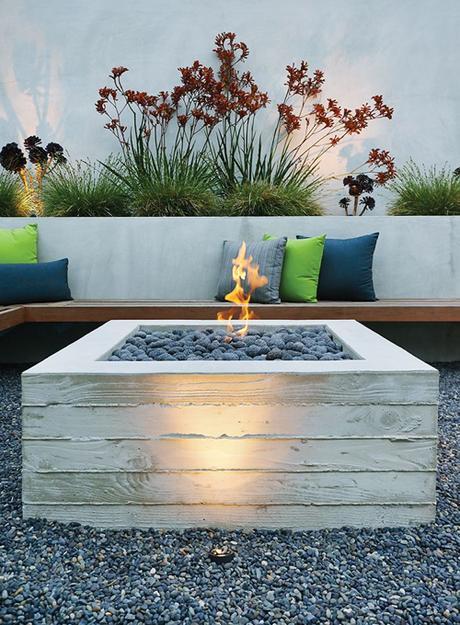 Ras-a Inc.  •Photo by Spencer Lowell•Dwell
An ipe bench is built into the low concrete wall on this gravel patio. The custom fire pit is made from boards.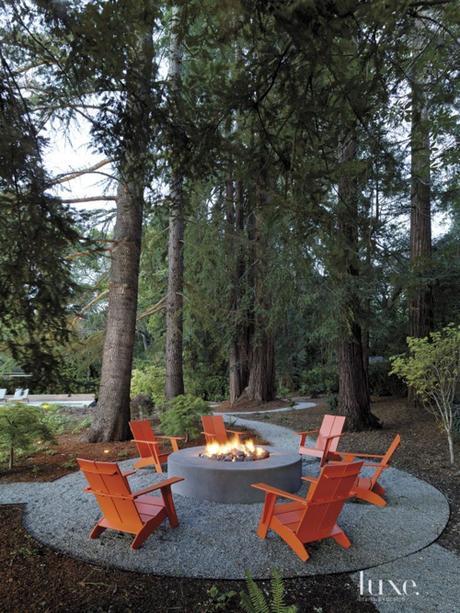 Luxe Interiors + Design
A camp-like setting featuring a circular patio in the woods, most likely in New England, complete with fire pit and red Adirondack chairs.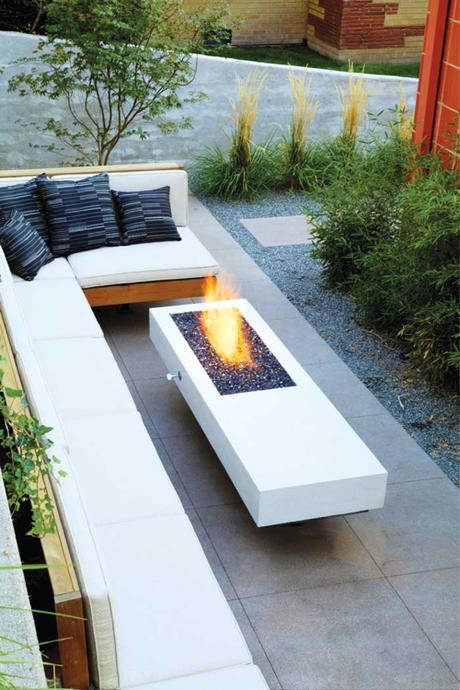 Roth Sheppard Architects  •Designs by Sundown
Photo by Dave Winger•Colorado Homes & Lifestyles
A Zen-like retreat with fire table was created in a forgotten strip of backyard.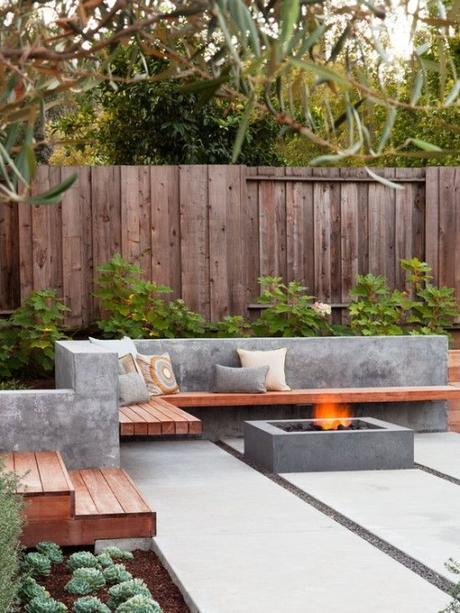 A wood slat bench is built into a low concrete wall on this modern patio with fire pit and horizontal pavers separated with gravel. Great little succulents planted too.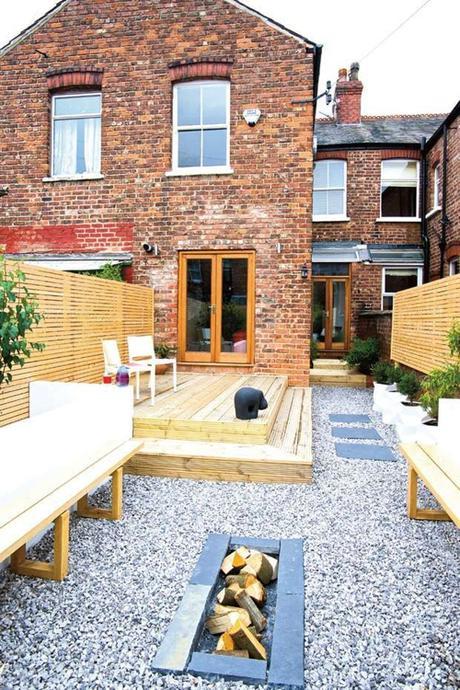 Real Homes
The homeowner worked with a builder to refurbish this derelict property  and had a landscape architect help create the entertaining area, complete with no nonsense fire pit in the backyard.
Create your own modern patio. Shop StyleCarrot sponsors for fire pits.
S H O P  the L O O K

Turn on your JavaScript to view content