When my husband first traveled to Boston to check out at the condo we now live in he basically said, "You'll love it, except for the kitchen island. You'll hate the countertop." He was right. (Do you hear that?  Ha ha, he rarely reads my post, so he'll never know he's getting credit.)
Anyway, 13 years later we still have that granite countertop. While granite countertops are certainly durable, I have never liked the look. Luckily, after this many years, I barely notice it. Except in the fall, when I come home from Cape Cod, where everything is a glorious white. Our kitchen on the Cape has a sparkly, speckled white quartz countertop.
I really love our quartz counters. My only complaint, and it's recent, is that it doesn't Instagram as well as a solid white surface. But in real life, I love the silver and glass flecks. Quartz is an engineered stone, which means that the manufacturer combines several grades and sizes of crystals, blending them with resin and pigment in a ratio of about 93 percent quartz to seven percent resin. However, quartz is still considered to be a natural stone.
Quartz counters are non-porous and thus don't need sealants like marble. They are very strong, withstanding heat without issue and highly stain resistant, though we've had a bit of issue around our faucet in one spot. I put pots and pans taken right from the flame of the gas range directly onto our quartz counter. No problem.
I may have mentioned that we are finally, finally remodeling our master bathroom. (Which is actually much worse than the granite counter.) We've also decided to swap out our kitchen countertops, both the granite island and the wood counters on either side of the range, as well as the backsplash. It will all be one material.
I'm not sure yet exactly what we'll use, but I am pretty certain it will be some type of quartzite material. Ther are so many different styles now, many of which mimic marble and high end granite slabs.
Here are a dozen kitchens with gorgeous quartz countertops.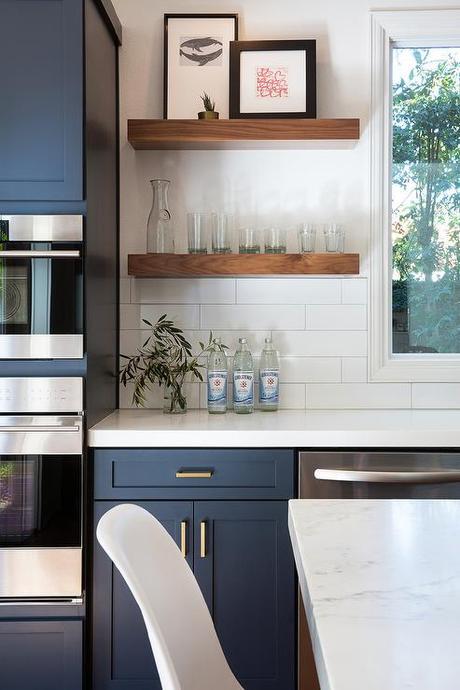 This kitchen by Studio Surface mixes classic materials with clean lines for a modern effect. Blue kitchen cabinetry with brass pulls, quartz countertops that resemble marble, extra long subway tile, floating wood shelves.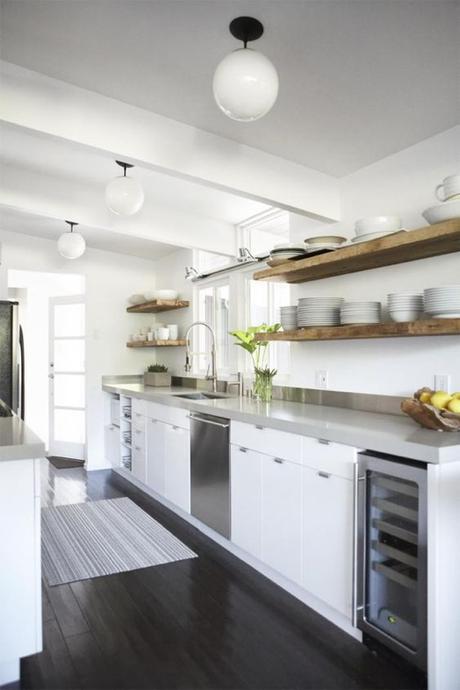 Rustic wood shelves infuse warmth to this otherwise sleek white kitchen with light gray quartz countertops (Caesarstone in Blue Cinder). The schoolhouse globe pendants add a nostalgic touch.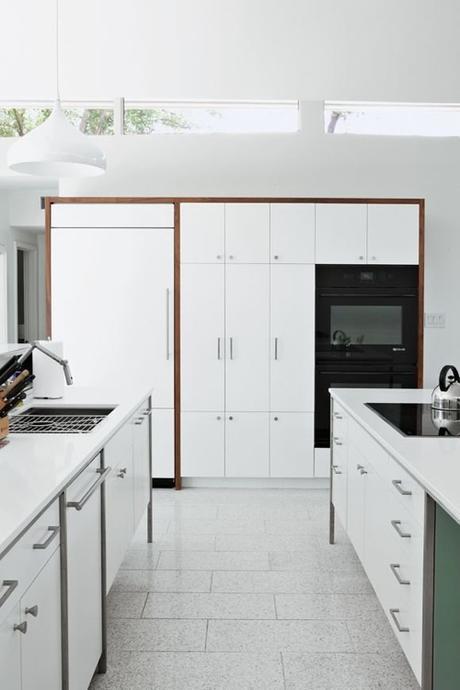 This contemporary kitchen spotted in Dwell magazine features thin white quartz countertops by Caesarstone. Note how the cooktop is perfectly flush. The wood trim around the pantry cabinets keeps the space from seeming too cold.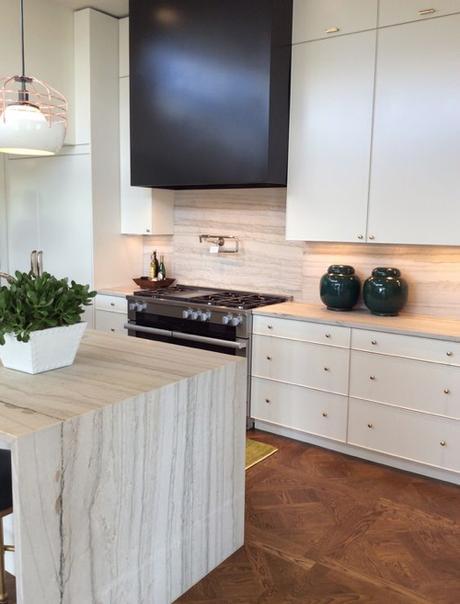 Quartz  now has names like marble. This kitchen is sheathed in Bianco Macaubas, characterized by grey/taupe striations. The copper (or rose gold?) cage light picks up on its slightly rosy undertones.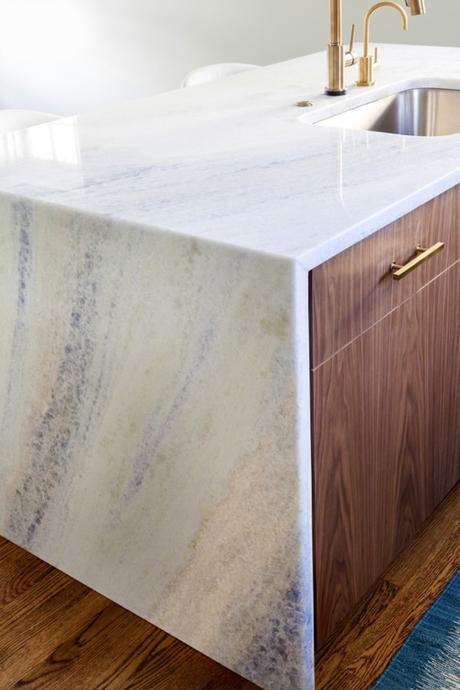 Another waterfall style island, this one with Aquias Blue Quartzite. Brass hardware plays off its gold accents.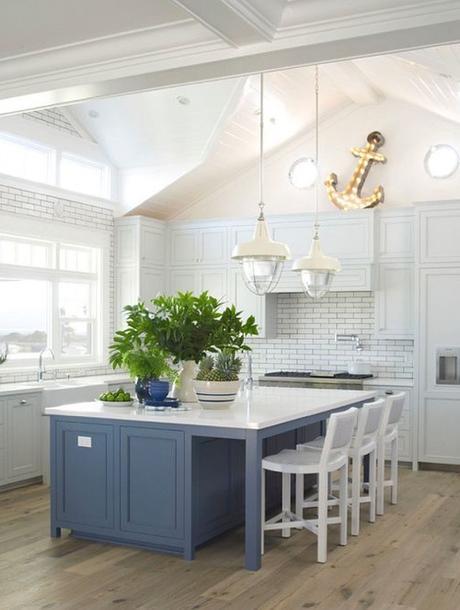 This kitchen in the Coastal Living Showhouse has a contrasting blue island with white quartz countertop. Subway tile with black ground and caged pendants lend a subtle industrial vibe.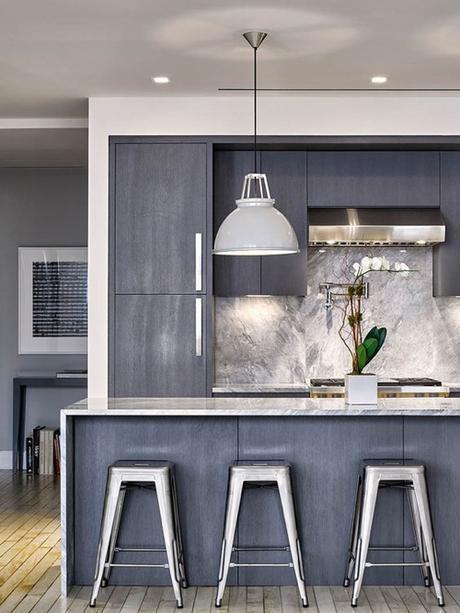 This contemporary kitchen by the Meshberg Group features rustic style pale wood plank floors, and gray (cerused?) wood cabinetry. The countertops are done in a very grey quartzite with lots of pattern and movement, reminiscent of granite.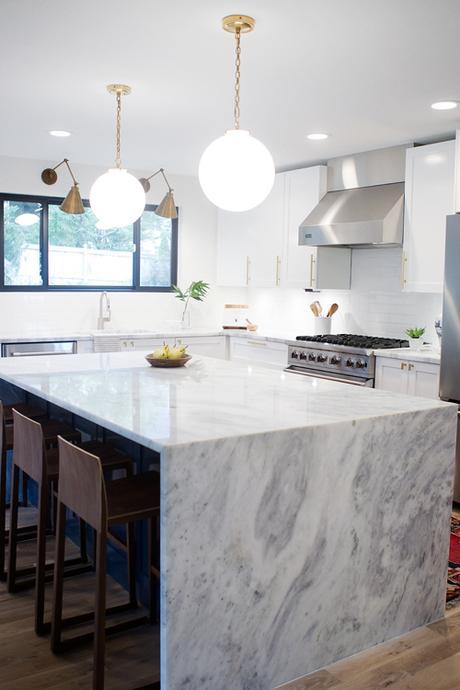 The blogger behind WithHeart used Super White quartz in her kitchen remodel. She chose a slab with lots of swirling gray patterning to resemble marble, which she knew was too impractical to use. On trend brass lighting keeps the look up-to-date.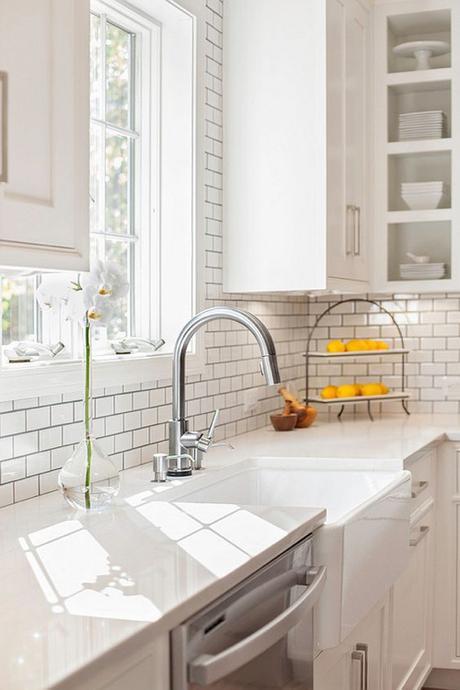 This clean and classic kitchen has subway tile backsplash with black grout, farm style sink, and a Caesarstone Misty Carrara quartz countertop.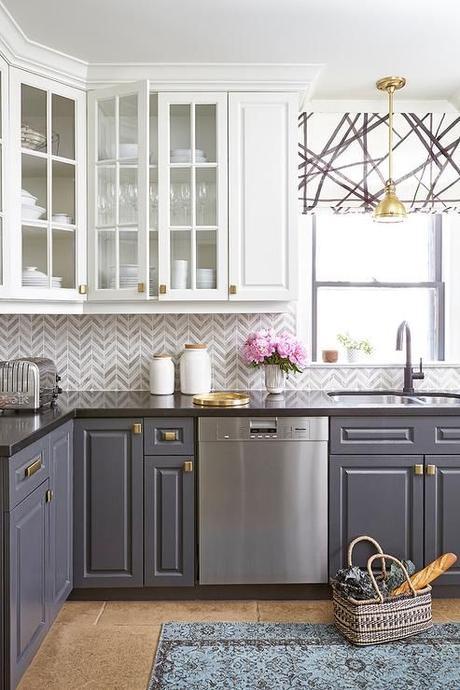 Traditional kitchen cabinets are updated with charcoal paint and brass pulls by Feasby and Bleeks. The Kelly Wearstler Roman shade adds a zing, while the marble tile chevron backsplash keeps the movement going at eye level. Black quartz countertops ground the look and are much more practical than soapstone.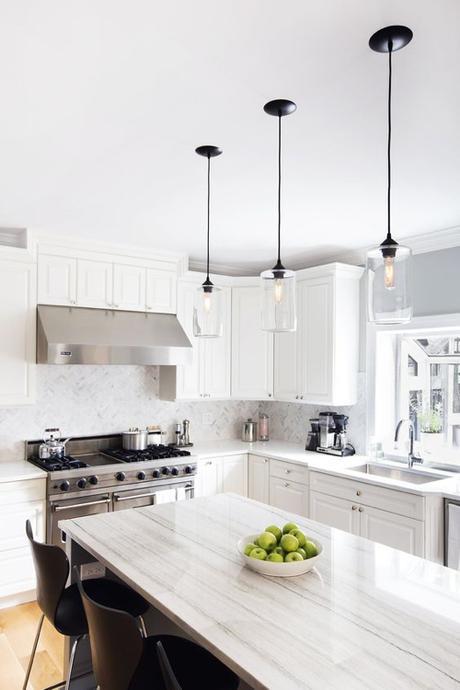 This white kitchen by Foster Hill Design has a subtle marble chevron tile backsplash and kitchen island topped with White Macaubas quartzite. I love the pale gray striations. This might be in the running for my own kitchen.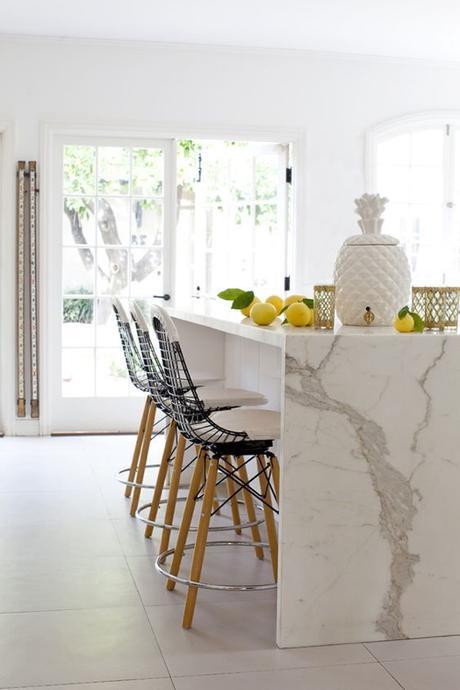 For die-hard marble fans that just can't do it, be it for maintenance purposes or price, there's a Calacutta quartz option that seems just about perfect. You certainly can't go wrong with such a classic look with such practical functionality.