Son brought home some roasted almonds.  Since he is on stay home notice for 2 weeks, I thought it will be handy to have cookies in the jar just in case he is hungry.
Tried out this recipe that was posted on an online baking school.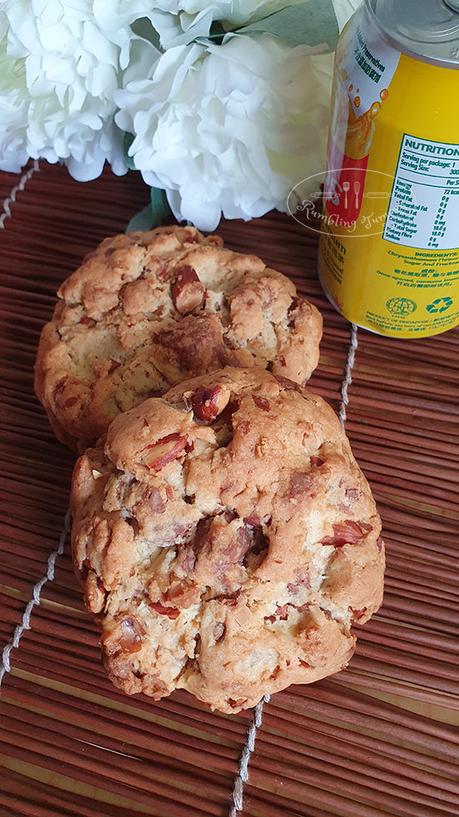 I turned them into Monster Chocolate and Almond Cookie just for fun.  The dough weighs 140g and it is bigger than the can drink base.Learning experience:
The dough is easy to handle but I was not happy with the texture.  My girl commented it tasted like scones and so were a friend.  Taste-wise it is good but the texture is neither chewy nor crunchy.
Not sure where I went wrong.Adapted
What you need:
75g unsalted butter, soften
130g castor sugar
1 egg
225g plain flour
3g baking soda
3g baking powder
¼ tsp salt
160g chocolate chunks, chop
100g roasted almond, chop
Method:
Cream butter with sugar until light.
Beat in egg.
Sift in plain flour, baking soda, baking powder and salt into the batter.  Mix well.
Add in chocolate chunks and almonds.  Fold until evenly distributed.

Chill in the fridge for 1 hour.  

Scoop about 70g per cookie and place onto a lined pan. (I make 2 @ 140g for some of the dough so need to bake longer)
Bake for 180°C for 15 mins or until brown.
Enjoy!

If you have enjoyed this post by
Rumbling Tummy
, be sure to follow her on
Facebook
, Instagram, Pinterest,
Twitter