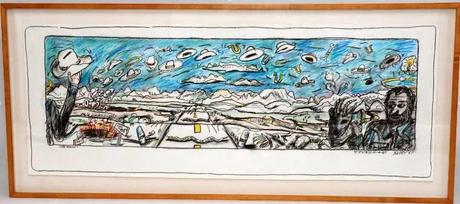 Hat Heaven by Frank X. Tolbert
Monica Greene
defines the term Renaissance Woman: part poet, part chef, part animal lover, part philosopher she is a creative soul who pours her heart into her projects. The only things she loves more then food and cooking is her beloved animals. Green recently made the decision to part with 12 pieces of her extensive art collection to raise funds for Paws Cause to support the spay/neuter efforts of the SPCA. You can bid on these one-of-a-kind objects d'art on Thursday, May 15 from 6:30-8:30pm at 3015 Trinity Groves.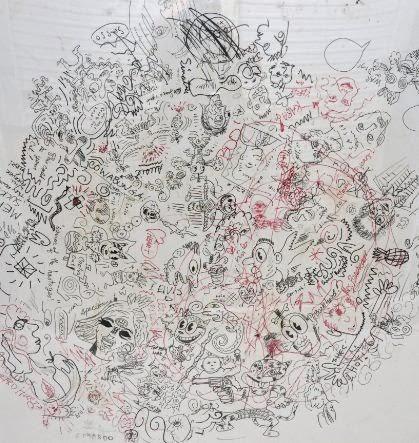 8.0 Round Table
Alan Peppard
of the Dallas Morning News wrote of the occasion "A tangible memory of Dallas' debauched '80s is about to be auctioned at the May 15 Art4Paws fund-raiser at Trinity Groves. One rather unique item is called 8.0 Round Table (pictured left. click to enlarge the image).
Back in the late '80s, Greene was manger of the 8.0 restaurant and bar in the Quadrangle. The auction item is actually an 8.0 tablecloth that artists
Dan Rizzie
and
James Sasso
decided to embellish over dinner, drinks and who knows what else. Reached at his home in Sag Harbor, N.Y., Rizzie had a hazy recollection of the night at the 8.0. "The markers we used were non-toxic," he says. "I wish I could say the same about me. That night, we were feeling no pain."
I remember a night at a bar in Exposition Park when Jimmy Sasso spent hours drawing all up and down my legs with a Sharpie... but, that's another story.
3015 Trinity Groves is located at 3015 Gulden Street, Dallas, TX. Tickets are $20 at the door.