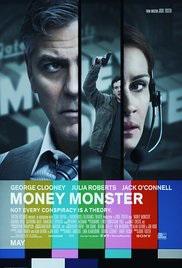 Director: Jodie Foster
Writer: Alan DiFiore, Jim Kouf, Jamie Linden (Screenplay) Alan DiFiore, Jim Kouf (Story)
Starring: George Clooney, Julia Roberts, Jack O'Connell, Dominic West, Caitriona Balfe, Giancarlo Esposito, Christopher Denham, Lenny Venito
Plot: Financial TV host Lee Gates and his producer Patty are put in an extreme situation when an irate investor takes over their studio.
There may be spoilers the rest of the review
Verdict: Amazing Thriller
Story: Money Monster starts as we see Lee Gates (Clooney) preparing for his financial TV show as we see the director Patty Fenn (Roberts) trying to make everything go to plan. What looks like an everyday show takes a sinister turn when a delivery man Kyle Budwell (O'Connell) takes the show hostage.
Kyle is a victim of a stock call by Lee, keep the show live on air Kyle wants to expose the truth with Diane Lester (Balfe) who is second in command under the man responsible for Kyle's target Walt Camby (West). Kyle wants answers and this could bring the stock market crashing down around the tycoon Walt.
Money Monster tackles the stock market ups and downs with the idea that it can drive the victims to the limits. We do get the great idea that we could have had way too much stock market talk which does stop us getting bored rather than just getting to the point. This is a thriller that starts in one location while we do learn the truth with everything going on in the background which all works too. I will say this is one of those stories that is easy to follow and will go in a direction you don't always see it going.
Actor Review
George Clooney: Lee Gates is the charismatic TV host of a financial show that guides people on all the best and worst investments. Lee finds himself being held hostage having to keep Kyle calm as the truth get exposed live on his own show. George is great in this role showing his charming side along with his desperate to survive side.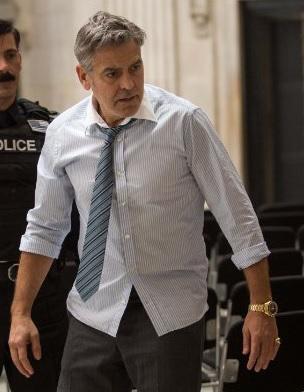 Julia Roberts: Patty Fenn is the director of the Money Monster television show, she has to deal with Lee's ego but is capable of keeping him in line. She also has to make the difficult decisions when it comes to deciding whether to keep the show on the air. Julia is great in this role being strong throughout.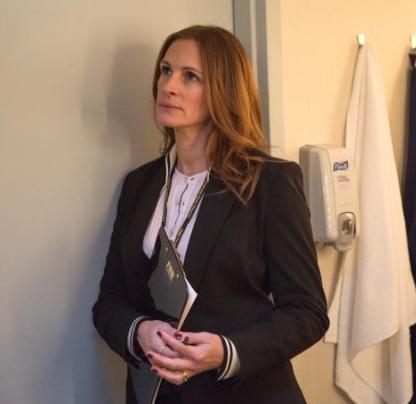 Jack O'Connell: Kyle Budwell is the young man that takes the show hostage because he has been a victim of an altercation on the stock exchange, he wants answers after losing all of his money and this will give him that chance. Jack continues to show his rise starring in this role where he matches the A-listers with ease.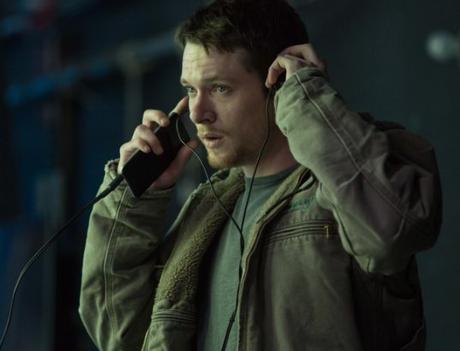 Dominic West: Walt Camby is the owner of the stock that crashed, he can't be reached for the hostage situation. All fingers point to his involvement but can he get exposed. Dominic is good in this role as the greedy business man.
Support Cast: Money Monster has a supporting cast that all give good performances with Caitriona Balfe be the star of them with Christopher Denham added comic relief.
Director Review: Jodie Foster – Jodie gives us a great directed thriller that builds up the tension from the first moment until the final scene.
Crime: Money Monster throws into a crime taking part where we watch how Kyle holds the show hostage to expose the real crime going on.
Thriller: Money Monster keeps up the tension from the moment Kyle walks onto the stage till the final scene.
Settings: Money Monster keeps most of the films real tension inside the studio while also walking down Wall Street.
Special Effects: Money Monster doesn't use many special effects and really doesn't need them.
Suggestion: Money Monster is one I do think everyone will enjoy especially if you are a fan of tension. (Watch)
Best Part: Tension building.
Worst Part: Nope
Believability: No, but certain parts could be away from the hostage.
Chances of Tears: No
Chances of Sequel: No
Post Credits Scene: No
Oscar Chances: I would like it to and I will say outside shot.
Budget: $27 Million
Runtime: 1 Hour 38 Minutes
Tagline: #FollowTheMoney
Overall: Brilliant Tension Filled Thriller
Rating