I am posting my Monday flowers rather late this week, following a little accident on Monday which stopped me in my tracks. Knees and over excited dogs are not always a good mix and I took quite a tumble in the garden on Monday afternoon when a very solid dog bowled into me. No broken bones, but I am limping quite badly and have taken a few days off from my garden and camera.
Mondays photos were waiting to be edited though and having contemplated saving them for next week, I decided just to go ahead a few days late. As ever I am linking to Cathy at Rambling In The Garden, who will have given up on me appearing in her comments this week.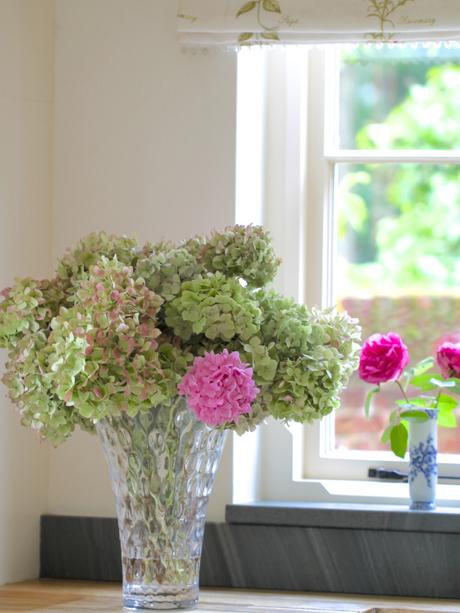 I mentioned in my Passion For September post that I like to dry hydrangeas for use in winter decorating schemes. On Monday I started the process, cutting back a number of my potted hydrangeas that have started to lose their color.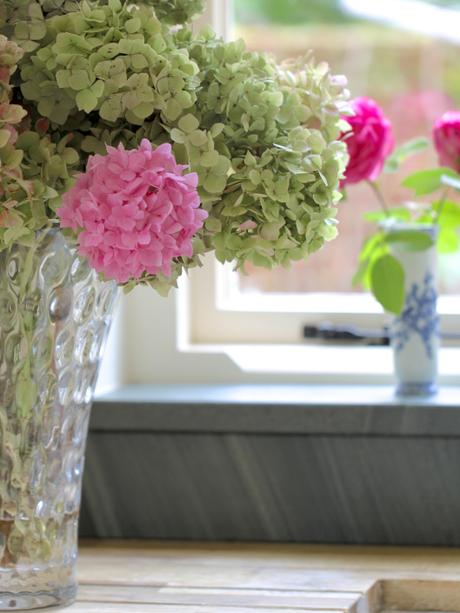 Having cleaned the stems of all foliage I put them into a large vase where they will make a lovely long lasting display for the hall table. It is important to note that I have only put a few inches of water into the vase and when this has evaporated I will not top it up. This allows the flowers to acclimatise to the house and then to dry slowly, hopefully keeping their shape and some beautiful faded color.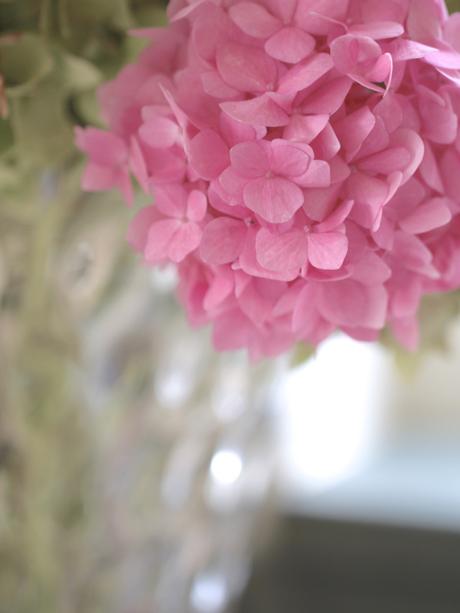 This is the color the flowers were when the hydrangea first bloomed – this new flower head appeared last week. After flowering the color has gently faded until the flower heads are almost green, with just a hint of pink.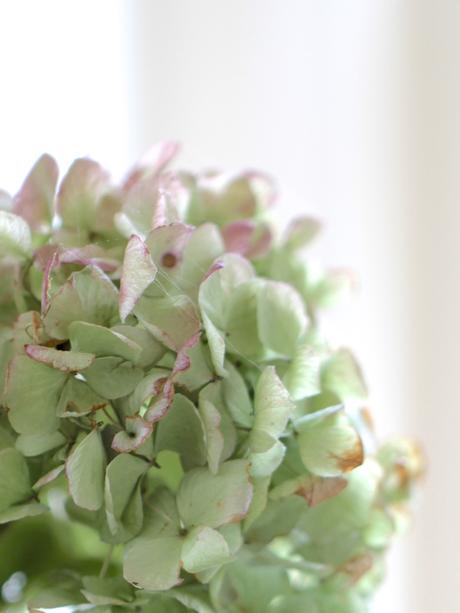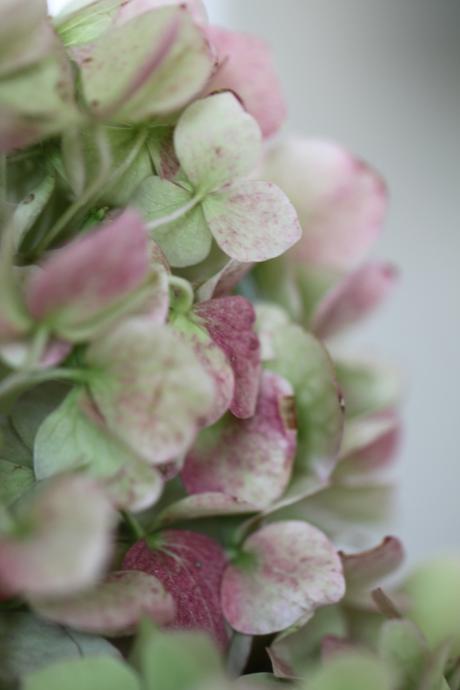 I also had some smaller blue hydrangeas in pots this year. As the stems were much shorter I have had to arrange these flower heads in a shallow bowl. The same principles apply though and I hope the dried flowers will keep this beautiful blue tone.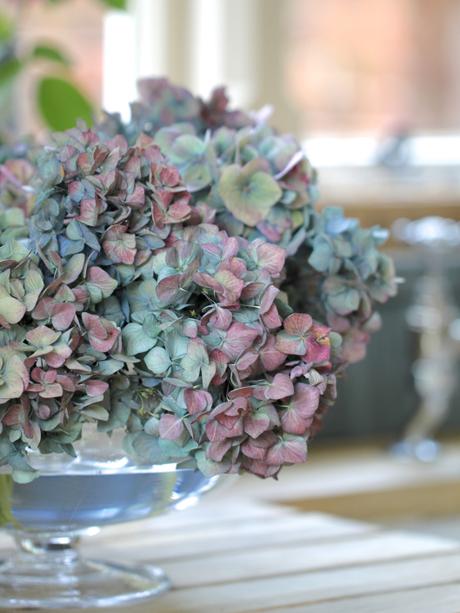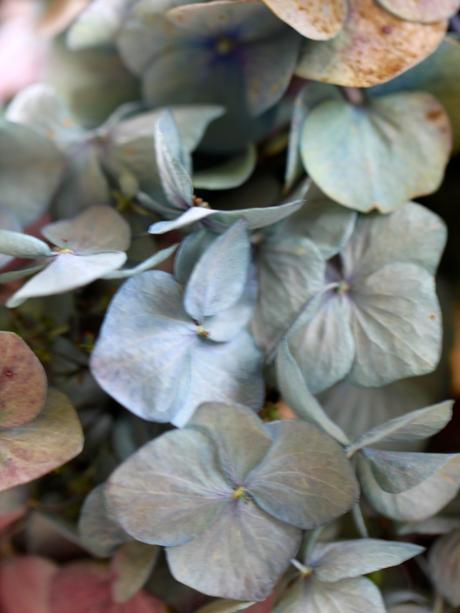 Also this week I have picked the last of the Victoria plums and preserved them in brandy – this Kilner jar will be stored in a dark place until late November, when I will decant the brandy for gifts and drinking over Christmas.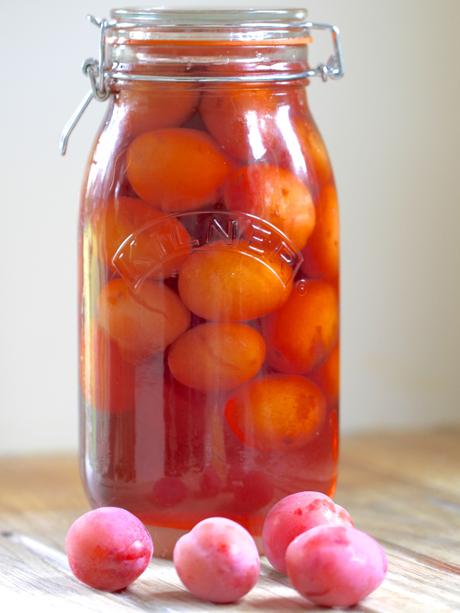 If you have any plums left on your trees put 1kg of plums in a large jar with 1 liter of brandy and 600g of sugar. Turn the jar a couple of times a day until the sugar has dissolved and then store the jar in a cool dark place for a couple of months before decanting the brandy into small bottles.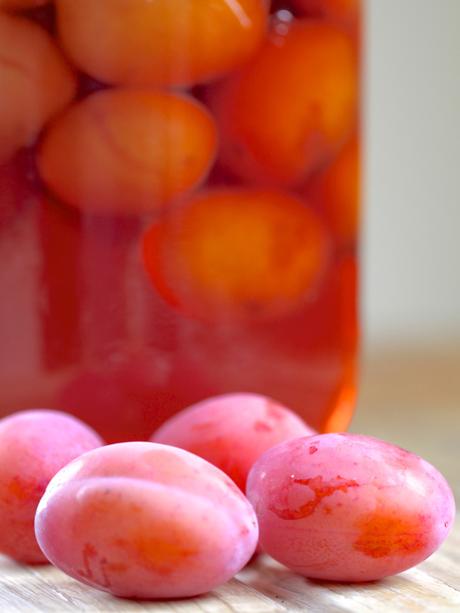 The plums have been fantastic this year – large and juicy and, most importantly, free of pests!
I have a couple of posts in the pipeline which have been delayed following my 'accident', but hopefully will be ready for next week. I am also looking forward to my day with Emily Quinton on Saturday, working on my camera skills. Hopefully I will be better able to hobble on and off the trains by Saturday. I am looking forward to sharing photos from this day with you next week. In the meantime do look Emily up on Instagram if you would like to see her beautiful daily flower photos – you can find her @emilyquinton. Details of all her lovely workshops are on her Makelight website – I have just noticed that she is starting an online course called Photography for Flower Lovers next week – I took this course last year and can highly recommend it!!
I will be here on Friday with my Cutting Garden Review for September – which will include a lovely Giveaway from the team at Sarah Raven, so do check back on Friday for more details. Also the 20% discount offer on MiaFleur garden goodies is available until 30th September – you can find the code in my last post.
Thank you as ever to Cathy for hosting this weekly meme and I will be back on Monday with another arrangement.