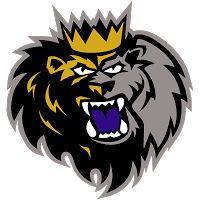 While I am a big fan of the home team, the
St. John's IceCaps
, there is one other team in the AHL that I keep a close eye on each year. It probably wouldn't take much guessing for anyone to know that other team is the
Manchester Monarchs
, farm team of the
Los Angeles Kings
.
This past weekend the Monarchs came to our lovely city to face off against our beloved IceCaps, and I was lucky enough to catch the action of both games. It's always a blast being about to check out some of the kids who may at some point in the future be on the Kings roster. Take for example Linden Vey and Tyler Toffoli, who last year
I got to watch play a game
 and this year are playing in the big leagues, having been called up just last week. While I was sad to not see those two again, I did watch the other players closely, trying to pick out who might be next to be called up. The Kings have a deep roster at the moment, but you never know when somebody from the farm team may be needed, and it looks like a bunch of the Monarchs are ready to fill any voids.
The games this weekend were super fun to take in, as both teams are competing pretty hard this season, both having good starts to the year. The Monarchs up to Friday night had only lost one game this season, and that was against the IceCaps. Their second loss came against them as well, this one on Friday night. The team wasn't about to lose another game against the IceCaps, however, and they managed to pull off a 3-2 win in their second game of the weekend at Mile One Stadium. I was probably the only one in the building smiling when Brian O'Neill scored that unassisted, shorthanded goal with only 13 seconds remaining in the game, but smile I did. What an incredible finish to a wonderful game.
Now that the baby Kings have left town, I can go back to fully cheering on the home team... well, that is until January when the Monarchs come back to town.
Amazon.ca Widgets