Bordered by France, except for a stretch along the Mediterranean, Monaco is a destination for the affluent, the auto racing fanatics and the casino whales.
Well, I can't say that we're wealthy, or that we love to watch Formula 1 Grand Prix, or that we can be considered high-rollers. Ok, we do like leisure gambling but we'll never lose too much because we would be reminded of milk powder and diapers.
So I figured out the fourth category of people who will want to visit Monaco - The curious and not-so-rich tourist who just wants to have been there and done that. Yes, that includes us.
We were in Monaco last summer and it had to be one of my favorite places of visit on that entire road trip. Loved the warm climate, loved the breathtaking coastline, loved the beach, loved the lush gardens, loved practically everything about it.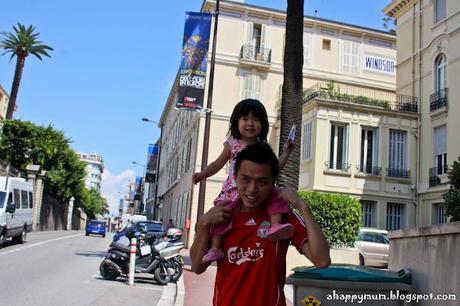 For accommodation, we stayed in Adagio Monaco Monte Cristo, which was actually located outside Monaco. Well, because those within were either totally beyond our budget or fully taken up. Still, we had a decent studio apartment with a small kitchen (so that we can cook and save on meals) and a clean sofa bed. Despite being a long walk to Monaco coupled with endless steep hills and stairs, it felt surprisingly nice to take a stroll in the warm weather as we set out to explore this tiny country.
Monaco offers a great balance of historical and modern attractions. There are various museums and palaces to visit, as well as shopping malls and casinos.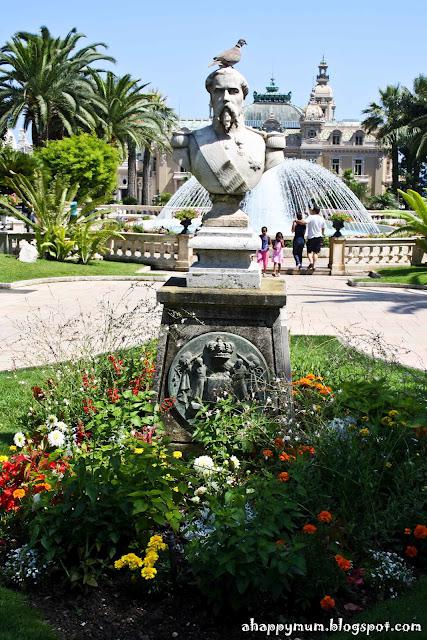 Interesting facts about Monaco:
Squeezed into 1.98km2, it is the world's second smallest country, after the Vatican.
With a population of 36,000, it is the most densely populated country in the world.
It boasts the world's highest GDP nominal per capita at US$172,676 and lowest unemployment rate at 0%.
It has the world's highest life expectancy at almost 90 years.
For the third year in a row in 2011, it had the world's most expensive real estate market, at US$56,300 per square meter.
Citizens of Monaco are called Monacans, while a person born here is called Monegasque. Its population is unusual in that the native Monegasques are a minority comprising 21.6% of the population, the rest coming from other parts of Europe who are attracted to this tax haven with no income tax. 
According to the CIA World Factbook, Monaco has the world's lowest poverty rate, and the highest millionaires and billionaires per capita in the world.
See, the rich loves Monaco!
It is thus no wonder that tourism is Monaco's biggest source of income and that it has become one of the most expensive places to visit in the world. We visited a shopping mall and given the sky high prices, even window shopping became a luxury. Nonetheless, we did buy something - groceries in preparation for some yummy-licious instant noodles dinner.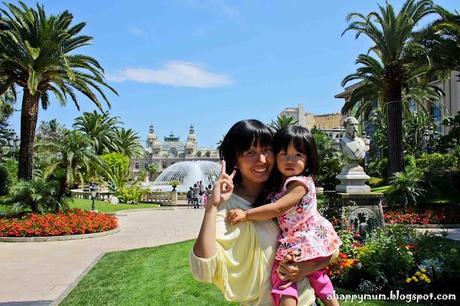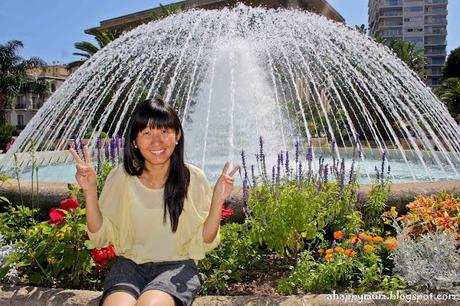 The place we most wanted to visit in Monaco was the world-famous Monte Carlo. It is Monaco's most populated quarter, not its capital as many mistakenly believe because Monaco does not have a capital. I particularly loved the beautiful Casino Square Garden alongside its fountains, blossoming flowers and thriving greenery.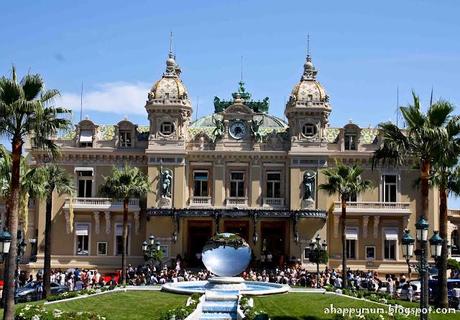 Monte Carlo has been a legend for almost 150 years, and clearly, the Monte Carlo Casino has been a cornerstone in its legendary success. 
Interesting facts about the Monte Carlo Casino:
The citizens of Monaco are forbidden to enter the gaming rooms of the casino. Identity documents are checked at the door to enforce this rule.
Up until season 7 (2010/2011) the casino hosted the annual European Poker Tour Grand Final.
The Monte Carlo methods, a class of random sampling algorithms, were named for the casino.
The route of the Monaco Grand Prix (the Circuit de Monaco) is past the casino.
Monte Carlo and its casino were the locations for a number of James Bond movies, including Never Say Never Again and GoldenEye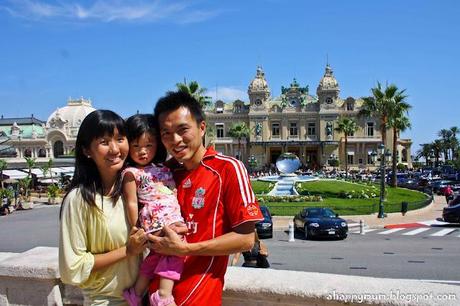 Yes, we HAD to take a family picture right in front of the Monte Carlo Casino.
Did we go in eventually?
Yes, we took turns at night and it cost
€10 each just to enter. Darn.
Was it really glamorous? Yes, the chandeliers, stained glass windows, classic paintings, sculptures and absurdly lavish WCs made me feel like Cinderella.
What does it offer? T
he usual table games of Roulette, Black Jack, Baccarat, Crabs, Stud Poker, Slot machines and high stakes poker.
Did I play?
Yes, I wanted to earn back my
€10 and played at
the slot machines because the table games were too bloody expensive.
Did I win?
Hell N-O. I lost another entrance fee.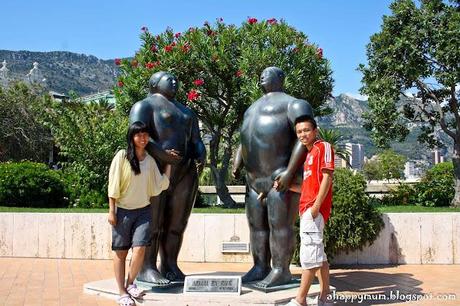 I loved the Adam and Eve sculptures in the garden below the casino though they looked so
big
while some parts looked a little too
small
.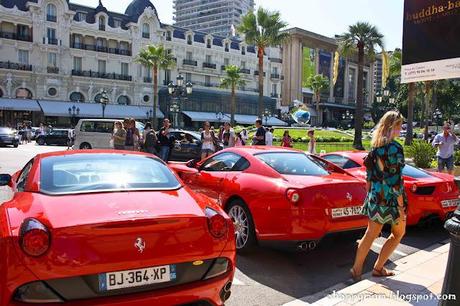 It probably ain't hard to tell the kind of people who visit the casino and Monaco, right?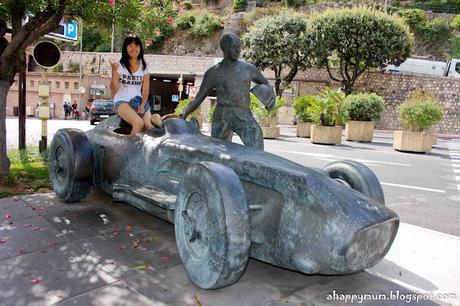 Monaco's streets hosts the world-renowned Formula 1 Grand Prix. The Grand Prix is 78 laps around 3.34 kilometers of Monte Carlo's most narrow and winding streets. The main attraction of the Monaco Grand Prix is that spectators get to be in close proximity to the racing Formula One cars, enjoy the thrill of screaming engines and witness the smoking tyres.
There are more than 3,000 seats available for sale on the circuit ranging from €90 to more than €500. Interestingly, Monaco residents often rent out their terraces for the event with prices ranging from €8000 to €140,000. Good money, yeah?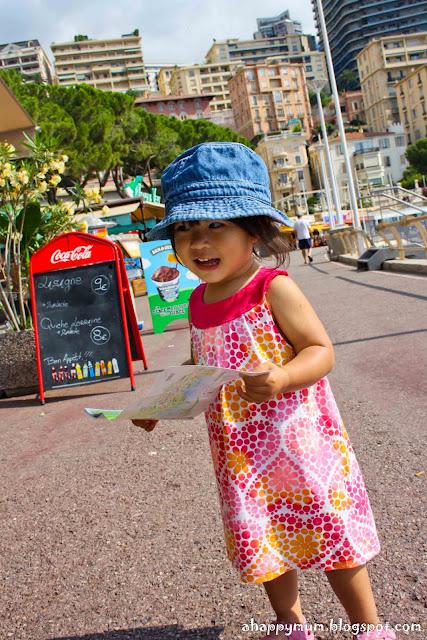 Next, our little tour guide was all ready to bring us to the next quarter - Monaco-Ville, also known as "The Rock".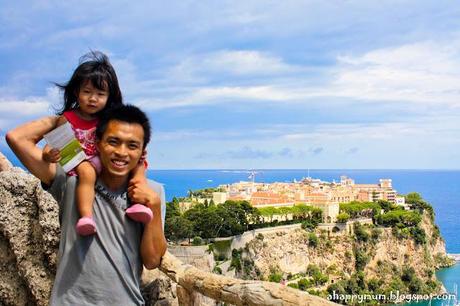 The reason why it is called "The Rock" is because of its location on a rocky headland that extends into the Mediterranean Sea and stands at 60 meters high. It was a really beautiful afternoon that day with a gentle breeze blowing and we loved the feeling of warm sun rays on our faces.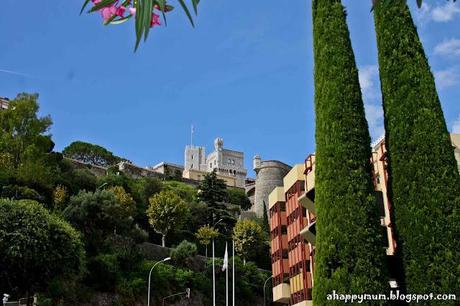 Look! That building at the top of the hill was our destination - the Prince's Palace. It didn't look all that inviting considering that we had a 11kg toddler and a 6kg stroller to carry up that seemingly endless flights of stairs. Oh well, by hook or by crook, we had to do it!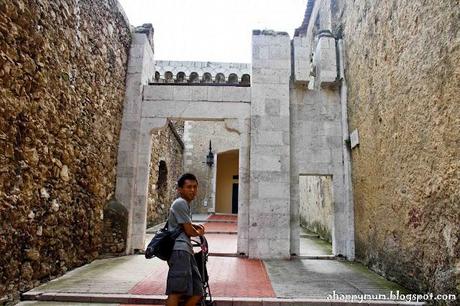 For the record, I took care of the 11kg toddler while jw heaved the 6kg stroller. Thankfully mine could walk!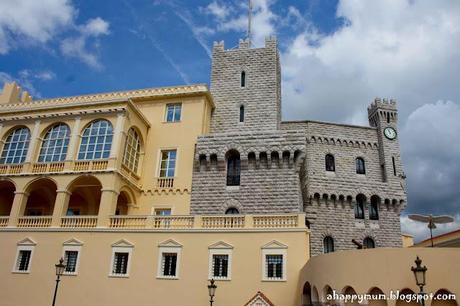 The Prince's Palace of Monaco is the official residence of the Prince of Monaco - currently Albert II, head of the glamorous royal family the Grimaldis. It is said that Prince Albert is one of the wealthiest Royals in the World, valued at more than $1 billion. Since the end of the 13th century, the palace has been the stronghold and home of the Grimaldi family, which in 1997 celebrated 700 years of rule from the same palace.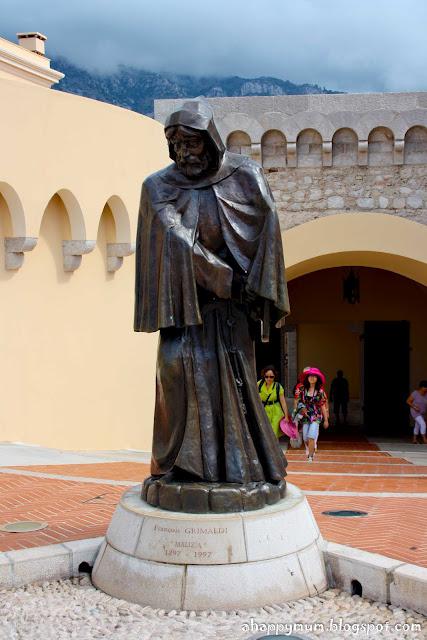 Legend has it that in 1297, Francois Grimaldi, disguised as a monk, sought shelter at the castle. On gaining entry, he murdered the guard, thereafter his men appeared and captured the castle. Thus the fortress became the stronghold of the Grimaldi. The statue of Francois Grimaldi served to commemorate this event.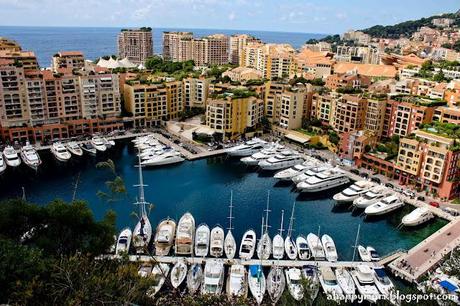 I must I have more of a penchant for photographing beautiful scenery than for admiring castles and palaces. Yeah, that was why I took geography over history back in school. So, pretty soon, we wandered off to take pretty pictures. See, I simply loved this picture and the absolutely awe-inspiring view of the coastline and architecture combined.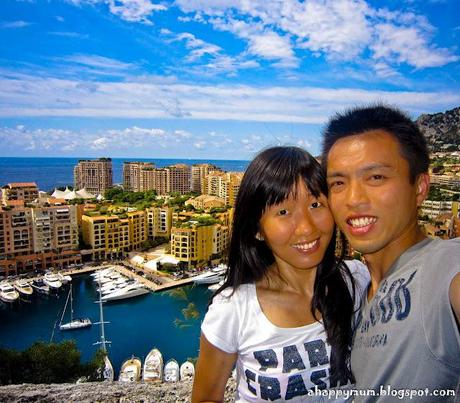 Since Angel was sleeping, we decided to take a couple shot. I'm so thankful that jw is quite an expert when it comes to self-photographing. He always manages to capture both of us and the beautiful background in a rather nice light. Phew wee! And yes, my face looks smaller when he takes the picture instead, lalala.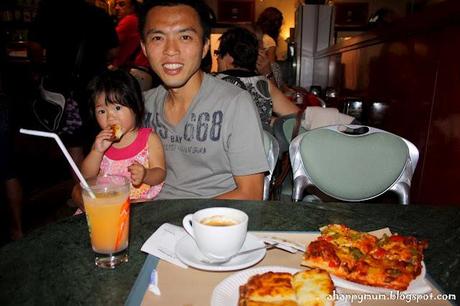 Then, our hungry girl awoke and we decided to venture further to look for some food. Monaco-Ville, being a medieval village, had a surprisingly picturesque outlook. It consisted mainly of pedestrian streets and passageways, and most of the old houses from last century still remained, giving it the feeling of a beautiful old town. There were plenty of restaurants and souvenir shops which tourists could stay, eat and shop at. We randomly chose a cafe, randomly ordered some bread and coffee, and amazingly our random choices turned out to be finger-licking good.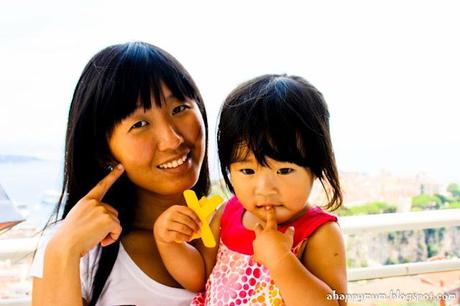 Hmmm, let me think, where shall we go now?
After lunch, we debated on where to visit, this being our last afternoon in Monaco. We decided to take a bus round Monaco and visit Jardin Exotique (Exotic Garden), a botanical garden located on a cliffside.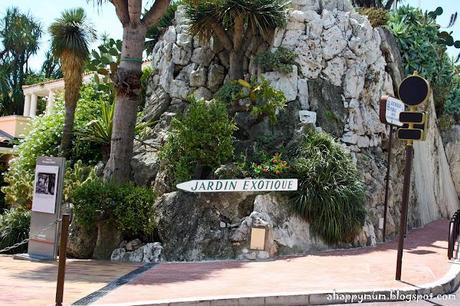 The Jardin Exotique has managed to stay as an unique tourist attraction since it opened in 1933. It brings together over a thousand species of rare water-retaining plants known as '
succulents
' - in particularly cacti. Join us in our first ever cacti quest!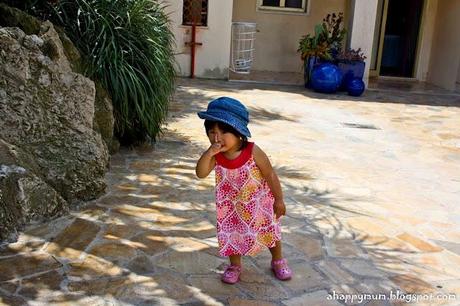 I spy with my little eye. Mummy, I see the first cactus!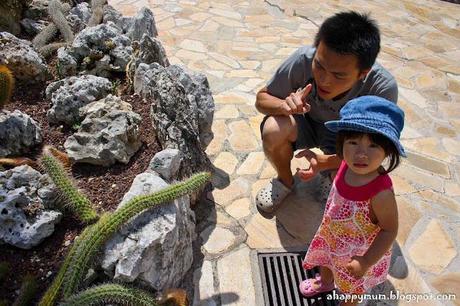 Hubby: No no, Angel, you must not touch the spines because they are sharp and can prick your fingers, ok?
Angel: HUH? What you say?
Me: See? This one, sharp sharp, poke you, pain pain, ouch.
Angel: Orh, ok.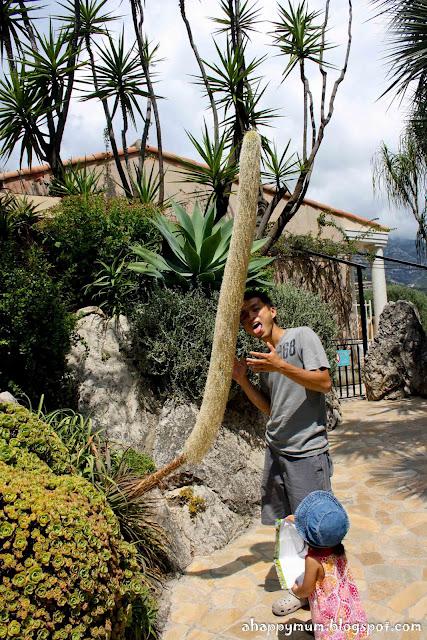 Angel: Daddy, is that a big, big ice-cream?
Hubby: Hmmmm, let me try.Angel: How how? I also want!Hubby: Errmm, go get mummy, will you? Daddy's kinda stuck.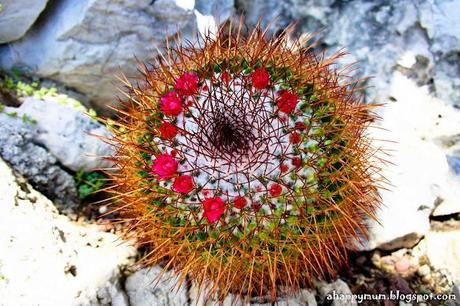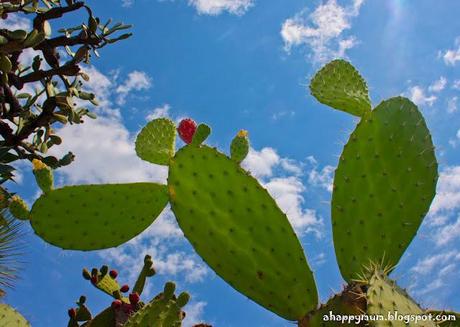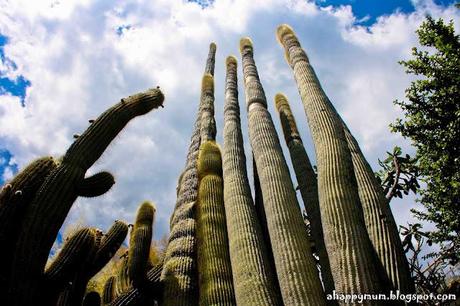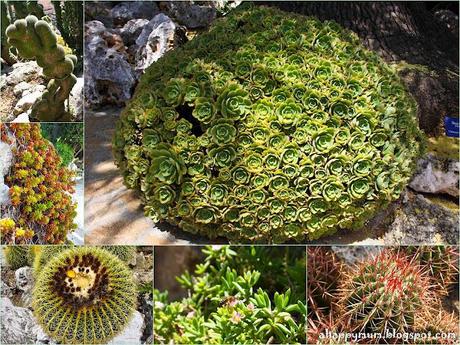 More of the never-seen-before cacti and floral plants. 
Wow, I never did know that cacti could come in so many shapes and colours, and that these thorny plants could possess more beauty than I ever imagined.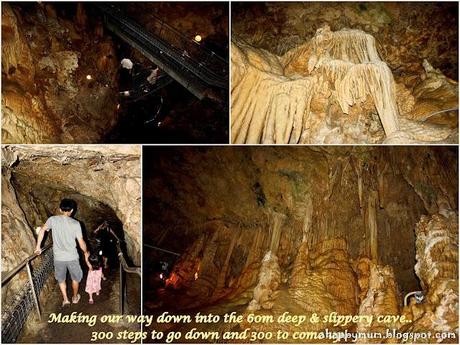 We also had the opportunity to go on a cave adventure in a large, natural underground grotto that offered guided tours. In the cave, we had to scale slippery stairs equivalent to a 6 storied building.
Tell me about it.
The thing was Angel insisted on walking on her own which was pretty dangerous and I was so afraid she would fall. So, we had to climb at turtle's pace, not that I'm complaining.
Thankfully, except for being last in line alongside an over 60-year-old lady, and getting somewhat lost in the maze of
stalagmites
and
stalactites
because we got separated from the guide, well, hooray, we made it!!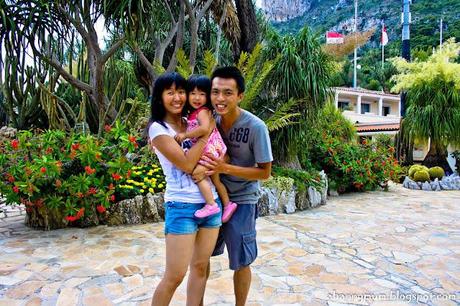 It was then time to move on, thanks to Jardin Exotique for a memorable cacti encounter and cave adventure!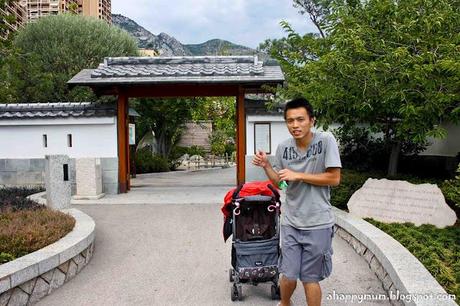 So, we moved from garden - to garden. To the Japanese Garden this time round because it was on the way to the beach. Ermm, I didn't know what my dearest hubby was trying to pose here, then I figured out it was his best imitation of a
geisha
.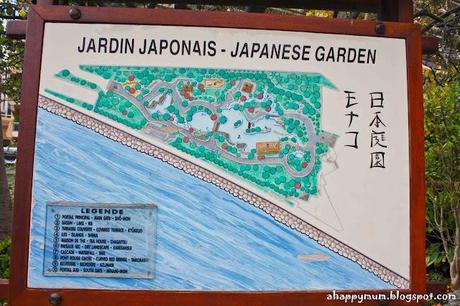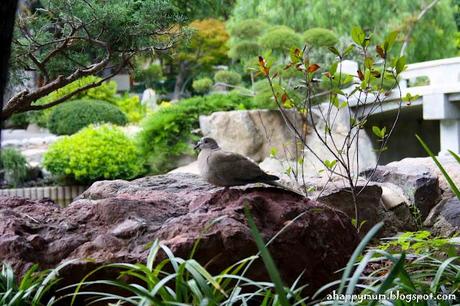 Unlike the Jardin Exotic, this garden was small, cosy and tranquil. The tranquility was probably due to the fact that my girl was exhausted by the cave escapade and had dozed off.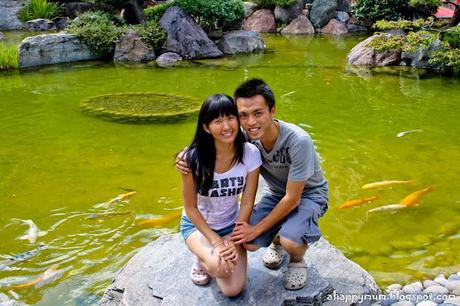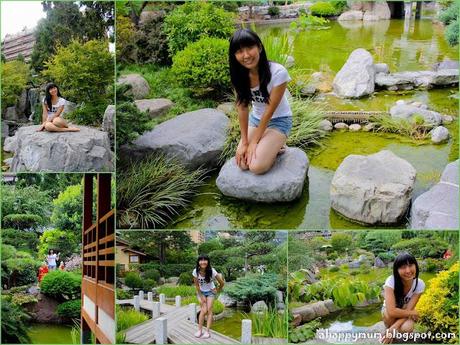 So, we had a peaceful time in the Japanese Garden where jw decided to hone his photography skills and in Angel's absence, I had to play the part of the next best model available.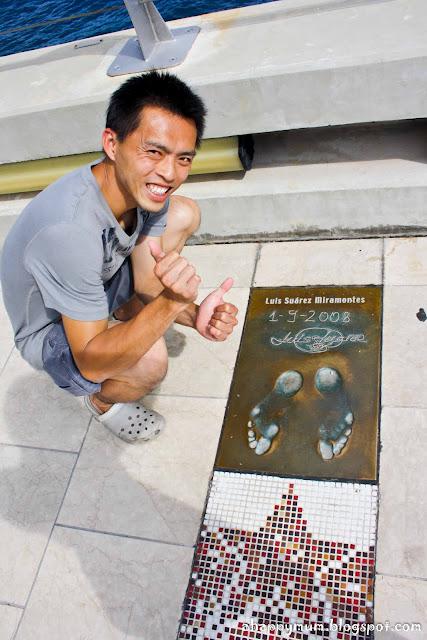 We spotted Luis Suarez! Footprints, I mean. Go Liverpool! Because of jw, I've become a fan of theirs and it has become a weekend pastime to snuggle on the couch, wearing Liverpool jerseys and cheering them on. Even Angel has become their mini-fan!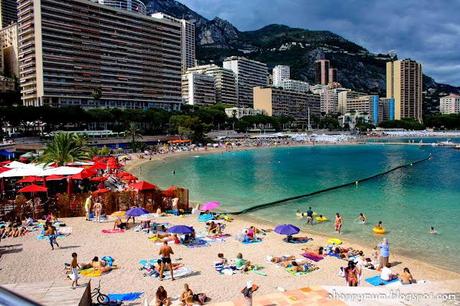 Finally, we reached Larvotto beach, the only public beach in Monaco. With the gleaming Mediterranean waters lapping along the shore covered with fresh white sand, it was no wonder this man-made beach was teeming with tourists on a Sunday afternoon.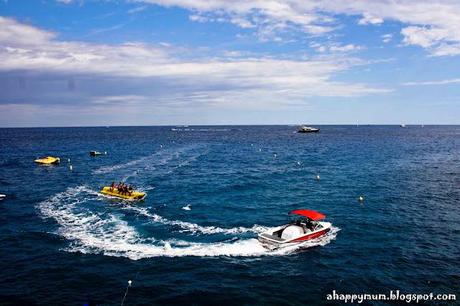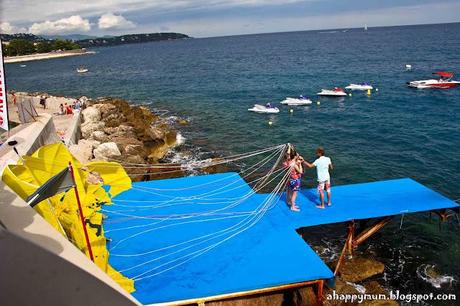 We had a relaxing afternoon just watching people riding the banana boat and parasailing. The latter is probably on my yet-to-be-written bucket list.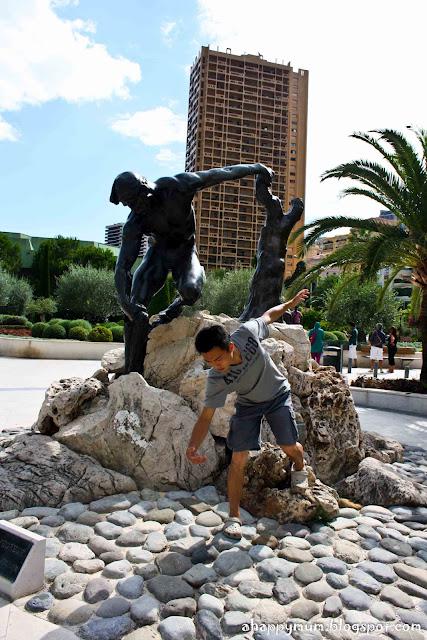 The fisherman statue with the fisherman-wannabe.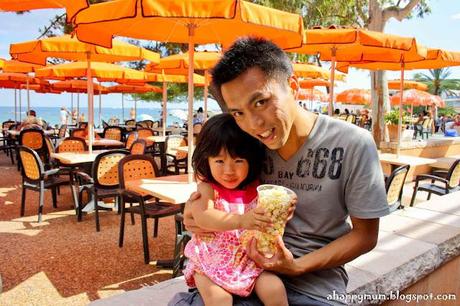 Angel had her first ever sweet popcorn and she became a huge fan of it ever since.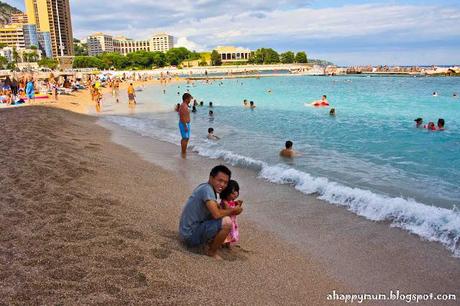 All in all, we had a really good time in this intimate country which although is a magnet for the rich and famous, it also has something to offer the average tourist - beautiful scenery,  wonderful climate, charming architecture, a bundle of family joy and precious memories to last a lifetime.
I just need to remember to pack more instant noodles the next time.