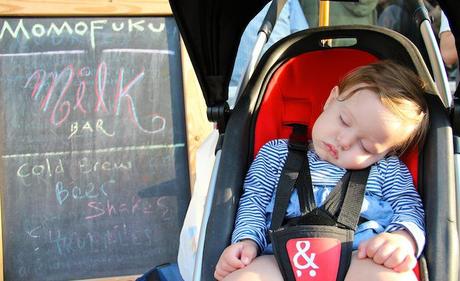 While walking around Williamsburg the other day, we came across the oh so famous & trendy, dessert-place-of-the-moment Momofuku Milk Bar.  I had read about their one-of-a-kind sweets for months and months (maybe even years), and was so extremely excited to have come across their Brooklyn branch by accident.  I saw it from across the street and literally grabbed Gaby's arm and squealed like a child.  The crazy thing is that we had lived just a few blocks from their Manhattan flagship since it's opening, yet had never managed to walk over from our East Village apartment.  Since then, every time I opened a magazine or paper in Brooklyn to see yet another article on Momofuku's amazing cereal milk ice-cream,  I would kick myself for not taking advantage of our close proximity while we had had it.  But now I had stumbled on their Brooklyn outpost, and I was sure it was going to be the highlight of my week.  Curiously, it was not.
We ordered all of their classics: cereal milk ice-cream, a compost cookie, and a pack of b'day cake truffles.  I took a bunch of pictures and chatted with the counter boy.  He assured me that my choices were top notch; the best offerings in the house.  I think he may have exagerrated.  Because the ice-cream was a little chemically-tasting and a lot boring. Hmmm, not my style, I thought.  That's ok.  (I'm just not into my ice-cream tasting exactly like a day-old bowl of fruity pebble milk. I hadn't realized that the name was so literal).  On to the compost cookie, and... I couldn't even finish it (which never happens with anything of the sweet variety), so that was a major disappointment.  It was a bit too dry and crazy for the likes of me.
The cake truffles, on the other hand, were pretty amazing. Super dense and chewy intense little balls of rainbow cakes.  I could go for those again (and again and again), but I'm not sure if I'll be trekking out to their shop just for cake.
So all in all, while not such a culinary revelation, our outing was a fun way to spend a gorgeous afternoon.  I'll take a long walk and a new dessert experience any day.  Biet slept through the whole thing (that warm sun and cushy stroller- who can blame her?), so I saved her a bite of cake truffle.  She loved it.