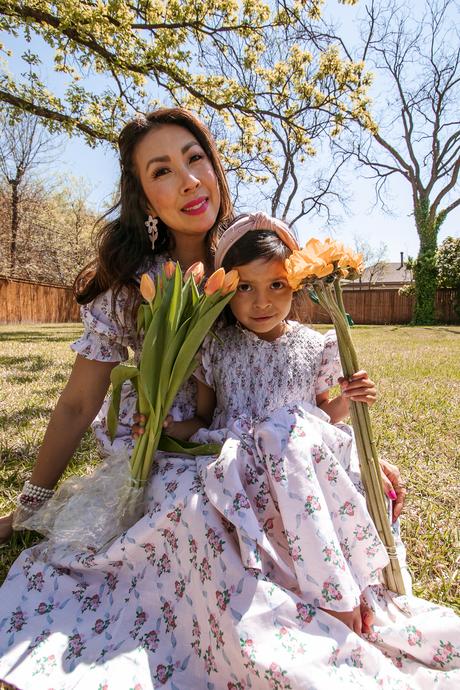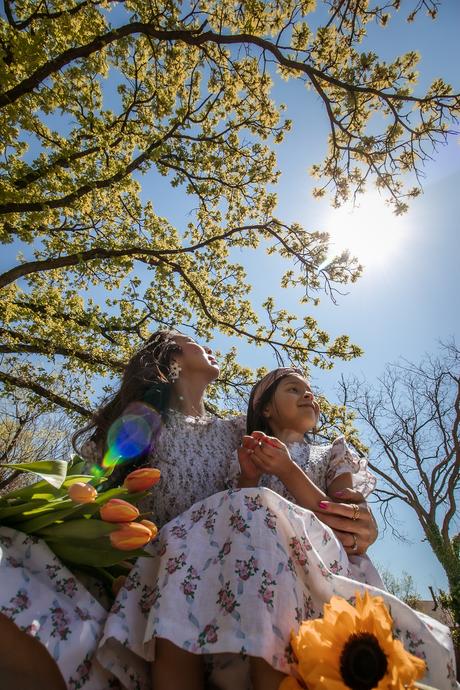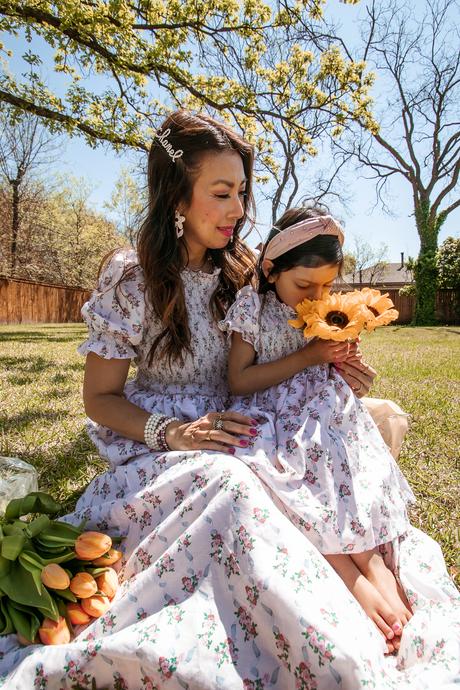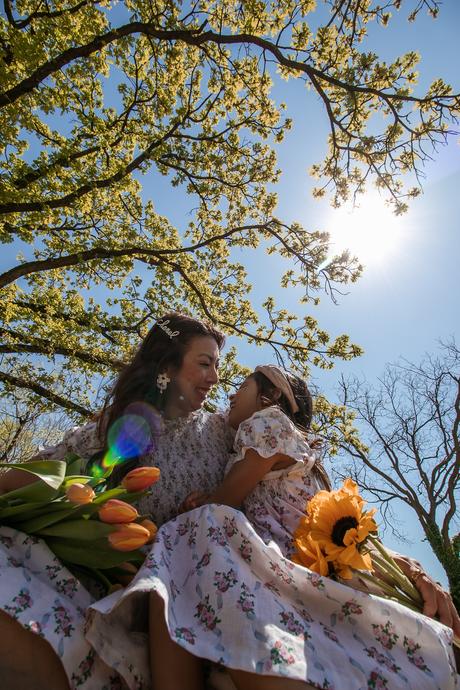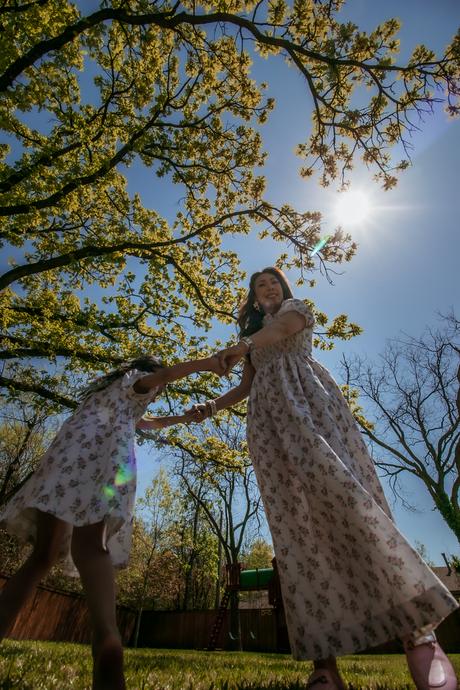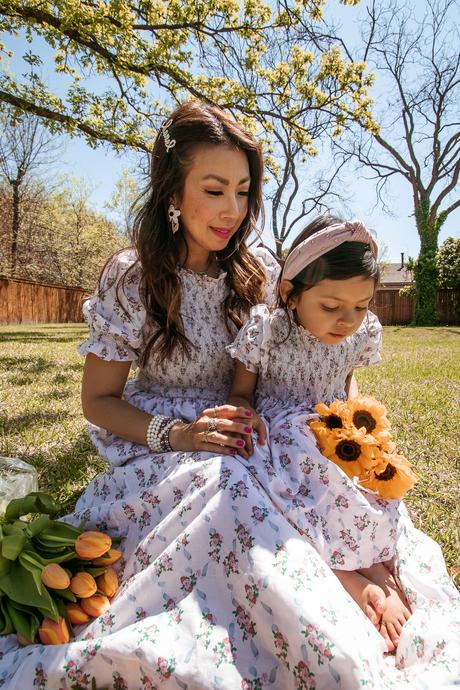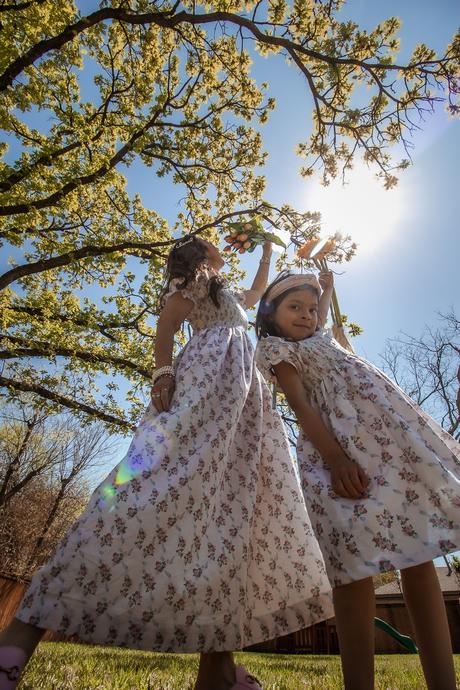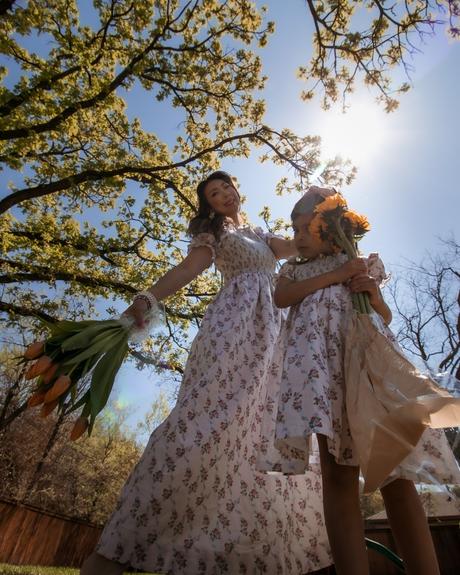 Happy Friday and Good Friday GlamFam! We are so excited about Easter weekend! Speaking of Easter, I will be matching with my Mini me! Never in my wildest dreams did I consider having a chance to match with a daughter. I am so thankful for adoption and the many blessings it has brought our family. Now that I have this opportunity to wear Mommy and Me style with my daughter, I am going to take full advantage as long as she lets me!! LoL! Soon enough, she will not think it's cool to match her Mom. Anyways, I wanted to share some mommy and me brands that I've discovered that do matching family sets and some fun ideas below in a boutique!
By the way, not all pieces in the boutique are those brands but there were some too cute not to share!

DONDOLO BABY X LOVESHACKFANCY
When I heard LoveShackFancy was releasing a mommy and me line, I was ecstatic! Their exclusive collection includes pieces for women, girls, and even boys (this is unique because the brand has never released boy clothing until now!). The dresses my daughter and I are wearing are actually from this beautiful collection and we are in love... just in time for spring, too. Along with lots of pretty floral patterns and delicate details, you will also find beautiful hand-smocking, vintage appliques, and custom embroidery when shopping this brand collab!
This brand has always had a vision to include clothing and designs that reflect every stage of life - from baby to adult. Doen makes outfits that match their main women's line for easy coordination for your littles. From mini versions of their adult pieces to easy-to-wear unisex tops and bottoms, Doen makes it fun to match with your kiddos. This brand is truly driven to create beautiful, functional, and accessible pieces that support empowering women across the world.
THE STYLE Rx: Keep it all in the family with matching outfits!!
NEVER FULLY DRESSED
With a variety of styles that can be easily dressed up or down, Never Fully Dressed is one of my favorite sustainable brands for mommy and me fashion. Their bright colors, unique patterns, and fun pieces are ones you are guaranteed to love! Since the brand is originally from London, most of their fabrics are sourced from local print studios which I find fascinating. Inspired by feminine and transitional prints, clothes designed by this company are given the longevity they deserve.
DEVON WINSOR SWIM X ALEXIS
This exclusive mommy and me swim collaboration is simply perfect for summer. The brand collab carries kids' swimwear that is to die for... wait until you see it! From ruffles and metallics to terry cloth and puff-sleeves, these suits and head scarves are must-haves for all moms and daughters. I'm definitely grabbing a few pieces for our next beach getaway!
Did you know places like Target and Gap have a super wide variety of mommy and me picks? Not only are these pieces extremely affordable, but they're also fashion-forward for the upcoming spring and summer seasons. Their mommy and me collections feature feminine dresses and rompers in fresh florals - perfect for photos and all-day play. Top off your matching outfits with matching accessories like headbands, scrunchies, masks, and handbags! How sweet it is to play dress up with your little ones.
HAVE YOU MATCHED WITH YOUR MINI?!
Happy Friday GlamFam! There is no school for Good Friday, and we are heading back to the Botanical Gardens today. The weather is BEAUTIFUL!! We are so excited about Easter weekend because we will get to see some of Mr. S's family on Easter! We didn't get to visit for Thanksgiving and Christmas, so the kids are ECSTATIC to get to play with their cousins. Luckily, we have all been vaccinated which is why we get to see each other. It's such a blessing, and I literally cannot wait! WHAT ARE YOU DOING THIS WEEKEND?
Thank you so much for stopping by and supporting SOS!
CHECK OUT MY INSTAGRAM SHOP HERE TO SHOP ALL OF MY INSTAGRAM LOOKS!
// STAY CONNECTED //
stay glam, do good