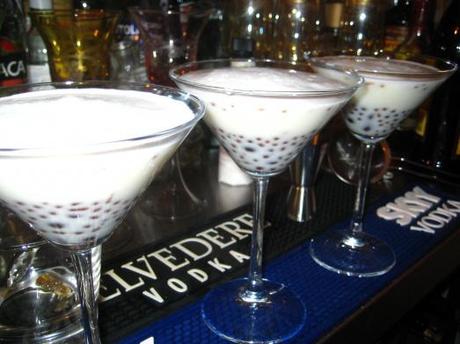 I've been doing a little reading about both molecular gastronomy as well as the application of similar concepts in the cocktail field. Probably the most well known restaurant that implements these concepts is Grant Achatz' Aviary about which I posted a video not too long ago. In any case, we decided to give it a try ourselves, needless to say it's not as easy as Grant and his team make it look. Here's what we did, how we did it and what went wrong.
For this experiment we chose to play with the White Russian. This is far from being a cocktail that carries a high esteem in the world of classics, complexity or depth. Nevertheless, the Dude abides!
In order to make a standard White Russian (or at least the way I like it), do the following:
________________________________________________
The White Russian
1.5 oz Vodka
1.5 oz Kahlua
3/4 oz Milk
Method:
Combine ingredients over ice in an Old Fashioned Glass
Stir lightly and serve
________________________________________________
Now that we have the basic ingredients out of the way, our next step was to figure out how we wanted to deconstruct this cocktail. We decided that we wanted to make Kahlua caviar that would then be topped with a vodka-milk foam. Following the instructions we could find on the interwebs we did this:
________________________________________________
For the Kahlua Caviar
5 oz Kahlua
4 cups water
0.5 grams of Sodiam Alginate
5 grams of Calcium Lactate
Method:
In one bowl, combine the Kahlua and Sodium Alginate. Blend with a hand blender to ensure dilution of the Sodium Alginate.
In another Bowl combine the water and the Calcium Lactate. Blend with a hand blender to ensure dilution of the Calcium Lactate.
Using a dropper or pipette, dribble the Khalua into the Calcium Lactate bath.
________________________________________________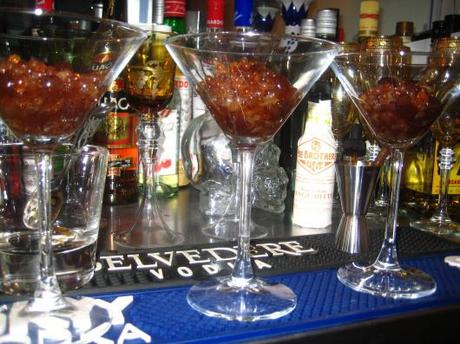 ________________________________________________
For the Vodka-Milk Foam
4 oz Vodka
7 oz Milk
2 g Soy Lecithin
Method:
Combine all the ingredients in a bowl.
Blend with a hand blender until desired consistency.
________________________________________________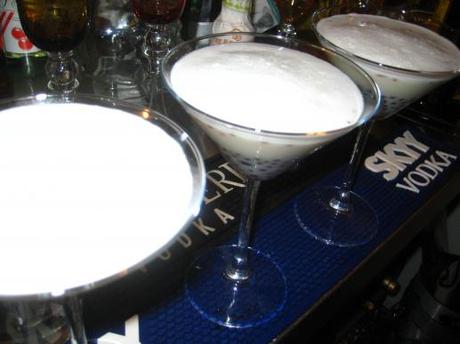 The pictures look all well and good. But now it's time for the truth about how things turned out. Let's start with the Kahlua Caviar. When we blended it with the Sodium Lactate it became really aerated. You could see the little bubbles in the Kahlua. We tried letting it sit for a while to get the air out as we had seen this suggested in some recipes. But the longer we left it the thicker and gellier it became and therefore all the more difficult to deal with using a dropper.
It still seemed to work, but with the thick consistency of the mixture we were getting inconsistent sizes and shapes of the caviar. Eventually we added some water to the mixture and that really helped with the consistency, but not with the bubbles in the caviar.
The Vodka-Milk foam also didn't go as well as we had hoped. First off the Soy Lecithin didn't do anything at all and the mixture just wouldn't get foamy at all. So we then went old school with our "chemistry" and just added two egg whites. This helps it get a slight bit thicker and foamy, but not even close to what we wanted to achieve.
We still don't really understand what went wrong, so it's back to the research for me. I think the Caviar recipes aren't really made for high alcohol content products, based on the other recipes I could find, they all seemed to use non-alcoholic parts of cocktail recipes or a bland which reduced the overall content. As far as the foam goes, we guessed it either had something to do with the alcohol again, or with the fat in the milk not reacting with the Soy Lecithin properly.
Nonetheless, we built the drinks, cheersed to our failed dominion of the world of chemistry, sipped and….pretty well gagged. We hadn't really thought this one through, but probably could have known that Vodka and milk make a terrible combo without the softening, sweetening power of Kahlua. The caviar was also pretty terrible. The balls were almost entirely gellified. meaning they weren't liquid or soft on the inside, so it felt like biting in an elastic band that had been tenderized by soaking in alcohol, water and sugar. And no, that's not a good thing. All in all, this was not a good cocktail, or a good anything for that matter. But me, being the genius that I am was not about to waste all this potential deliciousness so I proceeded to take the three cocktail glasses, dump them into a bowl, and re-blend it all again. I poured the contents over ice and voila – a regular White Russian, with a bit of random chemicals and egg white in it!
We had a lot of fun playing around and being frustrated with our own foiled attempts and I think we're all just that much more determined to figure out the secrets behind what have come to be known as "Molecular Cocktails". But for now, we have been put in our place and we have a whole lot more respect for those who are successfully making delicious cocktails around the world. We'll be sticking to The Dude's version for the time being.