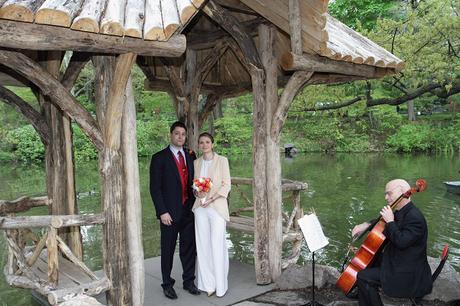 Victoria and Paul came to New York from their current home in Alaska to get married in Central Park this May. Victoria is Moldovian and Paul is French. They met in August 2014 in New Orleans. Victoria was there for an internship, and Paul was transferred to New Orleans with his job. They met at a European party and the rest is history. During their time together they have moved around the US a few times, so they don't feel too routed in one place. So, they got married in New York and now they are getting ready to go back to Europe to celebrate their wedding with their families.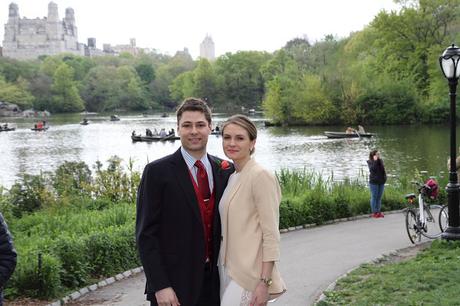 Last January they took a vacation to Hawaii to take a break from the Alaskan Winter. They had scheduled a scuba diving session while they were there, which was a first time experience for Victoria. Paul had made arrangements with the diving instructor and he had the ring when they went underwater. So, at the depth of 30 feet he popped the ring out and Victoria nodded in sign of agreement. When they got back to the surface they celebrated with champagne and congratulations from the crew.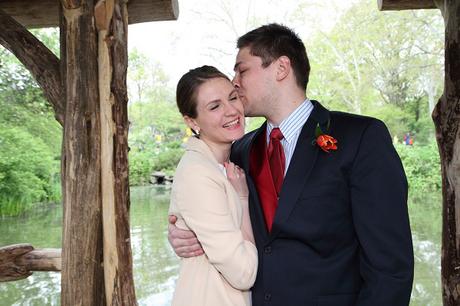 Victoria had always had the idea of getting married in a garden or a park in her mind, and when they started discussing New York as a good place for their wedding, since it was halfway between their European friends and their current home in Alaska, they knew that their ceremony had to be held in Central Park. "Then I Googled wedding in Central Park New York and
Wed in Central Park
was our first and only choice," said Victoria. "Because you answered promptly and we liked your offer we did not even look for anything else, and I am glad we didn't," she said.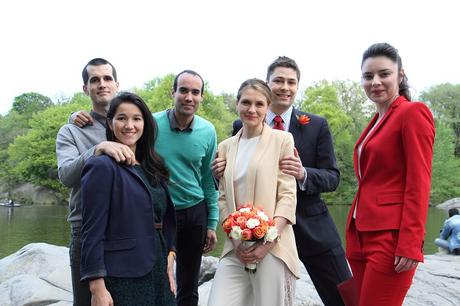 Their guests were Paul's and Victoria's best friends. They chose to have a very small and intimate ceremony, since they will be having a big celebration in France with both their families. "Our friends said that it was an awesome idea to get married in Central Park," said Victoria.
I asked them if they had any concerns about getting married in Central Park and they said they shared the same worry as almost all of the couples I work with: the weather. It just comes with the territory of an outdoor wedding. "That's why we decided on Wagner Cove which has a small roof," said Victoria. They also liked it because it is a little more private than most of the other locations. "Other than that, Claire did a great job with organizing everything as well as keeping us updated with what's going on, so there was no need to worry," she said. Wagner Cove does have a small roof, which would keep off some light rain, but it wouldn't be a great location if New York had seen heavy rain in recent days because it is on unpaved ground. Victoria and Paul were lucky with the weather, though.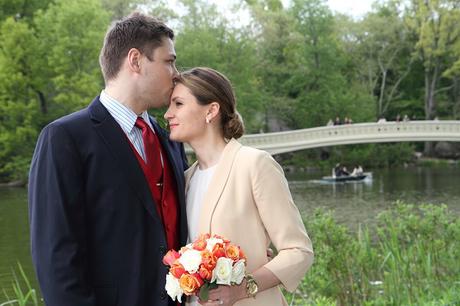 I asked them what they thought of Wagner Cove. "we absolutely loved it," said Victoria. "The small wooden shelter on the Lake, somehow hidden from the crowd of the Park, was the perfect location because it offered us the privilege of intimacy in such a big park. Our photographer helped us with the picture locations since we are not familiar with the park," she said.  I had booked them a cellist to play at the ceremony to add to the atmosphere.
They got to New York a few days before their wedding, so that they could obtain their marriage license. Paul had visited before, but for Victoria it was her first visit, so she loved having the opportunity to explore the city. They stayed in New York for a week at the Crowne Plaza in Times Square, "which was a great experience," Victoria said.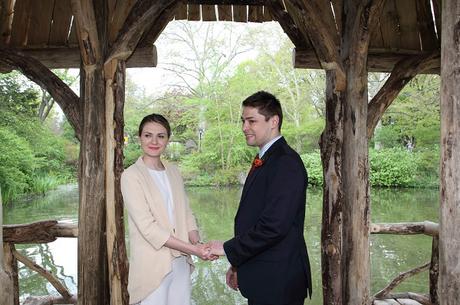 For the ceremony Paul wore a navy blue suit with a red vest, and Victoria wore a creamy jumpsuit with see through lace and golden high heels. She ordered it from the Bebe store in Chicago, although I was surprised to learn that she had to have it sent to her friend's address because many stores do not deliver to Alaska! She carried two bouquets, one was a surprise gift from Paul's parents and another one they had already ordered themselves. Both bouquets featured roses and tulips, just different colors. Victoria had considered getting her hair and makeup done by a professional, but then she decided to style it herself.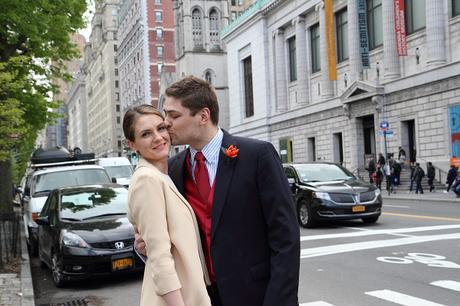 After the ceremony they all had dinner at The Milling Room restaurant, which is a few blocks away from the Central Park. "The Milling Room has a welcoming atmosphere, super delicious food and deserts, plus they provided great service, so it was perfect for our after wedding ceremony dinner," said Victoria. After the dinner, they went to Viceroy rooftop bar for drinks.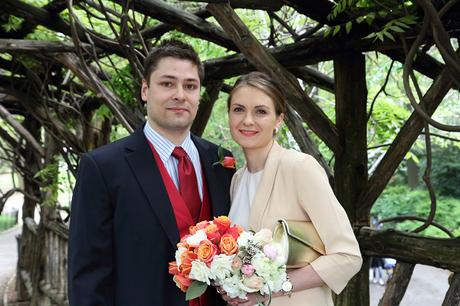 I asked Victoria and Paul why getting married was important to them and Victoria said "We believe that by marriage we acknowledge our commitment to our union and the fact that we want to spend the rest of our life together. By marrying each other we form a strong bond, a new family where we both work towards common goals while supporting our individual dreams."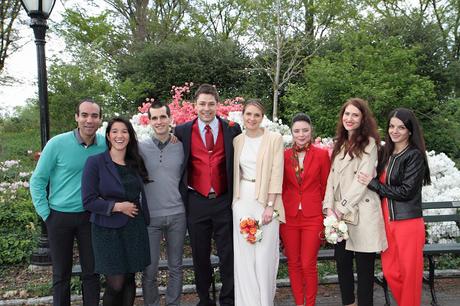 I asked them if they had any other thoughts to share and Victoria said "Getting married is an important step in our life and Claire from Wed in Central Park helped us to organize our event. With her help we were able to celebrate our wedding ceremony in one of the most impressive parks in the United States. Every member of your team was professional and cordial, and we are extremely glad that we have chosen your services for this important day in our life. Thank you." Thank you for sharing your story with us, Victoria and Paul, I wish you the best of luck for your futures together, wherever you end up! For more information on planning your own Central Park wedding, visit our website, or "like" us on Facebook for photos and more inspiring stories.