This is not the first time I've put honey on my face. I previously wrote about a honey mask I did with egg and olive oil back in this post.  I can't take any credit for this one though, this great little mask comes directly from Eden DiBianco, natural mixoligist and makeup artist extraordinaire. She offered this little tip after our panel at GreenFest NY this year. According to Eden, raw honey and virgin coconut oil are excellent for providing moisture to dry or combo skin (like mine) and it's so simple!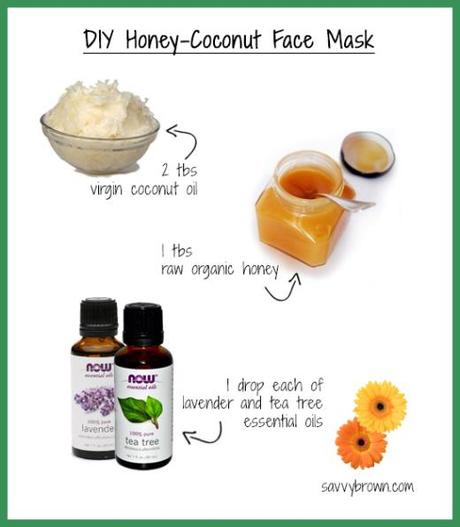 I've done this mask about twice a week for the past two weeks and my face feels great! My skin has been really soft and mid day it doesn't feel dry anymore. Tea tree essential oil acts as a preservative and detoxifying agent and  lavender essential oil is mildly antisceptic and aids in healing inflammed, wrinkled and acne-prone skin . Both oils are anti-microbial and can help calm the skin down. You can usually get all of these ingredients at your local heath store or specialty grocery, but if the stores near you don't carry these items, you can find them online below.
Where to buy the ingredients:
WARNING: IF YOU HAVE NEVER USED ESSENTIAL OILS ON YOUR SKIN BEFORE MAKE THIS MASK WITHOUT THEM FIRST AND TEST ON A SMALL AREA OF YOUR HAND OR CHIN TO SEE HOW YOUR SKIN REACTS. THEN ADD THE OILS AND TEST AGAIN BEFORE USING ON YOUR WHOLE FACE.
Have you ever used honey or coconut on your skin? What did you do?