I found this recipe over at Post Punk Kitchen (love her!) It comes out really moist and yummy and Sexy can't get enough of the stuff. The only change I made is I used Earth Balance vegan shortening instead of margarine. This is a great way to get rid of those spotted bananas on your kitchen counter.
I swear you won't care that there's no butter or eggs in this!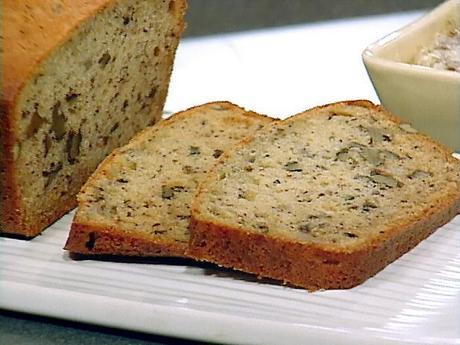 Vegan Banana Bread Recipe
(From Post Punk Kitchen)
Ingredients
1/2 cup brown sugar (packed)
1/2 cups white sugar
1/2 cup margarine, at room temp
3 very ripe bananas, mashed well
2 cups flour
1/2 teaspoon baking soda
1/4 cup vanilla soy milk, mixed with 1 teaspoon apple cider vinegar
1 teaspoon vanilla (I was out of this, but it turned out fine)
1 teaspoon cinnamon
1/4 teaspoon allspice
1/2 teaspoon salt
Directions
Preheat oven to 350 F. Spray a 8×4 bread pan with non stick cooking spray, or lightly coat with margarine. Sift together flour, baking soda, salt and spices. Cream together the margarine and sugars. Add bananas, soy milk and vanilla. Add the wet ingredients to the dry. Mix well. Pour batter into pan. Bake for an hour to an hour 10 minutes, or when a toothpick inserted in the center comes out clean.
Makes 12 slices.
How do you make your banana bread?