Published as:  Stay Golden A modernist cabin in British Columbian ski country is the perfect retreat for a family of outdoor adventurers. Slideshow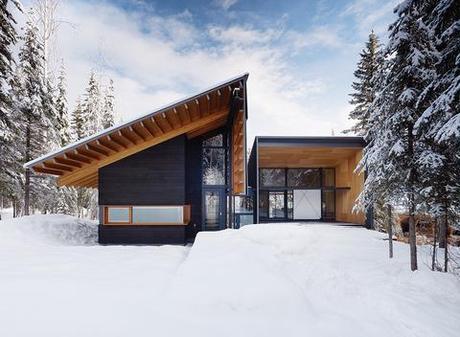 Douglas fir walls and beams extend to the exterior of a weekend house near Golden, British Columbia, by Bohlin Cywinski Jackson and Bohlin Grauman Miller Architects. 
After years of frequenting winter sports hot spots, such as Lake Louise in Alberta, an active young Canadian family sought a retreat from the revelers and planned a weekend house with access to world-class skiing. A plot at the base of a mountain outside Golden, British Columbia—home to Kicking Horse Mountain Resort—and architects Bohlin Cywinski Jackson both fit the bill, and now the family skis in and skis out of their second home all season long.
"This is a weekend house that really lives up to its name," says Ray Calabro, one of the design leads on the project. "They're out there nearly every weekend, whether skiing in the winter or mountain biking and hiking in the summer." As befits an alpine escape, the architect imagined this modernist abode with a chalet-like pitched roof and the qualities of a cabin. "Though the main entry has a dramatic cantilever, the house is modestly scaled to the site, tucking into the hillside," Calabro says.
The cabin was not intended for peace and quiet. "They wanted a home that was designed to accommodate a lot of people," the architect says. The residents, who live in Calgary, frequently entertain, inviting friends and other families to make the three-hour drive out to Golden; guests are berthed in the 16 beds, bunks, and twin-bed-wide window seats designed for the home. 
Calabro, who is exceedingly proud of the Kicking Horse Residence, notes that the happy family paid Bohlin Cywinski Jackson the highest compliment of all—more work. "We just finished their full-time home in Calgary," he says.